Super Bowl XLIX Hot Hobby Reactions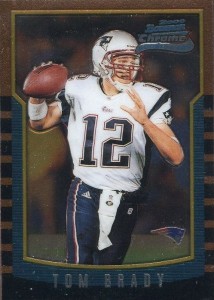 By David Lee | Beckett Football Editor
Wow, what a game!
Patriots fans are equally relieved and euphoric. Seahawks fans are sick.
Russell Wilson and Seattle came just a few feet away from beating two of the most iconic quarterbacks in the history of the game in back-to-back Super Bowls. Instead, Tom Brady becomes just the third quarterback in history to win four Super Bowls, and picks up his third Super Bowl MVP.
There certainly were some interesting hobby angles coming out of the game that we need to examine. First, a look at Brady. He finished the game with an MVP performance of 328 yards, four touchdowns and two interceptions. In the brand-new March issue of Beckett Football, Brady has three Rookie Cards on the Hot List: 2000 Bowman Chrome #236 (No. 3), 2000 Bowman #236 (No. 3) and 2000 Playoff Contenders #144 AU (No. 9). The Bowman got a bump in value and currently checks in at $30-$60. So, he certainly was heating up during the playoffs. A few ungraded copies of the Bowman Chrome were selling online during and after the game for about $80-$120. Several 2000 Playoff Contenders copies were selling for near high book value ($1,000).
Other Patriot heroes included undrafted rookie safety Malcolm Butler, who made the play of his life with the game-winning interception at the goal line. He has no football cards… for now. Receivers Julian Edelman and Danny Amendola, along with tight end Rob Gronkowski, all scored touchdowns.
Amendola, an undrafted player who has been on several teams, has just one Rookie Card: 2008 SP Authentic #129 RC. It's currently priced at $30. However, of his nearly 600 total cards, more than 100 are autographed. Most are produced by Panini and plenty release just this past year.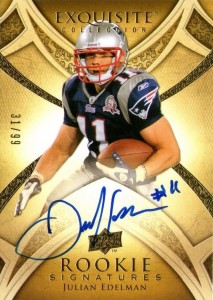 Edelman finished with nine catches for 109 yards and a touchdown late in the fourth quarter to give the Patriots the lead that they would not relent. He's played his six seasons with the Patriots, and like in true Patriots fashion, was a cast-off seventh-round pick in 2009. He has eight Rookie Cards, four of which are autographed and priced in a range of $40-$80. That's pretty odd for a seventh-round pick. Here they are: 2009 Playoff National Treasures #161 AU RC, 2009 Exquisite Collection #158 AU RC, 2009 Playoff Contenders #176 AU RC, 2009 SP Authentic #305 AU RC. After those, there's a pretty big drop in value but still decent cards from strong brands.
Gronkowski has a ton of cards to choose from, including 36 RCs. His best ones have been getting hot this year anyway, after returning from his 2013 injury. His top two RCs are priced at $200, but a couple of autographed RCs that may be better bargains are 2010 Topps Triple Threads #113A&B JSY AU RC and 2010 Panini Threads #193 AU/500 RC—both at $50.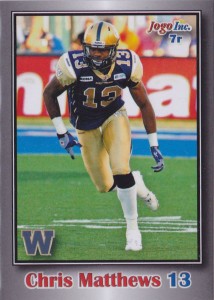 For the Seahawks, the unlikely hero was rookie receiver Chris Matthews. With a Kurt Warner-like story, Matthews has recently bounced around between the Canadian Football League (where he was a rookie of the year) and working a job at Foot Locker. But he had a dream game in the Super Bowl, totaling 109 yards and one touchdown. Matthews didn't even join the team until December and had no catches until tonight. He has six cards in the 2011 Panini Gridiron Gear product although he never played in a game in 2011. One copy was on eBay with several hours left in the auction. The high bid was in the upper $60s with more than 30 bids. He also has one JOGO CFL card (above).
Super Bowl XLIX saw two very unlikely rookie heroes with virtually zero football card presence making big plays amid some of the biggest stars in the game. That's a pretty huge range. We will continue to follow the aftermath on Beckett.com and check the knee-jerk reactions in online sales.