Super Bowl LIII Collectors Preview – Beckett Pricing Insider
This edition of the Beckett Pricing Insider is brought to you by GTS Distribution. Watch Go GTS Live – The Hobby's Web Show, every Thursday at 9 PM EST.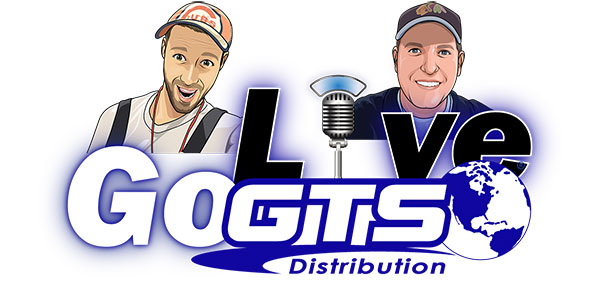 After a crazy Championship Sunday, the Super Bowl LIII match-up is set. For the third straight year, the New England Patriots are in, this time facing off against the Los Angeles Rams. Both teams had to win on the road and in overtime to make it. That is the first time in NFL playoff history that there were two overtime games in the same day.
Let's look at some of the key players from both teams and how their cards could be impacted.
Los Angeles Rams
On the Rams, the most collected player is, arguably, Todd Gurley. He has almost 4,700 cards in the Beckett database. He will have to be a major player against the Patriots if the Rams want to win.
Quarterback Jared Goff had his breakout season in 2017 and continued to play at a high level in 2018. Goff's cards have seen price increases this year and they have potential to go up more if he can lead the Rams to victory.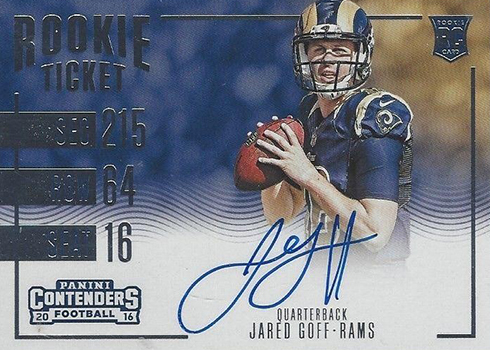 The biggest defensive player in Super Bowl LIII has to be Aaron Donald. He led the league in sacks this year and is one of the favorites for NFL Defensive Player of the Year honors. Donald was one of the rare defensive players to appear on the Beckett Hot List and the first since J.J. Watt a couple seasons ago.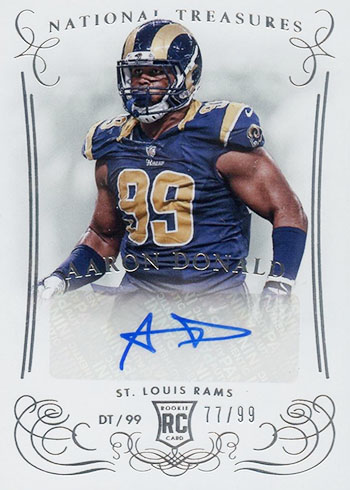 New England Patriots
Everyone knows that the biggest name in the Super Bowl, and possibly the entire history of football, is Tom Brady. This is the ninth time that Brady has led the Patriots to the Super Bowl and he already has five rings. Whenever people think that his value can't go any higher, they've been proven wrong. His 2000 Playoff Contenders card is one of the hottest cards in the history of the hobby and currently has a high book value of $8,000. Of course, that value can change at any time.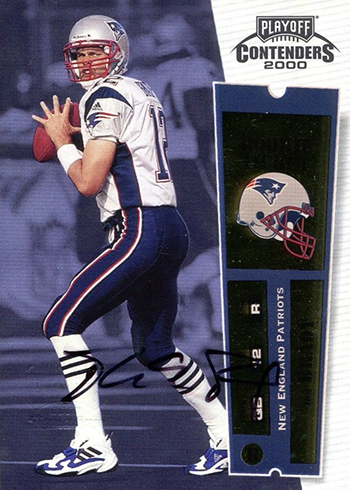 The star receiver for the Patriots has to be Julian Edelman. His values have slipped in recent years, however. He has an opportunity to show collectors why people once paid premium prices for his cards. He was a mainstay on the Hot List just a few seasons ago.
The biggest rookie left playing is Sony Michel. In his two playoff games he ran for 242 yards and five touchdowns. He has over 1,600 cards in the Beckett Online Price Guide. His values have been strong, but not among the best in the 2018 rookie class. For example, his Donruss Optic Rated Rookie Autograph card currently has a $40 high book value. Saquon Barkley sits at $200. If Michel has a strong Super Bowl, there is definitely room for a bump.