Super Bowl LI Spotlight: Tom Brady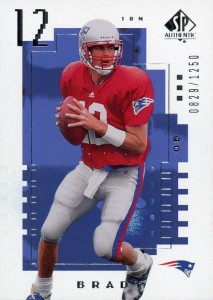 Tom Brady will play in his seventh Super Bowl Sunday, and is aiming for his record fifth title.
He faces an underrated Atlanta defense that had the NFL's top pass rusher this season in defensive end Vic Beasley (15.5 sacks). He will also have to keep up with the game's top-scoring offense. Not an easy task, but he's faced and defeated elite competition before.
Just when you thought his top card values couldn't get any higher… well they are getting higher. Even the lower-end cards, which would be just a few dollars for a regular star, can command $40-$60. It's no surprise that there is a lot of focus on the mid to lower-end cards that most collectors can still afford.
Despite almost not being drafted, Brady still has more than 40 Rookie Cards. We all know the story of his 2000 SP Authentic #118 RC and 2000 Playoff Contenders #144 AU RC—two of the most valuable football cards ever produced. The SP Authentic, which isn't autographed, has recently jumped to an incredible high-book value of $3,000. That's a big deal in the football card hobby. The Contenders, previously at $1,200, has been commanding as much as $2,000 online. This was during a season when he was suspended for the first four games.
Other recent price increases have been on his 2000 Playoff Momentum #180 RC (up to $400) and 2000 Leaf Certified #207 RC (up to $200). Even the lowest end of his Rookie Card checklist is around $30-$40. Here are a few more to consider as we head into Super Bowl LI: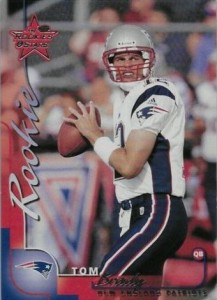 2000 Leaf Rookies and Stars #134 RC ($250)
This is from an established brand with a pretty sharp design. It's also limited to 1,000 copies. The $250 price tag isn't cheap, but considering the higher prices of some other comparable RCs, it may have room to catch up.
2000 Donruss Elite #183 RC ($125)
Donruss Elite debuted just one year before this released. It's one of the strongest brands in the hobby, and it's a little surprising this card isn't already creeping close to $200.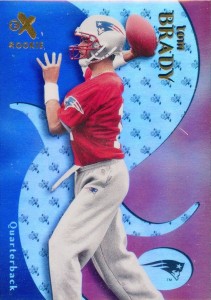 2000 E-X #122 RC ($175)
There are just 1,500 copies of this one. The E-X brand had a good run in the early and mid-2000s. It has a unique look. And let's be honest, a Brady RC for less than $200 that's also limited to 1,500 us a good deal.
2000 Ultra #234 RC ($40)
Speaking of cards that most collectors can grab, this Ultra RC is less than $50. Ultra was a strong brand before is fizzled out.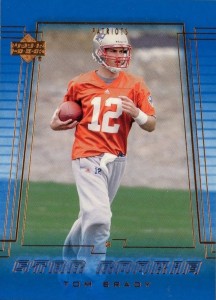 2000 Upper Deck #254 RC ($60)
Dipping below the $100 mark, Brady's regular Upper Deck RC is just $60 right now. If there are cards that have more room to grow, it's going to be with the cards that most collectors can afford to snatch up.