Sunday Conversation: Super Break's Scott Allen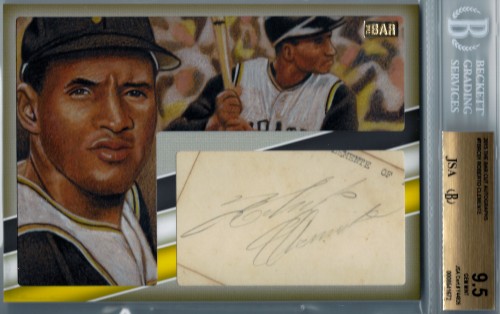 By Stephen Laroche | Beckett Media
Super Break Sports has gained a following among high-rolling hobbyists for their premium releases and the company made waves in 2013 with the creation of "The Bar" – a jumbo original art card featuring cut signatures or other items connected to legends in the sports, entertainment and political worlds.
Recently, Super Break president Scott Allen spoke with Beckett Media about how these cards have been received by collectors and where they might be headed in the future.
Could you let our readers know about the origins of "The Bar" and how these oversized cut signature cards went from concept to collectible?
We came up with a concept that crosses one of one original art on an over size piece for several reasons. We wanted to produce a transparent piece that you can see the picture of your item on the back. A piece that is large enough to fit the whole autograph, multiple autographs and or the entire piece with out cutting anything down to a small size. We preserve many original pieces this way buy inserting the whole item. A larger piece works for us because we have so many different and wonderful things happening on it.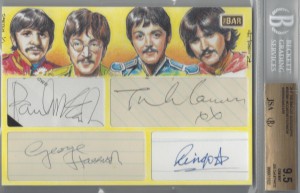 _
How would you describe the reaction you have received from collectors and dealers that have pulled one of these cards from a box?
We have received many emails and social media messages that this is indeed the "New Bar" for our industry. We are excited that collectors are excited as we are. The best is yet to come with our one-of-one original art creations. Collectors want to collect and save these. They feel these 1st year pieces could hold quite a premium later!
_
Is there a particular The Bar card or cards issued thus far that stand out for you in particular?
We have created some combinations that have not existed in this space previously. All  of the Fab Four on one piece, championship themes like the 1955 Dodgers, Presidents and their wives and more. Our favorites have included Ruth & Gehrig, Picasso, Edison & Einstein and more to come in the summer of 2015 Products.
_
Why did you choose to have these cards authenticated by James Spence Authentication and slabbed by Beckett Grading Services?
A top piece deserves a top team. The Beckett Grading Services team leads the industry in grading modern cards and collectibles. As well, JSA working with BGS is a double blessing. We aim to create such amazing pieces of art that we make people stop what they are doing to view what we have made.
_
What is your dream subject to appear on one of these cards one day?
There are some combinations, technology and elusive autographs that we are working on as we speak. The pieces we create will push the envelope. To name a few: Lewis and Clark, Michelangelo The Knights of the Round table and Geronimo.
_
Stephen Laroche is the editor of Beckett Hockey and a contributor to other Beckett Media publications. Have a comment, question or idea? Send an e-mail to him at slaroche@beckett.com. Follow him on Twitter @Stephen_Laroche.