Sunday Conversation: Panini's Jason Howarth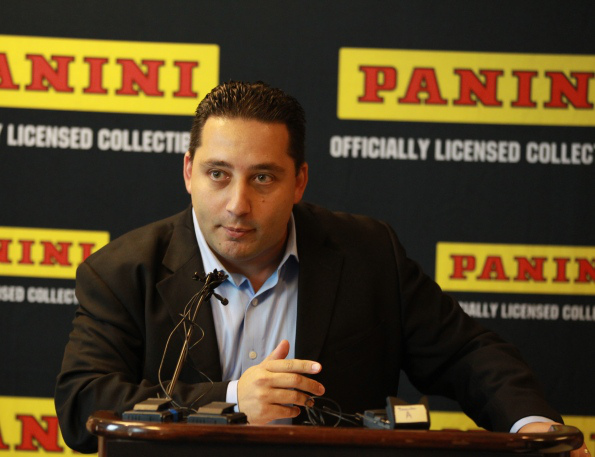 By Chris Olds | Beckett Sports Card Monthly Editor
Jason Howarth is the Vice President of Marketing for Panini America. We caught up with him for a brief Q&A about the industry, its challenges, his New England Patriots and plenty more.
Check it out in our Sunday Conversation. 
—
What's the most-interesting trend you have seen in the industry lately — and what makes that stand out?
I'd say this was a trend — but it has evolved into the creation of a whole new segment in the hobby and it's here to stay — case-breaking. I know some people feel that case-breaking is bad for the hobby, but you have to give the guys that are doing it right their due. They open volumes of product and showcase cards in programs that previously might have been overlooked. Case-breaking also brings in lapsed collectors back into the hobby and reignites their passion to collect.
What's the biggest challenge facing the industry today?
Good question. As an industry we need to do a better job of welcoming new collectors into the hobby — no matter what the age. We see the pure joy kids have when they open up packs of Panini trading cards and stickers. They don't know how much a card is worth, a sticker autograph from a hard signed card, or what a piece of prime is — all they care about is getting their favorite players and holding the card. It's pure enjoyment and that's what we love to see in the hobby. It's why we work with organizations like Pop Warner and give helmet equipment grants and provide packs to their organizations, developed the Father's Day promotion to get kids into hobby shops with their dads, launched the Panini Super Bowl Kid Reporter program and introduced Kids Case-breaking to our booth at The National.
The other challenge is overcoming the bitterness and toxic reactions people sometimes have. As a manufacturer, it's tough to see this and we do everything we can to battle it and try to make it right when we make mistakes. As a community we sometimes do more to highlight our challenges then celebrate our successes and we don't give people that are working on the products the benefit of the doubt.
We put too much emphasis on the rookie class and their immediate impact in the short term as opposed to how they are expected to perform over time. The hobby has changed and has become more complex. There are so many moving parts that are involved in producing products today — working with athletes, teams, leagues and player's associations to be successful — all of which are experiencing unprecedented growth. At the same time, the trading card category is not as simple as printing images of players on cards anymore — or as simple as putting team marks on coffee mugs.
What has the reaction been like for Panini's Black Friday promotion so far?
It's still early, but indications are that it's going to be another successful promotion. The Black Friday packs look great and there is such an effort that goes into putting the program together. For me, the thing that I enjoy most about the promotion is how we developed something and have made it into something collectors and hobby shops have come to anticipate. It's a great way to get people into hobby shops full of excitement and really bring the Black Friday experience to the hobby.
You're a Patriots fan — what's your favorite Patriots card?
That's a tough question. You can't go wrong with a Rob Gronkowski 2010 Contenders Rookie Ticket. I really like his 2014 "Team Panini" Flawless card as well. He's playing on such a different level right now — like he played before his injuries. I also like the occasional card that has the Patriots in their throwback uniforms although I have lots of bad memories of guys playing in those uniforms as a kid.
Future card — not yet printed: I'm eagerly anticipating some sort of Past/Present — Tom Brady Michigan/Patriots card. Or better yet a Ty Law Pro Football Hall of Fame Card (he's a semi-finalist for the 2015 Class). Law has a tough road to be a first-ballot Hall of Famer — but he was as dominant as a shutdown corner as there's been — consistently made big plays in big games and changed the game in terms of how receivers are defended.
Is there anything forthcoming from your company that you'd like to tease?
We've got a lot going on and just about to hit our busy season with marketing activations at marquee events. But the one thing I am really excited to see is our entrance into the collegiate space beginning in April 2015 — we've got big plans there and so much went into that process to get Panini into that segment of the hobby. It's going to bring a whole new element to our NFL, NBA and MLBPA products and we are really looking forward to producing dedicated sets for our exclusive partner schools.
—
Who should we talk to for our next Sunday Conversation? Tell us in the comments below … 
Chris Olds is the editor of Beckett Baseball and Beckett Sports Card Monthly magazines. Have a comment, question or idea? Send an email to him at colds@beckett.com. Follow him on Twitter @chrisolds2009.