Sunday Conversation: Industry Summit's Kevin Isaacson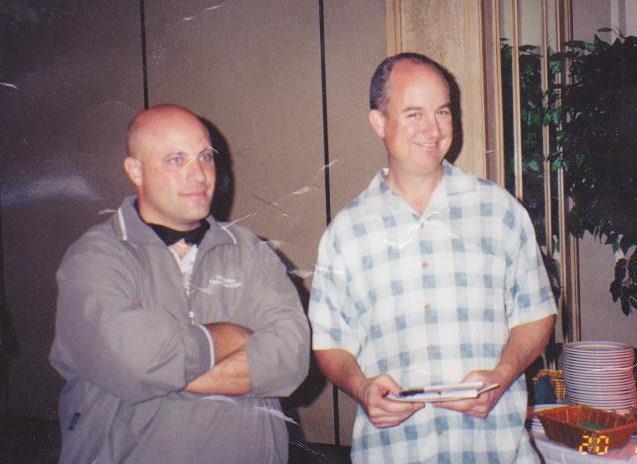 (Isaacson pictured left with Dr. Jim Beckett, Industry Summit 2001)
By Derek Ficken | Beckett Radio Host
Kevin Isaacson, the man behind the Industry Summit, joins us for this week's Sunday Conversation. He sits down to talk all about the Industry Summit and what we should expect this year.
—
Q: Why should shop owners and collectors look into attending the Industry Summit?
A: The Summit is the one opportunity each year to engage with hundreds of the best and brightest sports collectible experts on the planet. In just a few days, attendees get an incredible snapshot of industry trends and new business opportunities. I continue to be amazed at how many long-term business partnerships are created during each year's conference.
—
Q: How has the Summit grown or changed since its inception?
A: Our industry's trade conference has actually been around for nearly 30 years. Respected retailer Kit Young created the first industry conference in Hawaii in the mid-1980s; the basic tenets that Kit employed in his first conference remain in place today, specifically the opportunity for attendees to debate key issues. I can recall an aggressive debate in the 1990s regarding the legitimacy of third-party grading for sports cards. Today, of course, grading companies such as BGS and PSA are integral parts of our industry — but a panel discussion featuring leaders such as David Hall, Bill Goodwin and Kit Young played an important role in that segment's growth. Key topics over the years have included the most viable number of new-card releases and licensees per sport, trust-and-safety initiatives in the autograph business and much more. This year's conference will almost certainly include discussions on Group Breaking and the go-forward role of brick-and-mortar stores within the hobby.
—
Q: Why is Las Vegas the ideal location for a major industry conference like the Summit?
A: Las Vegas is an incredible convention venue, for good reason: It provides so many food, lodging and entertainment options that every attendee can find a cost-effective way to have a great experience during their visit. That said, we are strongly considering a 1-year hiatus from Las Vegas for next year's Summit. Look for a "hot" announcement regarding our 2016 location soon.
—
Q: What kind of big news has come out of previous years' Summits?
A: Perhaps the biggest announcement in recent memory was Topps' exclusive license with Major League Baseball, announced at our 2013 Summit. Most often, though, the industry trade conference serves as a starting point for future business relationships. You would be surprised at how many employment interviews and merger/acquisition discussions are conducted during our four days in Las Vegas.
—
Q: What are you personally looking forward to the most at this year's Industry Summit?
A: This is a close-knit industry, and over the years, Summit attendees have become close friends. I really enjoy the opportunity to reconnect with business partners, and to learn about their successes over the past year and the new initiatives they will be pursuing in the near term. In many ways, the Summit is like a really fun high school reunion — if everyone in your school worked in the sports collectibles business, of course.
For another look inside the 2015 Industry Summit, check out what Isaacson had to say in a special edition of Beckett Radio.
Who should we talk to for our next Sunday Conversation? Tell us in the comments below … 
Derek Ficken is the Basketball market analyst for Beckett Media and is also the weekly host for Beckett Radio. Have a comment, question or idea? Send an email to him at dficken@beckett.com. Follow him on Twitter @derek_ficken12.