Sunday Conversation: Dave Reid
Beckett Hockey recently had the chance to speak with NHL Network analyst and retired player Dave Reid at a recent NHL Alumni Tour stop in Belleville, Ontario. During his playing days, the former Stanley Cup champion was known for his passion for hockey cards and offered some of his thoughts on the hobby. Be sure to look for a complete profile of him that will be published in an upcoming issue.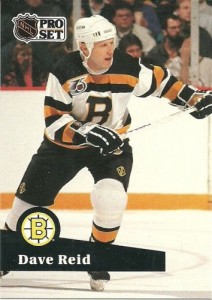 —
It has been well-documented over the years that you were an avid fan of hockey cards in your youth and during your NHL career. Are you still collecting today?
No. I have a collection, but I don't collect like I used to. I don't collect the new stuff, but I think everything pre-1990 and especially pre-1974 was the stuff that I remember. I kind of got out of the collecting business. I still enjoy it when going back and looking through the old cards and see pictures and things like that, it's always fun, but I've gone away from collecting.
When did you start collecting as a child?
I think I just came by it naturally. As a kid, you collected hockey cards and I had a brother who was a couple of years older and, like everybody else at school, you had your hockey cards you had to keep away from the teacher before they ended up in their desk. I think I got into it seriously probably through my junior days. I remember coming home and putting an ad in the local paper in Etobicoke, the Guardian. I'd put an ad in asking if anybody was selling cards. I think there was one price guide out that I'd take with me and I'd look at the cards and just offer if I was looking for certain things. I was more of a hoarder, I think, than a collector at that time and it kind of went from there.
I got into pro and in my first few years playing in the American League and playing in the National League, I'd find card stores in cities and I'd hit the card stores in my off time. You'd get into town and have a few hours before the game, I'd go out and do some shopping. Guys used to bug me about it, but I can always remember coming out of, I think it was the Card Collector's Closet in Springfield – I'm not even sure if it's still there – and the guys would be bugging me saying 'you and your hockey cards!' I used to to open stuff, so I used to buy packs from the late 70s, this would have been about 1984, and we were buying 1976-77 stuff and it never failed that when we were on the trip home after the games, the cards would be all over the bus. Guys would be looking at them and passing them around, wanting to smell the gum. I think it brings out the kid in everybody.
What was your favorite set of hockey cards?
There were pretty much three – the 1970-71, the 1971-72, and the 1972-73. Those are the three years I really remember collecting as a kid. They are the ones that still stand out when I see them. They bring back good memories.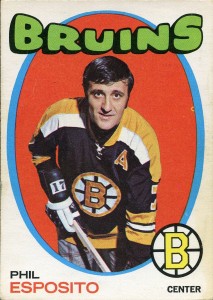 Did you have a favorite card as well?
"The Phil Esposito one where he had the plaid pants on when he was standing there getting his photo taken. I don't even think he had number seven on. There were some weird shots, but as a kid growing up in Toronto, you collected the Leafs. You wanted to get all the Leaf cards you could get. Then you wanted to get the Gordie Howes, the Bobby Orrs and the Phil Espositos and the star players from back then. For me, I think Bruce Gamble was the big one. It was in the "spotlight series" in 1970-71 and the shot was done so you could see all around him. He was floating on the card and he was kind of shrunk a little bit, so it was kind of a neat shot."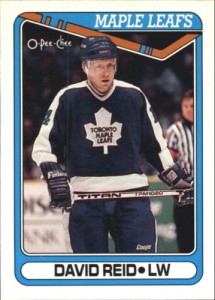 What was your reaction to finally getting on an official hockey card during the 1990-91 season?
"I was always up and down from the minors in my first few years, so I think you either had to be in Washington or New Jersey because there were only a couple of places that took the photos. Not like today where they kind of take them everywhere. I was always hoping to get in and you wanted to be in O-Pee-Chee. For me it had to be an O-Pee-Chee card because that's what I collected when I was a kid. That to me was the true hockey card with the bubble gum. When they came out in 1990-91, I actually had a card store. I turned my collection into a card store with Allan Bester on Church Street in Pickering, Ontario. It was kind of neat. That was the first year for Upper Deck and I was in the first Upper Deck set. That's a really nice picture and I'd say that's a pretty cool card. With the first O-Pee-Chee ones, they were coming in and I knew I was going to get a card."
Did you keep much game-used memorabilia from your playing days?
"I've got some jerseys like the ones from the Cup. What I used to do was get in touch with CCM and purhase half a dozen jerseys on my own and get them all lettered up and then throughout the year, I'd wear different ones. I'd always make sure that I had them because teams at the time didn't always give you the jerseys. I always wanted to make sure that I had some to go home to do different events and give them to my brothers and my parents. At the time, I was probably one of the few guys that did that, but it was more because I wanted the game-used jersey.
What do you think is a greater accomplishment – winning the Stanley Cup or getting on a hockey card?
Getting a Stanley Cup! Some guys never played a game in the National Hockey League and got a hockey card. No question, winning the Stanley Cup. A hockey card is just one of those things for me, because they didn't put everybody on, it was like you made it when you were on a card. You want to play in the National Hockey League and then you've made it when you've got the card or if you're interviewed on Hockey Night In Canada."
—