Sunday Conversation: Chris Chelios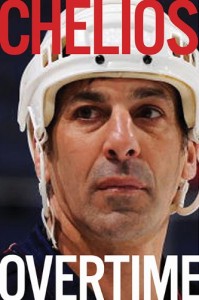 By Stephen Laroche | Beckett Hockey Editor
Beckett Hockey recently had the chance to speak with Hockey Hall of Fame member and author Chris Chelios about his career and thoughts about collecting sports memorabilia. Be sure to look for a complete feature on him that will be published in the February, 2015 issue.
—
You have recently released your autobiography with respected hockey writer Kevin Allen, which has been titled Made In America (Triumph Books) in the United States and Overtime (HarperCollins) in Canada. What spurred you to make the decision to tell your story?
"The biggest reason that I wanted to do it was, after the Hall of Fame, I had abut 100 people up there. It was pretty much as many tickets as I was able to get. The book was a way of acknowledging people and thanking them for helping me along the way, from basically my childhood and through hockey and everything. From what I have heard so far, the feedback has been good. People that I have mentioned in it have contacted me and said how grateful they were and for them, it was exciting to be a part of it."

Did you collect hockey cards as a child growing up in Chicago?
"Honest to god, I collected baseball cards, so I can't say hockey. Once I turned pro, I was endorsing a few of the card companies. I managed to get a bunch of cards and still, for I guess it is 30 years, I haven't even opened up half of them. My kids are now old enough and went through some of the ones that were open and had fun with them, but I never really paid much attention to which cards I had. I just know that I've got a bunch of unopened boxes of hockey cards from 1983 on.
"I used to go through quite a bit. There's a bit of a sad story at the end, though. There was an old man that lived a few blocks away and I took care of his lawn and took his garbage out. He was really old, but he had a baseball card collection and I used to go through them all the time. I'll never forget the Babe Ruths and the Lou Gehrigs – all the great Yankees. A lot of old cards from, I want to say, the 1930s and 40s. The problem was, we moved to Australia as a family and someone stole the whole chest full of them from the garage and that was the end of that. I lost my taste for collecting baseball cards, but once I turned pro, I started collecting the hockey cards."
What are your thoughts about signing autographs for the public?
"I never had a problem signing autographs. I didn't like when guys were waiting outside of hotels or having their kids there during school days. That was the one thing I didn't like. At the venues, the rinks, no problem, but I didn't care about the value or how many. To this day, I'm still signing cards and get lots of mail at the Joe (Louis Arena) and at the house, so to me, it's no big deal. It's my signature. It doesn't take a lot of time."
Did you save any memorabilia from your Hall of Fame career?
"There's stuff I've never looked at. Unfortunately, there's nothing I really have on display. I probably have over 400 jerseys – nothing that I really purchased, though. Most of it was just trading and people giving me things. I can honestly say I never really bought a jersey or a stick. I was mostly trading my sticks and my jerseys for everything that I acquired."
Are there any particular pieces of memorabilia that stand out for you?
"The Gretzky jerseys. Every time I played in an All-Star Game or a Canada Cup with Wayne, I'd exchange jerseys with him. I've got a nice collection of his, so that was really nice of it. It kind of became an annual thing where I would trade with him. I think the jerseys are the most significant thing that I own. I wish I could display them, but there's only so much room on walls. I can't put them up in the bar because I'm afraid somebody will steal them."
—
Who should we talk to for our next Sunday Conversation? Tell us in the comments below …
Stephen Laroche is the editor of Beckett Hockey and Beckett Basketball magazines. Have a comment, question or idea? Send an e-mail to him at SLaroche@beckett.com. Follow him on Twitter @Stephen_Laroche.