Sunday Conversation: Adam "Edge" Copeland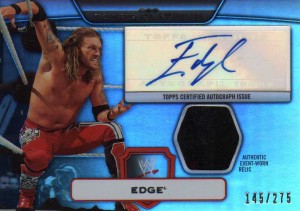 By Stephen Laroche | Beckett Hockey Editor
For millions of wrestling fans, the world champion known as Edge is truly one of sports entertainment's greatest superstars as he held multiple World Wrestling Entertainment titles throughout a Hall of Fame career.
Before he thrilled arenas full of screaming fans and wrestled on countless pay-per-view events, he was a Canadian youth named Adam Copeland growing up in Orangeville, Ontario. Like many kids of his generation, he grew up with an addiction to O-Pee-Chee hockey cards.
Now retired from in-ring action, he has transitioned into an acting career and has appeared in many episodes of the television series, Haven. He recently reconnected with his hobby following a hiatus of over 20 years and shared his memories with Beckett Hockey.
–
You recently Tweeted about some of your childhood hockey cards. Where were they all these years?
They were up at my Mom's since the last time I bought a pack of cards, maybe 1991 or 1992, and then I basically hit the road. I knew they were around somewhere, I just didn't know where. My Mom was moving last year and I was helping her and I went 'holy crap, here's all my cards!' Just boxes and boxes of loose cards and comics and everything I collected as a kid. So, I had to get these down to Syracuse at least and once I finished Haven this year, eight months from now, I'll be able to get to them – that was my thought.
When we got home a couple of weeks ago, we got the holidays done and I earmarked the time until we leave for North Carolina to get this done. It was pretty cool and all day and all night just sitting here and saying 'whoa, I forgot about that guy' and getting a complete reminder. It took me back to even where I got the some of them.
It's interesting, when you get so involved in something, I think that sometimes it can make you cynical and what's great about this for me is that because it has been so long, I have no cynicism attached at all. It's just fun and cool. I just now found a Wayne Gretzky Second Team All-Star from 1980-81 O-Pee-Chee. That's the first one I really remember being my set, where up until that point, it was my uncles' cards. I'd look at theirs and get some, but that was the first year I remember truly liking collecting.
–
Where would you purchase your cards?
I remember that I would always get my cards at Beckers on Broadway in Orangeville. My Mom worked there, so when the new shipment would come in, I remember going over the boxes to try to find the magic package. I always wanted goalies. I loved goalies.
We were able to get packs of cards here and there and I remember that it was a huge treat to save up enough to get a pack. Then I'd get another pack here and there and little by little, it ended up being a good little collection.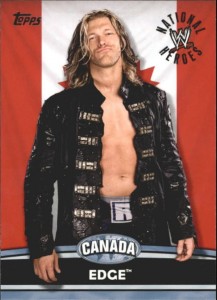 –
What was it that drew you to goalies?
I always loved the mystique of the mask. I had four uncles that played goal, I loved drawing goalies and remember being enamored by Jacques Plante and all of those guys. I always wanted those goalie cards and was always disappointed with a goalie standing there with the butt end of his stick under his chin and his mask up. I was like, 'No! Don Edwards needs his mask!'
I always looked forward to those and didn't really have a full understanding that Steve Yzerman's rookie was going to be worth something. I had a sense that Gretzky's would, and this will cause many to shudder, but I had two Gretzky rookies and I used one in the spokes of my BMX. You look back now, and who really knew? I was young enough that I didn't have a full grasp. I knew he was special because of what you would here, but it wasn't like nowadays where you're inundated with news all the time. We had three channels and CKVR was the main channel I got. Now, you knew that Sidney Crosby was the next thing. Then, you didn't fully grasp that about Gretzky unless you got to sit down and watch him play.
–
Did you have any particular players that you liked to collect?
For me, I was always a huge Sean Burke fan from the Canadian juniors to when the Devils picked him up. The Devils have kind of always been my favorite team. When they transitioned from Colorado when I was a kid, I thought they had the best jerseys. I loved the Leafs, but I loved the Devils now, too. That's all it took as a kid. Sean Burke's cards always hold that near and dear place and I was able to still be around for Martin Brodeur's rookie cards. Even the Chris Terreri's. I loved Devils and I loved goalies and they've always held kind of a special spot.
I always liked my Tony Esposito cards, too, because they always seem to have caught really good shots of him. Not all the time, but I remember specifically a few where 'whoa, Esposito looks awesome!' I liked Richard Brodeur, too, but I remember his cards always having the mask on top of the head and I was always disappointed. Grant Fuhr's rookie and Andy Moog's rookie I really liked and that was at the time where they were starting the dynasty. I've got a few Pelle Lindbergh cards that I thought looked really cool, too. That white mask with the "if I weren't on the ice, I'd be murdering you' look.
–
How has the process of reconnecting with your collection been for you?
It's a lot, to opening a box and thinking that we're never going to get through this. You look at it and think how many cards did it take to fill up the box this high? But like I said, it's been fun going through that and my old comics. I found an old Superman vs. Muhammad Ali comic and I'm like, 'are you kidding me?' That was 30 or 35 years ago. I remember I had it when I saw it, but finding all these gems is amazing. I found Ray Bourque's rookie and I had six of them! Even baseball cards, which I don't even remember collecting. I have Tony Gwynn rookie and all these Nolan Ryan cards and I don't even remember this because I wasn't a baseball guy.
–
Are you considering collecting cards again?
With a one-year-old daughter? No. I couldn't really spend the time, same with comics. As sad as that is, at this point in her life, maybe when she hits 10 or 12 or before that when she isn't completely sick of me and not want to hang out, maybe then I'll be able to have hobbies again.
–
Did you hang on to any memorabilia from your wresting career?
"I have tried to keep up with the action figures they've made, but beyond that, no. I've got a copy of each belt I've won. I've got all my trench coats and all my gear in those sealed bags folded nicely in the closet. One day, I'll sell them and maybe put my daughter through college. It's not out where everyone can see it. It's not a shrine to Edge or anything like that. It was a character I played on t.v. and that has made it a pretty good segue into everyday life. I've gone into some guys' house and they've got a magazine cover eight feet tall over their fireplace.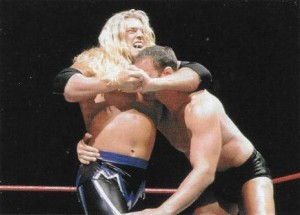 –
What did you think the first time you saw yourself on a trading card?
It was pretty crazy. There are certain times where I'm a little kid again. I think the three that stood out for me were being in a video game, an action figure, and being on a card. Those were things growing up that I loved. It's weird to see yourself on a pillowcase. It's weird to see your face on boxer shorts or a garbage can, but whatever. The pivotal ones for me, that's when I knew it was working. When you're in a video game, you've done something. When you're on a card or an action figure, you've done something. Those were the three moments that I remember. I guess I knew that it would happen, but it's still weird."
–
Are you watching hockey at all these days?
I get back to my Mom's and I realize that hockey is on 24-7 here. I forgot! When I'm down in North Carolina, I'm lucky if I can find a Hurricanes game and the odd tidbit on SportsCenter. I'm at the point where I've got to buy the Center Ice package or otherwise, I'm never going to see a game.
–
Stephen Laroche is the editor of Beckett Hockey and Beckett Basketball magazines. Have a comment, question or idea? Send an e-mail to him at SLaroche@beckett.com. Follow him on Twitter @Stephen_Laroche.