Steve Delabar's first cards came long before debut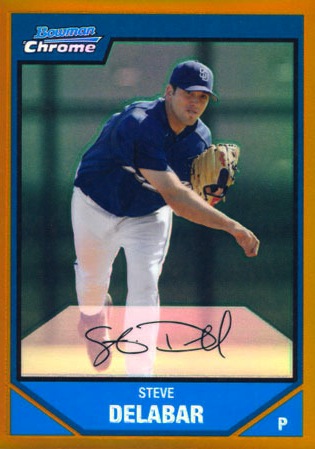 By Chris Olds | Beckett Baseball Editor
Steve Delabar. If you don't know the name, don't worry — you're not alone.
But if you're still watching the Seattle Mariners this time of year, you probably know him as a rookie pitcher who made his big-league debut last week. Again, if you're not familiar there's no reason to panic — he merely pitched a scoreless inning of relief for the last-place Mariners against the Kansas City Royals in that first game and picked up his first big-league win three days later with another scoreless inning. This time, it was against the New York Yankees.
But what makes Delabar interesting?
Five months ago he was out of baseball an a teacher. In fact, he hadn't pitched at all since 2009 — for an independent minor league team — and was last on an MLB-affiliated squad in 2008 when he was with the Class-A Fort Wayne Wizards in the San Diego Padres farm system. His career had been de-railed by injury, leaving him playing softball, before he made a comeback of sorts.
"It's the coolest thing ever," Seattle pitcher Tom Wilhelmsen told ESPN's Jim Caple. "The guy was teaching last year and he comes in and gets a win against the Yankees! Maybe they should make a movie. Or just watch a Mariners game — then you'll have it live for you there."
Delabar's strong debut, or perhaps just his story, has prompted a bit of interest in his baseball cards — not really a run, but some interest. He doesn't have many in the Beckett.com database — just 12, all from 2007 Bowman Chrome — so there hasn't been a lot for collectors to chase. Yet, what has been posted on eBay has sold. His 2007 Bowman Chrome Gold Refractor? $7.50. His Blue? $5. A lot of 20 standard Chromes? $10.
Need a Delabar checklist or Online Price Guide? Click here.
Could such an unlikely story become something more? Probably not as the 2002 film The Rookie tells a similar tale starring Dennis Quaid as former Tampa Bay Rays pitcher Jim Morris. But you never know.
Stories like Delabar's aren't common, but there are plenty of comeback stories similar to these that pop up from time to time and they seemingly always get reflected — maybe not for long — on cardboard, too.
Chris Olds is the editor of Beckett Baseball magazine. Have a comment, question or idea? Send an email to him at colds@beckett.com. Follow him on Twitter by clicking here.