Star Wars Chrome Perspectives: Jedi vs. Sith Autographs checklist announced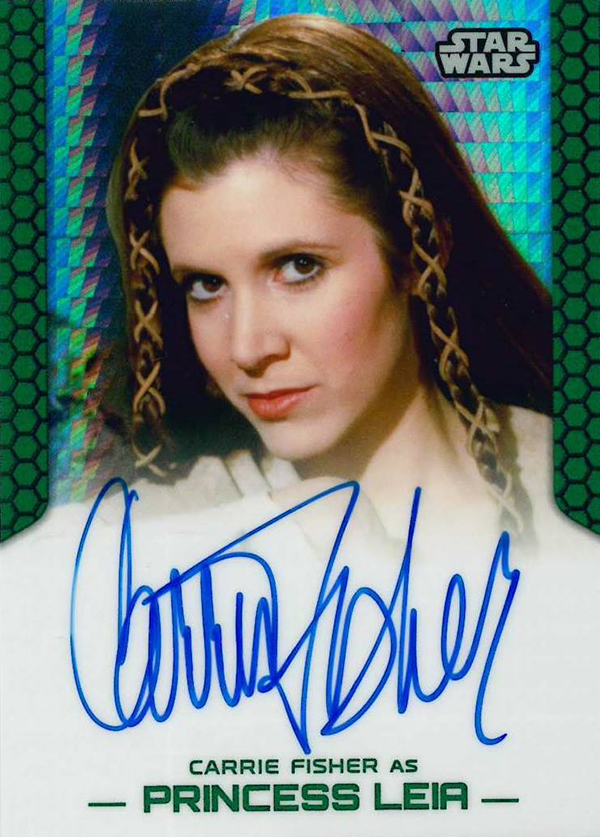 By Ryan Cracknell | Hobby Editor
Autographs have become a given in almost every set of modern Star Wars trading cards and that's showing no signs of slowing. The 2015 Topps Star Wars Chrome Perspectives: Jedi vs. Sith Autographs has one of the larger checklists the franchise has seen.
Highlights include Mark Hamill (Luke Skywalker) and Carrie Fisher (Princess Leia).
In all, 22 actors have basic autographs in the product. They cover the original films, prequels and into the newer animated The Clone Wars and Rebels TV shows.
And after a decade of most of them being on stickers, there has been a shift recently to more on-card autographs in Star Wars sets. 2015 Chrome Perspectives continues that trend, for the single-signed cards at least.
The majority of the signers have previous Star Wars autographs, but there are six first-timers. Taylor Gray voices Ezra, the central character in Star Wars Rebels. Olivia d'Abo, who played Kevin's older sister Karen in The Wonder Years, makes her Star Wars autograph card debut as well. Others include Jennifer Hale, Sam Witwer and Barbara Goodson, each of whom were voice actors on The Clone Wars. The last debut is Nick Gilliard who was Cin Drallig in Revenge of the Sith. Gilliard also served as a stunt coordinator on all three of the prequels.
There's a connection for baseball fans on the checklist as well. Ashley Eckstein, who voices Ahsoka, is the wife of 2006 World Series MVP, David Eckstein.
Being a a Topps Chrome set, autographs have some parallels. These come in the form of Prism Refractors, X-Fractors, Gold Refractors and SuperFractors.
In addition to the single-signed cards, there are a few multi-signed cards. With five copies or less (according to the initial sales material), these are extremely rare. Combinations include Hamill and Fisher on a dual autograph and Hamill, David Prowse (Darth Vader) and Ian McDiarmid (Darth Sidious) on a triple autograph.
2015 Topps Star Wars Chrome Perspectives: Jedi vs. Sith releases on August 21.
2015 Topps Star Wars Chrome Perspectives: Jedi vs. Sith Autographs Checklist
Amy Allen as Aayla Secura
Jerome Blake as Oppo Rancisis
Silas Carson as Ki-Adi-Mundi
Michaela Cottrell as Even Piell
Olivia d'Abo as Luminara Unduli
Phil Eason as Yaddle
Ashley Eckstein as Ahsoka Tano
Carrie Fisher as Princess Leia
Nika Futterman as Asajj Ventress
Nick Gillard as Cin Drallig
Barbara Goodson as Mother Talzin
Taylor Gray as Ezra Bridger
Jennifer Hale as Aayla Secura
Mark Hamill as Luke Skywalker
Zach Jensen as Kit Fisto
Nalini Krishan as Barriss Offee
Peter Mayhew as Chewbacca
Ray Park as Darth Maul
David Prowse as Darth Vader
Orli Shoshan as Shaak Ti
Sam Witwer as Darth Maul
Matthew Wood as General Grievous
Dual Autographs
Amy Allen as Aayla Secura and Orli Shoshan as Shaak Ti
Michaela Cottrell as Even Piell and Zach Jensen as Kit Fisto
Olivia d'Abo as Luminara Unduli and Nika Futterman as Asajj Ventress
Ashley Eckstein as Ahsoka Tano and Olivia d'Abo as Luminara Unduli
Nina Fallon as Stass Allie and Nalini Krishan as Barriss Offee
Nika Futterman as Asajj Ventress and Barbara Goodson as Mother Talzin
Mark Hamill as Luke Skywalker and Carrie Fisher as Princess Leia
Ian McDiarmid as Darth Sidious and Ray Park as Darth Maul
Ian McDiarmid as Darth Sidious and David Prowse as Darth Vader
Triple Auotgraphs
Mark Hamill as Luke Skywalker, David Prowse as Darth Vader and Ian McDiarmid as Darth Sidious
Ian McDiarmid as Darth Sidious, David Prowse as Darth Vader and Ray Park as Darth Maul