Star Wars Art: Ralph McQuarrie Postcards Box Set Highlights a Modern Master
When you click on links to various merchants on this site, like eBay, and make a purchase, this can result in this site earning a commission.
Star Wars, art and cards have a long history together. It got a big push with the original 1980 Topps Empire Strikes Back series, which included some of Ralph McQuarrie's art in the Space Paintings subset. Fast forward to the early 1990s and Topps' Star Wars Galaxy line that spanned multiple series, all dedicated to art. More recent innovations include sketch cards, which have art done directly on them.
The 2017 Abrams Star Wars Art: Ralph McQuarrie Postcards box set isn't trading cards as usual. But that probably won't matter to those who appreciate fine art — particularly when it comes from a modern icon.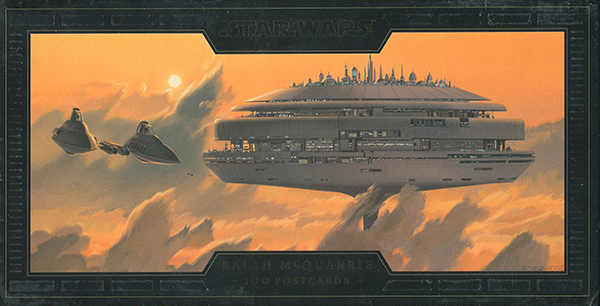 The box set comes with 100 postcards, each presenting McQuarrie's art in full panoramic glory. They work their way through the original films. Some of the moments were virtually replicated on the screen.
More fascinating are the characters and designs that evolved from the planning stage to the screen. There's C-3PO who went from looking like the robot Maria in Fritz Lang's Metropolis to a golden god worshiped by Ewoks. In another, the Millennium Falcon resemble more of the typical Martian saucer seen in countless movies (not to mention on Mars Attacks cards). The postcards offer plenty of examples of this, offering more layers to both the art and the making of the movies.
The design is simple. Fronts have the painting surrounded by a white frame.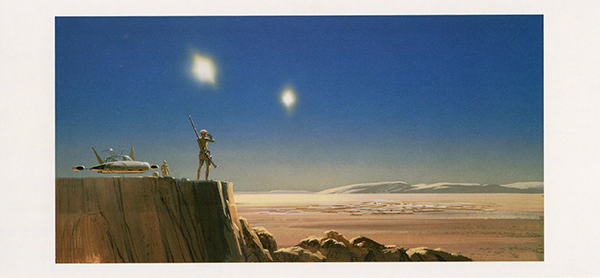 Being postcards, backs have room for you to write a note to a friend or let your mom know how great summer camp is. It's doubtful many will be used for this purpose.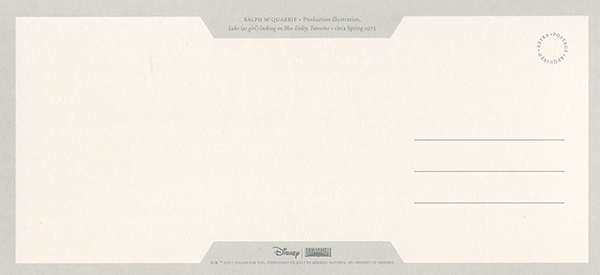 Each postcard measures approximately 9 1/4″ by 4 1/4″ so they're much larger than traditional trading cards.
Many are modern masterpieces, ingrained in Star Wars lore and iconography. They've been used on cards, in documentaries, posters, comics — you name it. Some of McQuarrie's interpretations have even created into action figures. Of course, they also helped shape the vision of the original Star Wars trilogy.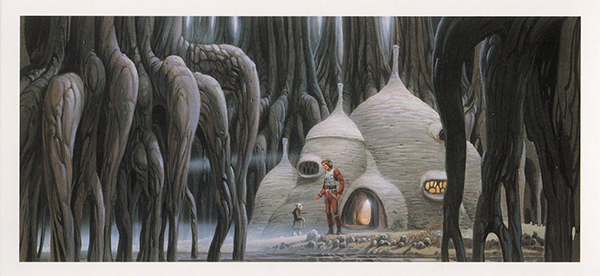 Going through the postcards, I've seen many of the paintings before. But there is a lot that are new to me. I know there are books out there filled with McQuarrie's art, but those tend to be pricey. Something put out a couple years ago by Abrams is around $150. This postcard set should be less that $25 at a local bookshop. Amazon currently has it for less than $20.
Although the star of the set is rightfully the artwork, Abrams was thinking things through when it comes to storage. The box actually doubles as a display piece. The outer box has a window that acts like a frame. Simply select a postcard, put it on top and you can put it on a desk or shelf to show it off. The box is deep enough that it stands without problem. Then when you get bored with one image, you simply rotate through the postcards and put another one on top.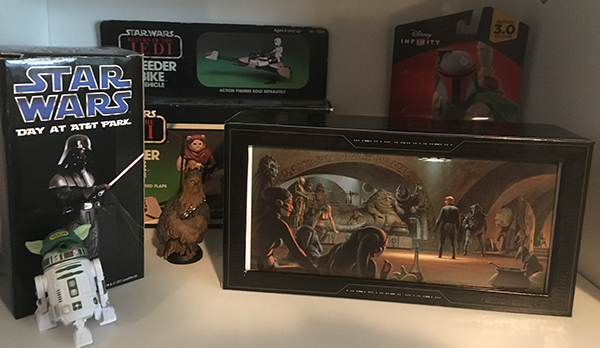 The biggest issue with the postcards is condition. Yes, they're not meant to be collectibles like traditional trading cards. These aren't a rare limited edition. But for many of us, it's habit. Expect some slightly dinged corners out of the box.
The sheer number of postcards and their size also means some potentially awkward handling. You can't just pick up the stack and expect to fan through them like a pack of regular cards.
If the intention of this set was to honor Ralph McQuarrie's art and present it in an accessible manner, Abrams did just that. It's an affordable, expansive and, most importantly, beautiful nod to a master.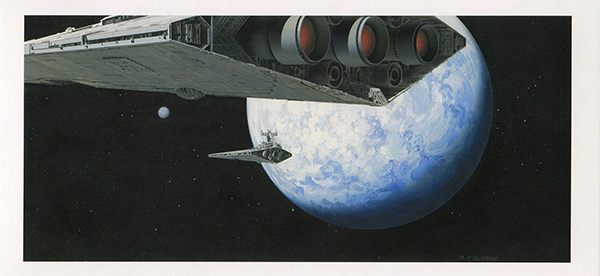 Comments? Questions? Contact Ryan Cracknell on Twitter @tradercracks or by email.