Standing in the Shadows: Kyle Connor Is Ready to Step into the Hobby Spotlight
In any other season, in any other city, Kyle Connor would be the headliner.
In 2017-18, the Winnipeg Jets winger completed a brilliant rookie campaign, topping all first-year players with 31 goals. Doing so, he became just the fifth freshman over the past 10 seasons to reach the 30-goal plateau. The others: Austin Matthews (40), Patrik Laine (36), Michael Grabner (34) and Logan Couture (32).
And yet it wasn't enough to earn him a spot among this season's Calder finalists.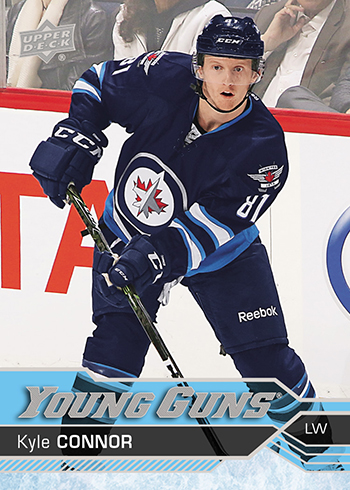 "It is what it is," he said. "It's not going to change anything."
You have to admire his attitude, even if this was the biggest snub in recent memory. After all, it wasn't just rookies that Connor outgunned. Superstars like Sidney Crosby, Patrick Kane and Steven Stamkos couldn't match his lamp-lighting pace. And he didn't simply score goals…he shot daggers. Connor led all rookies with seven game winners, including a trio of overtime snipes over the season's final two weeks to help propel the Jets to the best record in franchise history.
Not bad for a kid who started the season in the minors. So how is it that the 21-year-old is a hobby afterthought as well?
Timing is one factor. The 2017-18 rookie crop is as deep as any in recent memory, with Matt Barzal, Brock Boeser, Clayton Keller, Charlie McAvoy, Yanni Gourde and Alex DeBrincat all grabbing a share of the spotlight.
And it doesn't help that he's playing in Winnipeg, where Laine has established himself as the hobby alpha dog after engaging in a season-long goal-scoring race with Alexander Ovechkin.
But with skills like his, Connor won't be in the shadows for long.
The Clinton Township, Mich. native has been a goal-scorer at every level in his hockey career. He tallied 31 and 34 goals over his final two seasons with Youngstown of the USHL, then scored 35 goals in just 36 games in his only season with the Michigan Wolverines. In the AHL, he potted 28 goals in 56 games. Clearly, the kid has a nose for the net.
Like most snipers, the key to his success is shooting in volume. Connor fired 192 shots on net this season, second among rookies. That was an average of more than 2.5 shots per game. It's a sign of his growing confidence with the puck that he was so comfortable pulling the trigger. And when he did, he got results. Connor's 16.1 shooting percentage was nearly double what he posted the previous year (8.3 percent).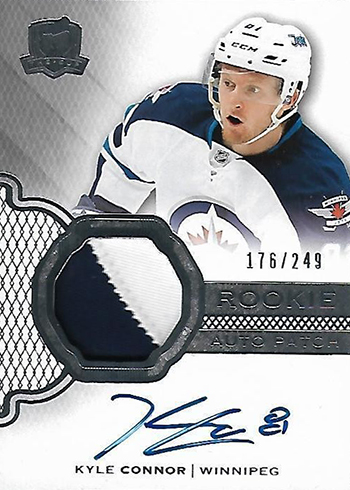 To be sure, his transition from amateur success to pro sniper was aided by a coach who trusted him to play on a top line with Mark Scheifele and Blake Wheeler.
"He's a player you almost treat as a veteran," Jets coach Paul Maurice said. "He's not someone you have to talk to a lot on the bench. There [aren't] a lot of holes in his game."
When he wasn't scoring, Connor earned his keep with a Datsyuk-ian puck pursuit. "He's not the biggest guy, but he's got that nose for the puck," one scout told Beckett Hockey. "He's always around it, picking pockets …[or] working the boards."
That the 17th pick in the 2015 NHL draft has picked up on that element of his game while still lighting the lamp hints at a very bright future. "He's in a great situation…[and] he's got the drive to be a star," the scout said.
Now it's up to the hobby to catch on.