Stan Musial Heritage samples carry air of mystery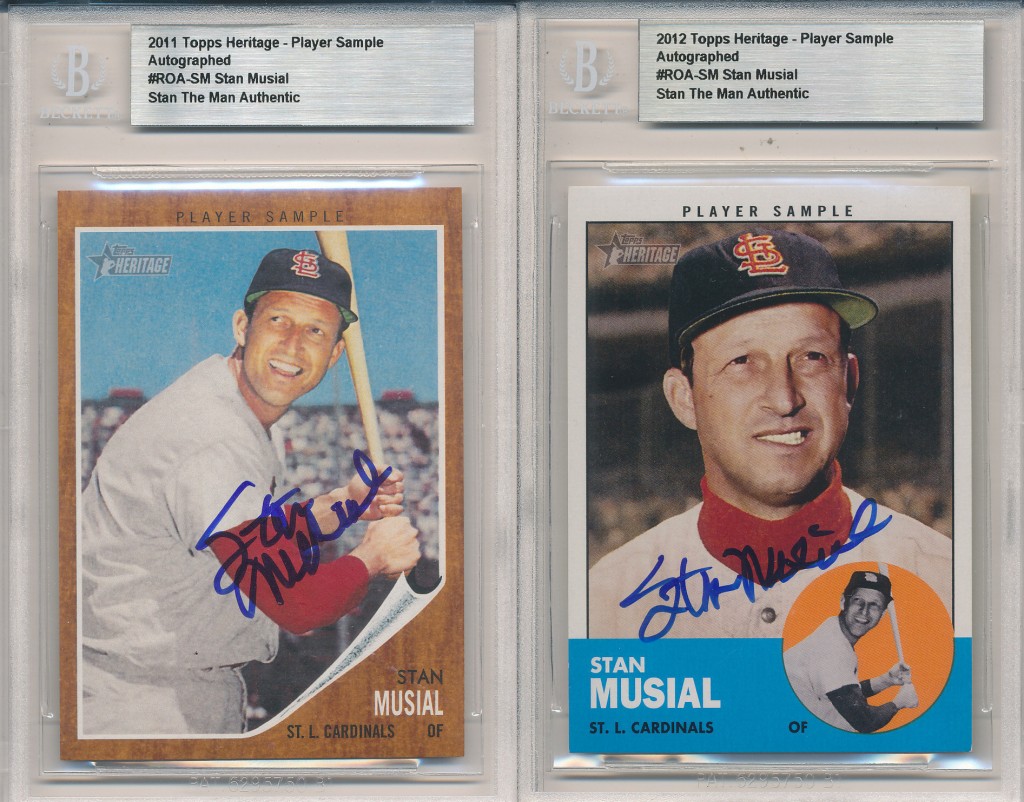 By Chris Olds | Beckett Baseball Editor | Commentary & Opinion
The baseball world lost one of its greatest hitters earlier this year and that hasn't done anything but drive demand for some of Stan Musial's key cards.
But, as a collector, these really grab my attention because they have a bit of mystery.
They're "player sample" versions of Musial's 2011 and 2012 Topps Heritage autograph cards that were given to him. They were signed under the watch of the late Hall of Famer's authentication company, Stan The Man Inc. operated by his grandson, Brian Schwarze.
They're not catalogued (Musial checklist and OPG here) as they weren't created for general release and most collectors don't know that they even exist. (Though some, of lesser players, have snuck into packs and onto the secondary market in the past few years.)
At the top of each card instead of reading "Topps Certified Autograph Issue" these cards read "player sample."
How many of these cards might exist is the obvious question — common sense would say probably no more than 50 per card, likely even fewer given the quantities signed by Hall of Fame players. Approximately 20 total copies of cards from the past two years have sold via the auction division of Beckett Media in recent weeks (selling quickly), while another small allotment has been provided for collectors to scoop up.
Demand for Musial's certified autographs from the Heritage line has been stout with rarer red-ink autos selling for more than $500 in recent weeks and standard versions of these cards selling for a decent amount as well — as much as $199 for an unslabbed standard-version 2011 card. Common sense says these samples have to be rarer than the standard cards and that they potentially could be tougher than the reds — but there are no guarantees, of course, as Topps typically doesn't disclose any production quantities. A rep for Stan The Man Inc, when contacted for this piece, actually didn't know how many copies of the cards were provided, either.
And that leads to the natural question …
How much should these Musial cards sell for? Personally, I'd think that the going rate for the first few might be too low.
But that's just me.
Chris Olds is the editor of Beckett Baseball magazine. Have a comment, question or idea? Send an email to him at colds@beckett.com. Follow him on Twitter by clicking here.