Stan Mikita Hockey Card Tribute (Video)
Stan Mikita was an icon for the Chicago Blackhawks. Not only did he rack up a ton of individual accolades during his NHL, but Mikita helped Chicago bring home a Stanley Cup in 1961. Much like his career, Stan Mikita hockey cards have withstood the test of time.
The Stan Mikita Rookie Card can be found in 1960-61 Topps Hockey. Around that time and for the first part of his career, he also appears in a variety of oddball and regional sets. O-Pee-Chee made its debut in 1968-69, bringing more cards each year.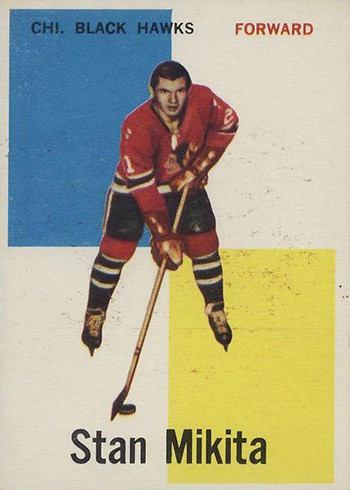 While the Canadian issues were generally the same as far as design goes, the O-Pee-Chee sets sometimes included cards Topps did not. Also, a handful use different images or colors that make for major differences on the front.
Here's a checklist of Stan Mikita hockey cards, at least the base cards, produced by Topps and O-Pee-Chee during his playing career.
Stan Mikita Hockey Card Checklist, 1960-1980
The following list only covers base cards, not inserts, from Topps and O-Pee-Chee released during Mikita's career. A full Stan Mikita hockey card checklist can be found in the Beckett Hockey Card Database.
1960-61 Topps Stan Mikita RC #14
1961-62 Topps Stan Mikita #36
1962-63 Topps Stan Mikita #34
1963-64 Topps Stan Mikita #36
1964-65 Topps Stan Mikita #65
1964-65 Topps Stan Mikita All-Star SP #106
1965-66 Topps Stan Mikita #60
1966-67 Topps Stan Mikita #62
1966-67 Topps Stan Mikita All Star #124
1967-68 Topps Stan Mikita #114
1967-68 Topps Stan Mikita Triple Winner #64
1967-68 Topps Stan Mikita All-Star #126
1968-69 O-Pee-Chee Stan Mikita #155
1968-69 O-Pee-Chee Stan Mikita AS1 #202
1968-69 O-Pee-Chee Stan Mikita Triple Winner #211
1968-69 Topps Stan Mikita #20
1969-70 O-Pee-Chee Stan Mikita #76
1969-70 Topps Stan Mikita #76
1970-71 O-Pee-Chee Stan Mikita #20
1970-71 O-Pee-Chee Stan Mikita AS2 #240
1970-71 Topps Stan Mikita #20
1971-72 O-Pee-Chee Stan Mikita #125
1971-72 Topps Stan Mikita #125
1972-73 O-Pee-Chee Stan Mikita #177
1972-73 O-Pee-Chee Stan Mikita In Action #156
1972-73 Topps Stan Mikita #56
1973-74 O-Pee-Chee Stan Mikita #6
1973-74 Topps Stan Mikita #145
1974-75 O-Pee-Chee Stan Mikita #20
1974-75 O-Pee-Chee Stan Mikita/Jim Pappin/J.P. Bordeleau Team Leaders #69
1974-75 Topps Stan Mikita #20
1974-75 Topps Stan Mikita/Jim Pappin/J.P. Bordeleau Team Leaders #69
1975-76 O-Pee-Chee Stan Mikita #30
1975-76 O-Pee-Chee Stan Mikita/Jim Pappin Team Leader #317
1975-76 Topps Stan Mikita #30
1975-76 Topps Stan Mikita/Jim Pappin Team Leaders #317
1976-77 O-Pee-Chee Stan Mikita #225
1976-77 Topps Stan Mikita #225
1977-78 O-Pee-Chee Stan Mikita #195
1977-78 Topps Stan Mikita #195
1978-79 O-Pee-Chee Stan Mikita #75
1978-79 Topps Stan Mikita #75
1979-80 O-Pee-Chee Stan Mikita #155
1979-80 Topps Stan Mikita #155