Spring Is in the Air and So Are Spring Training Baseball Cards – Beckett Pricing Insider
Finally, baseball is back.
Pitchers and catchers have reported. Most teams will have their first full-squad workout imminently. The Mariners and the A's got a little head-start on everyone and started on the weekend so they can prepare for their two-game series to kick off the season in Tokyo on March 20th and 21st.
If you've haven't had a chance to attend Spring Training, you're missing out. Based in two warm-weather states, Spring Training has always been a haven for fans trying to escape the winter and enjoy the up-close interaction with the players.
While the history of Spring Training claims Arkansas as the home of the first locations, both the Grapefruit League based out of Florida and Arizona's Cactus League have established histories.
There are currently 15 teams in each league with teams choosing their Spring Training mostly on their geographical location. Eastern teams tend to stay in Florida and Western teams playing in Arizona.
The past few years, Topps has incorporated Spring Training into their flagship product. In 2017 and 2018, Topps issued Commemorative Logo Patch Cards in Series 1. Both years these included multiple parallels and had an autographed version numbered to just 10 or less.
An Adrian Beltre card from 2018 just sold for around $45.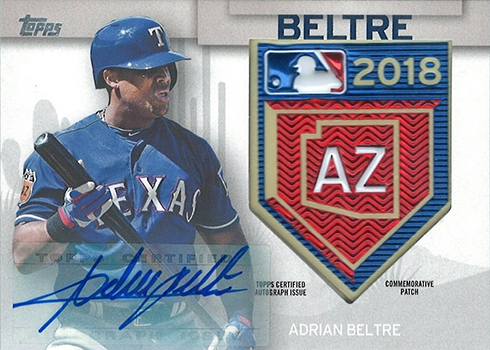 In 2019 Topps Series 1 Baseball, the Spring Training inserts are split up into Cactus League Legends and Grapefruit League Greats insets sets. Both of these have a 150th Anniversary parallel serial-numbered to 150, a Red parallel (/10) and a one-of-one Platinum parallel. These are all retail exclusives with the Cactus League Legends cards coming from retail display boxes and gravity feed packs while the Grapefruit League Greats are found in blaster boxes. Both of these sets also have a partial parallel that is autographed and numbered to 10 or less.
It looks like most of these autographs are still sitting in boxes as only a couple appear to have surfaced on eBay. This Grapefruit League Greats Ronald Acuna Jr. autograph sold for just around $90.