Sportkings announces NSCC VIP and redemption programs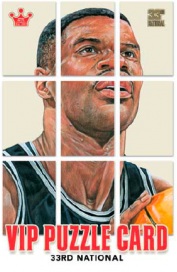 By Susan Lulgjuraj | Contributing Editor
If you like games, the Sportkings booth may be the spot for collectors at the National Sports Collectors Convention.
Each VIP bag will have a redemption card that can be exchanged for the Sportkings' Corporate Booth for nine random Sportkings Puzzle cards from nine subjects. These National exclusives won't be the only thing Sportkings is giving away as the company will also include a product redemption program.
Want to know who is included in the program? You can read more after the jump.
The puzzle cards will feature nine subjects: David Robinson, Gordie Howe, Gale Sayers, Bjorn Borg, Ken Griffey Jr., Franco Harris, Annika Sorenstam, Man O'War and Tito Ortiz.
To take part in the redemption program, collectors will have to open sealed boxes of Sportkings Series E at the corporate booth in the NSCC. You can redeem box tops for different cards.
One box top gets you one game-used Sportkings Memorabilia card. There are 20 different subjects with 19 silver subjects and one gold subject. These cards will feature single, double or triple memorabilia cards.
Breaking a sealed 16-box case of Sportkings Series E will get collectors a National 1/1 Spectacular Patch card.
Sportkings has another redemption program that will involve chasing cards. In every box of Sportkings Series E, there is one Premium Back Base Card. This card has the same front as a regular Base Card but a single letter on the back.
Spell out "SPORTKINGS" and receive a 1/10 Premium Sportkings Quad Memorabilia Card.
Do it twice and get a 1/1 Premium Sketch card.
Spell out "SPORTKINGS" five times and receive a 1/1 Premium Art Card painted by Jared Kelly.
Susan Lulgjuraj is a contributing editor for Beckett Media. You can email Susan here. Follow her on Twitter here.