Sports movies: Where are those props now?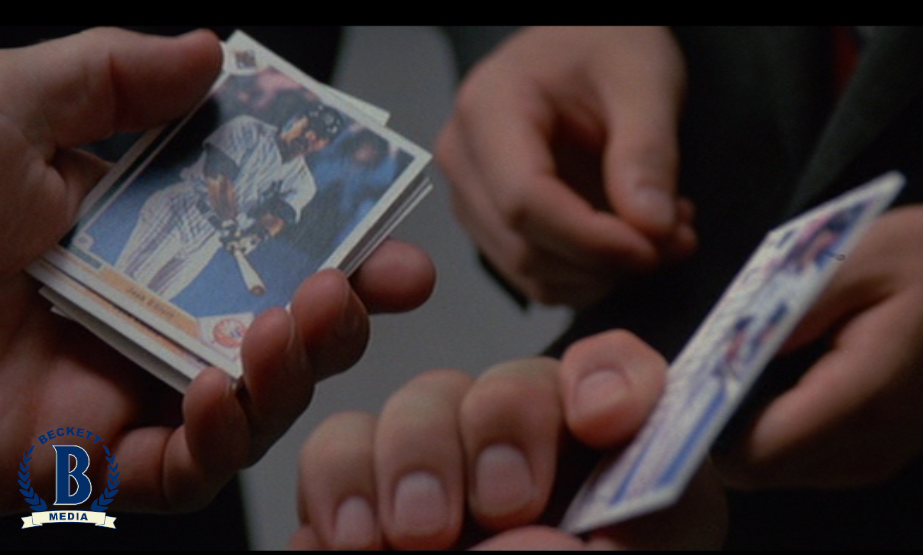 By Chris Olds | Beckett Baseball Editor | Commentary
One of my hobbies when not documenting things in the hobby for a Beckett magazine or right here on Beckett.com is searching for sports cards and memorabilia tangentially related to the stuff we see every day — in particular, seeking out stuff related to sports movies.
Why? Well, there are a few reasons.
One? The chase. Sometimes movie memorabilia just isn't plentiful, meaning you can't find it just by a simple, single online search. Often times, spur-of-the-moment ideas yield nothing after countless searches on countless websites.
Two? Stuff isn't always expensive — because it's not on the minds of many a fan, nor is it the en vogue item of the week before the next Next Big Thing arrives at every local hobby shop and retail store aisle.
Three? It's a seemingly never-ending search — yet it doesn't seem impossible, either, because there aren't 1/1s that show up in online auctions and then are never seen again afterward.
Then, there are situations where, unlike in the modern card market, answers can be elusive.
Take, for example, the image above … it's a scene from a pretty forgettable early 1990s movie but it's got a whole lot of cardboard enigma going on, unlike much of the stuff produced at that time that we almost all own in bulk.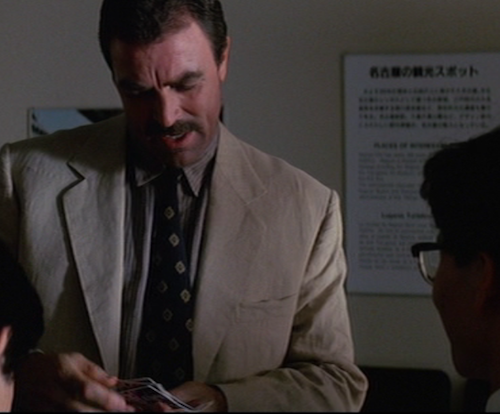 The 1991 Upper Deck card seen there may — or may not — exist these days but it's from a scene in the 1992 film Mr. Baseball starring Tom Selleck as Jack Elliot, a former New York Yankee who ends up playing for the Chunichi Dragons of Japan's Nippon Professional Baseball.
In one scene, he's meeting several executives who offer him their cards. As he collects 'em all, he remembers he has a card, too. It's a business card befitting a baseball player, of course, and he hands them out to those before him.
If you collected cards at the time, you might own the 1992 Upper Deck insert card showing Selleck fielding a ball at first base with an imposing MLB "rookie" for the Yankees behind him, a guy known as "The Big Hurt" or Frank Thomas. It was a relatively easy pull — but it's not styled after anything in the movie, really. The back is perhaps even more interesting as it shows him in his Dragons uniform and tells a bit about the production.
The baseball card seen on the big screen? I'm not sure if it exists, but it sure does interest me — and it's the kind of "what-if" that keeps me wondering and keeps me searching for that next big thing that's not brand new.
So, I say all that to ask these questions …
What "other" type of sports items do you collect?
What sports movie props do you think would be the coolest to own?
Tell us in the comments below.
Chris Olds is the editor of Beckett Baseball magazine. Have a comment, question or idea? Send an email to him at colds@beckett.com. Follow him on Twitter by clicking here.