Sports Movies and the Cards That Relate to Them
When watching sports movies, people often try to compare what players best relate to that particular film. Some movies are based on real athletes while others have intentional or unintentional similarities to real athletes. This time of the year, the best movies of the past 12 months are awarded with Oscar nominations. Some movies can directly increase the popularity of an athlete in the Hobby.
Here's our list of the best sports movies with direct connections to collectible players.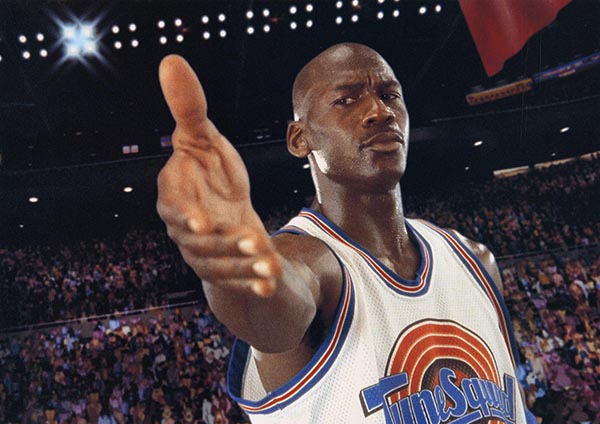 Space Jam (1996) – Michael Jordan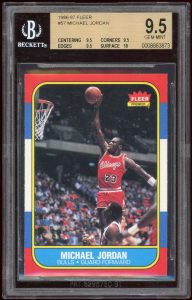 Space Jam debuted in 1996 featuring Looney Tunes characters and the biggest sports star in the world, Michael Jordan. The movie incorporated the real-life story of Jordan retiring from basketball to play baseball, but things take a crazy turn when he's kidnapped by the Bugs Bunny and friends. Jordan profiled his signature Space Jam sneakers in the movie which are one of his most popular shoes to this day. This movie was part of Jordan's reign as the king of sports and pop culture in the 90s. Jordan would go on to win another three peat of championships from 1995-98. His Rookie card from 1986-87 Fleer remains as one of the most collectible cards in the entire hobby. A BGS 9.5 sells in the range from $7,000-20,000 depending on the subgrades according to eBay auction.
The Natural (1984) – Josh Hamilton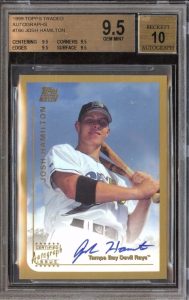 The Natural was a story about a fictional baseball player named Roy Hobbs who had all-world talent and was supposed to be the next great superstar to play in the majors and have a Hall of Fame career. Scouts were excited to sign Hobbs at 19-years-old and knew he had the potential to be great. During the movie he experienced some controversy in his life and disappeared from baseball for a number of years. Eventually he re-appears in the big leagues and started hitting light tower (literally) home runs and he was the best player in baseball for a short time. Outfielder Josh Hamilton was naturally compared to Hobbs. He was one of the most sought out prospects of all-time and was drafted first overall by the Tampa Bay Rays. But within a few years he was out of baseball for a number of years battling drug addiction. Hamilton would eventually clean up his life and return to baseball with the Cincinatti Reds and then the Texas Rangers. Hamilton had some monster seasons in the MLB including winning an AL MVP, the batting title, and putting on a historic performance during the 2008 All-Star Home Run Derby at Yankee Stadium. After Hamilton's 28 homer round, The Natural theme song from the movie was played in the stadium. He was considered by many baseball experts in 2010 to be the best player playing in the majors. Some regard him as one of the most naturally talented player to have ever played the game. Hamilton's cards exploded from 2008-2010, his Topps Traded autograph from 1999 would sell for over $1,000 during his Home Run Derby display in 2008. Injuries and other issues derailed his career after signing with the Los Angeles Angels in 2012, so his card values have come down since then and sell in the $80-100 range in that same grade at eBay auction. He's been advised to not play baseball again by doctors, but he's beaten the odds before. Does Hamilton have one more comeback in him? Only time will tell.
Bull Durham (1984) – Steve Dalkowski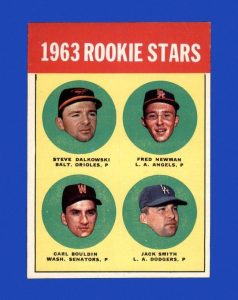 The movie Bull Durham is probably the most beloved baseball movie of all time. It's about minor league baseball and focused primarily on one pitcher trying to get to the big leagues. The pitcher's character that is portrayed in the movie is Ebby Calvin "Nuke" LaLoosh. The movie shows how dominant "Nuke" can be as a pitcher, but he's also very wild. He featured a powerful fastball in the film. Many baseball experts believe that his character was loosely based on the story of former minor league pitching star Steve Dalkowski. A documentary called Fastball featured Dalkowski as the pitcher who threw the fastest ever. Dalkowski during the minors in 1960 would strike out 262 batters but walk 262 batters. Many star players during the 1960s were beginning to hear about his historic fastball, which was rumored to be as fast 110 MPH. He would eventually figure out his control more, but got injured during a spring training game in 1963 and was never the same. Dalkowski never appeared in the majors but does feature a high number rookie card from the 1963 Topps set which is card #496. The legend of his fastball lives on, which makes his rookie card still very collectible. High grade examples of this card are very sought after and autographed copies of the card are popular as well. A near mint copy of this card sold for $227 this past month at eBay auction.
The Blind Slide (2009) – Michael Oher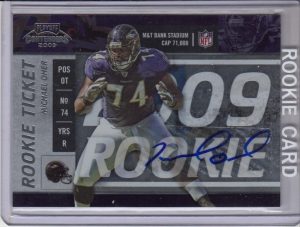 The Blind Slide was based on a true story of left tackle Michael Oher. The movie focuses on Oher's life as a homeless teenager and how the Tuohy family adopted him and gave him guidance in his life. Oher would eventually receive a scholarship to play left tackle at University of Mississippi. He was drafted in 2009 in the first round by the Baltimore Ravens. The movie's timing came out at the end of November in 2009, which was during Oher's rookie season. Oher received huge publicity, not just among football fans. He would go on to play for the Ravens, Titans and Panthers, and won a Super Bowl with the Ravens. Oher's most sought-after card remains his 2009 Playoff Contenders Autograph rookie which is very limited. During the movie it peaked at $80-125, it easily is worth in the $50-80 range due to the impact of the movie.
The Rookie (2002) – Jim Morris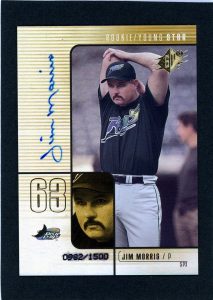 The Rookie was based on a true story of a left-handed pitcher named Jim Morris. Morris was a teacher and baseball head coach who threw batting practice to his team. Morris didn't realize at the time, but he was throwing very hard in batting practice. He made a bet with his team that if they won district he would try out for a pro baseball team at the very old age of 35. Morris's team won and Jim tried out and was signed by the Tampa Devil Rays. He would make his MLB debut on September 18, 1999 in a relief appearance. Morris would also pitch in 2000 as well. One of his most sought after cards is his 2000 SPX autograph sells in the $30 range at eBay auction. Morris will always be remembered for being one of the oldest rookies to make his MLB debut ever.
Invincible (2006) – Vince Papale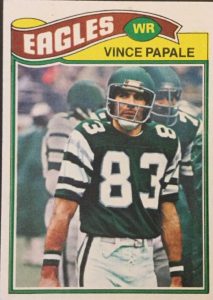 Invincible is the true story of a hometown guy from the city of Philadelphia, Vince Papale, who improbably made the Eagles roster.  The story was very inspiring that a 30-year-old hometown player could make the professional team based on a tryout. He would play on the team from 1976-78. When the movie was released many collectors were buying Papale's rookie card featured from 1977 Topps, ungraded copies were selling in the $30-50 range, now they are closer to the $5-15 range. However, the card is still considered very collectible. The movie is considered very popular and Papale will always be remembered because of this movie.
Brian's Song (2001) – Brian Piccolo & Gale Sayers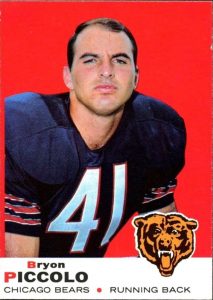 The movie Brian's Song debuted in 2001 and is a remake of the original from 1971. The movie profiles two Bears running backs, Brian Piccolo and Gale Sayers. The movie is based on a true story and shows the bond that Piccolo and Sayers shared together while they were teammates. Piccolo would pass away at a young age in the movie and Sayers would support his battle with cancer until the very end. The story is very inspiring, although Piccolo had a brief career due his illness his rookie card remains very collectible. Near-mint copies sell in the $80 range ungraded at eBay auction. His former teammate, Sayers, remains as one of the most collectible players in football, especially his 1966 Philadelphia Rookie card, which is very sought after in high grade. One completed listing sold for $800 in a PSA 8.
Rudy (1993) – Rudy Ruettiger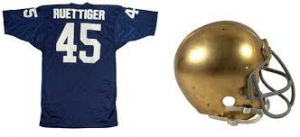 Rudy is one of the most popular sports movies of all time. It's a film about a smaller football player who had a dream to play football for the University of Notre Dame. He had to try numerous times just to be admitted as a student at Notre Dame. Eventually he would get into the college and become a walk-on football player at the university. Based on a true story, Rudy got to dress on the field for his last game as a senior at Notre Dame. This story has inspired many sports fans throughout the world and is regarded as one of the best sports films of all-time. Ruettiger is now one of the most popular motivational speakers in the world. Just to give you an idea of how popular the movie is, Rudy's game worn helmet and jersey from the only game he played in at Notre Dame was sold by Hunt Auctions for $241,500 in 2017.
Field of Dreams (1989) – Shoeless Joe Jackson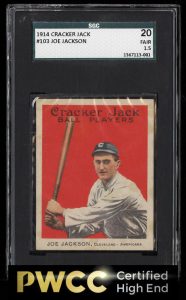 The movie Field of Dreams debuted in 1989 and is about a farmer from Iowa who builds a baseball field in his backyard. The movie is entirely fictional, but tells the story of many real baseball players. The main character in the film is played by Kevin Coster (Ray) who hears voices in the film that keep saying "if you build it, he will come." Ray builds a baseball field and eventually players from the infamous Blacksox scandal of 1919 show up on the field and play baseball, including the legendary "Shoeless" Joe Jackson. The movie tells the story of Shoeless Joe's lifetime ban from baseball for taking part in the scandal, though many doubt his actual involvement. During the movie they mention that Jackson never cashed the check he was given to throw the World Series and often mention his career statistics. This movie has given many collectors an education on how good Shoeless Joe Jackson was as a player. Jacksons cards remain very sought out to collectors. His 1914 Cracker Jack card remains his most sought-after card, which sold for over $23,000 at eBay auction this past month. These are becoming tougher to find each year and he always be very collectible.