Sports Card Trimming: How to Spot It and Avoid It
Card trimming may make a card look better, but such alterations can also forever destroy a card's value.
Card collecting and dealing is fun. After all, it should be about fun, right? The father of our hobby, Jefferson Burdick, never cared for values being assigned to cards. To him, collecting was about the thrill of the chase, not the potential for a profit.
But there is a portion of the hobby that has become about profit, potentially a very large profit. And where there is the potential for profit, there will be fraud.
Like any other tangible asset such as collectibles, counterfeiting and alterations are two of the biggest areas of fraud that buyers have to be aware of and have some basic knowledge of.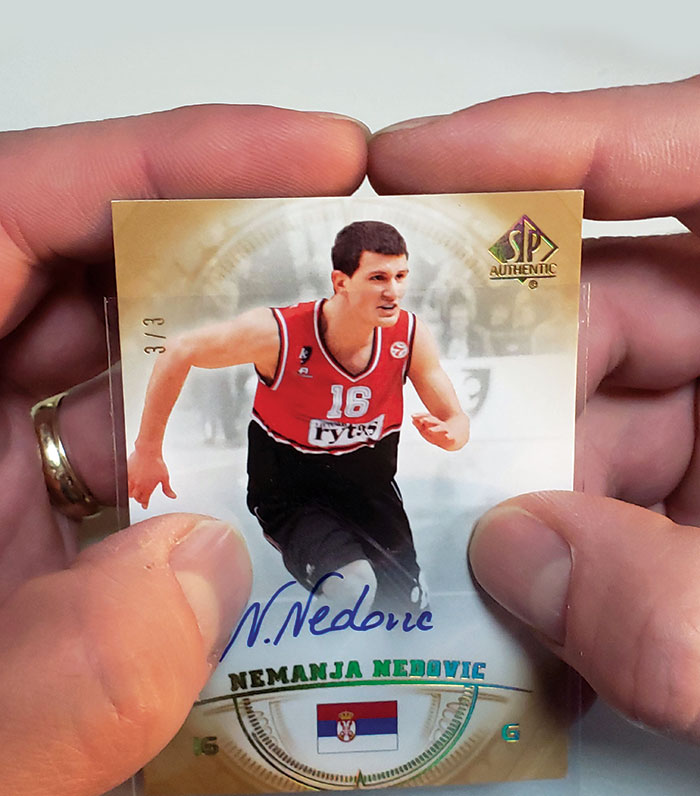 Here we're going to look at probably the most commonly seen card alteration: trimming.
A Ruler Isn't Enough
Let's put the biggest myth concerning trimming to bed straight away. The ruler is not how to determine if a card has been trimmed or not. In fact, if you are relying on measuring a card to detect trimming, you are going to buy some trimmed cards. The only way to determine if a card has been trimmed is to examine the cards edge. That's not to say that there is no benefit in measuring cards, it just means that a trimmed card does not necessarily have to be undersized.
Trimming and the detection of trimming also varies from card issue to card issue. Cards like T206s and Goudey cards have specific characteristics created by the ways in which they were originally cut by the printer. Vintage Bowman cards have edges that are very different than vintage Topps cards.
Modern cards have their own characteristics as well. Topps cards have characteristics from the way they were cut just like Panini cards have their own characteristics and so, too, do Upper Deck and Leaf cards. Detecting trimming is not an exact science. It takes someone skilled with not only knowing what a particular issue is supposed to look like but also what altered edges look like. Both of these skills are learned only from handling and examining as many cards as you can.
Why Are Sports Cards Trimmed?
There are a few reasons as to why someone would alter a card by trimming.One is to hide edge chipping or other damage.
Sometimes an edge is trimmed or beveled in order to remove natural edge chipping in an attempt to improve the apparent grade.
Another reason is to attempt to improve the centering. A card that is only slightly off-centered can appear to be centered when the edge of the card with the thicker border is trimmed down. Sometimes this is also coupled with power erasing depending on the card issue.
Trimming can also be done to hide other alterations. When a corner is pressed out or color has been added to an edge, an edge can be trimmed in an attempt to hide the pressing or the color addition.
Cutting down oversized cards is a problem not only in vintage cards but also in modern. If you rely on only measuring an over-sized card that has been cut down is going to measure correctly. The trim job may get past you.
Wannabe and seasoned card doctors can use a number of different tools to trim a card. From a simple razor blade and straight edge to stock sheet cutters, each type leave tale-tell signs. Even individual card doctors can be identified by the signs they consistently leave behind from the tools they use. The more trimmed cards you examine, the more this becomes apparent.
What Do You Need to Start Detecting Trimming?
The most important tool you need is a proper loupe. This goes for trying to detect any kind of card alteration.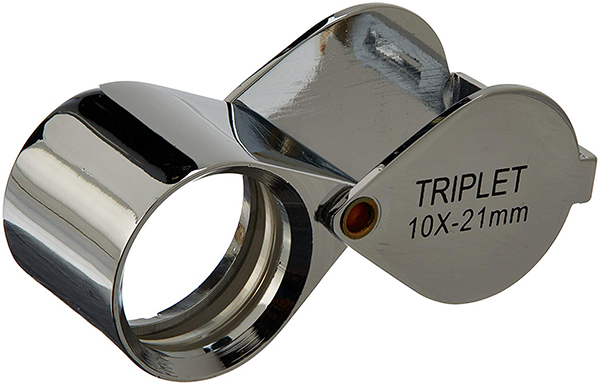 Fortunately, the best loupe for card grading and alteration detection is not the most expensive loupe out there. A proper loupe has a 10 powered triplet lens that is corrected for both color and image distortion. If you have ever used a cheap quality loupe and noticed that yellow halo in the lens or that the closer the image is to the edge of the lens, the more distorted it is? That is from a low quality lens and is only going to be in your way when you are trying to grade or authenticate a card.
Let's break down what the characteristic are that you will need in a loupe:
10x Power
This is an easy one to explain. It simply means you need a lens that magnifies 10 times. The grading standards for the three top-tier grading companies were all written at 10x magnification. Using anything stronger will make it very difficult to properly grade a card in comparison to the third party graders.
Does that mean you don't need other strengths of magnifications?
No! I have an array of loupes I use including a stereo microscope that has the ability to go up to 80x power. But these loupes and microscope are for other uses such as counterfeit detection and some alterations.
10x is all that is needed for grading and for detecting trimming.
Triplet Lens
A triplet lens means there are three elements in the making of he loupes lens. The three different elements of the lens are what correct the color and image distortion. Many of the low-end loupes are either single lens or doublet lenses. Some cheap loupes from places like China can be marked as triplet lenses. In reality, they are not true triplet lenses.
A proper lens from a known manufacturer can be had for under $50. These will last you a very long time. One of my main loupes I travel to card shows with, I've used full-time for over 20 years now. It may look rough and road worn, but it is still a solid workhorse lens. And it is still a pretty darn good investment.
So you have the proper loupe. You are using it to examine cards with known good edges. You are learning the right characteristics. Now what do you do to try to identify a potentially trimmed edge?
How to Identify Trimmed Sports Cards
The first step is to check all four edges for consistency. An example would be a card with three normal looking sides and one edge that is extremely smooth or uneven. An uneven or wavy edge can be a quick way to spot a bad edge.
To check an edge for waviness, hold the card with your finger along the edge just behind the card. This helps to focus your eye to the edge and can help a wavy edge stand out.
Pay particular attention to, not just an entire edge, but areas like the corners. Yes, an entire edge can be trimmed off but so can small spots of an edge such as around corners. A corner can be pressed out in order to hide creasing and or corner damage. When the corner is pressed out, the card stock stretches. The edges of the corner now have to be trimmed down in order to not stick out from the rest of the card.
Check the Corners
Corners that jut out from the card's edge, or "dog ear" corner, can be the result of a bad trim job and or a corner that has been pressed out and not trimmed down.
Next we are going to take our loupe and look directly onto the card's edge. When a card has one or more edge completely trimmed off, it will be apparent when we look at each edge straight on with a loupe. By starting at one end of the edge and follow the entire edge with our loupe, we can see the edges that were trimmed appear to be almost perfectly smooth with no characteristics like striations in the stock.
In the case where only a portion of the edge has been trimmed or sanded, the edge will not appear uniform from one end to the other.
It's Not an Exact Science
As stated previously, detecting trimming is unfortunately not an exact science. It is a constant battle between the learned skills of the grader and the skills of the card doctor. Understanding what and why trimming is remains one important step towards being able to detect such alterations. And like any alteration detection, the more cards you examine with a loupe and learn what a natural edge looks like, the easier it can be to detect the alteration and potentially avoid making a poor purchase that can cost you money.