Beyond nine pockets: Picking the perfect sports card pages to protect your collection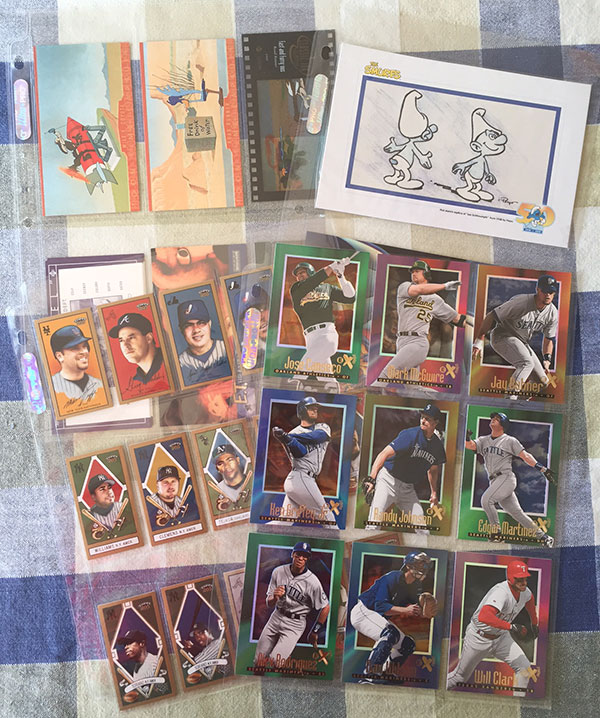 By Ryan Cracknell | Hobby Editor
Trading cards come in many shapes and sizes. Sports card pages are one of the best ways to store and display them. But if you've got a stack of minis from Allen & Ginter, they're going to look a little off swimming in pages made for standard-sized cards. Likewise, you might do some damage if you try stuffing some slightly larger 1952 Topps Baseball cards into the regular sheets you find at your local shop.
But just as cards come with different dimensions, so do trading card pages. So no matter what oddly shaped box topper or small insert you have, there should be something that not only holds it but displays it in a binder as well. And aren't cards better when they're looked at rather than being stored in box.
Here's a break down of the main types of sports card pages that are out there and maybe a few that you didn't know about.
Sports Card and Trading Card Pages
Nine-Pocket Pages — Standard Modern Cards
These are the go-to for the vast majority of today's cards. These regular pages have nine 2.5″ by 3.5″ slots arranged in three rows of three.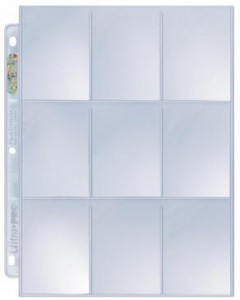 Nine-Pocket Mini Pages — Mini Cards
Over the past decade, there has been a resurgence in mini cards. Tobacco-sized cards are the most common, but they're not the only one. Topps in particular has been a fan of the 2 1/4″ by 3 1/8″ format. Longtime collectors will know this size from 1975 Topps Mini. More recently, these dimensions have been used by Topps for online-exclusive sets as well as common inserts in their flagship Topps and Bowman lines.
It took a while but now both Ultra-Pro and BCW make pages that hold these smaller, but not too small, cards. Like regular pages, they fit nine per sheet. They're laid out the same but with slight different gutters for the pockets to fit the cards properly.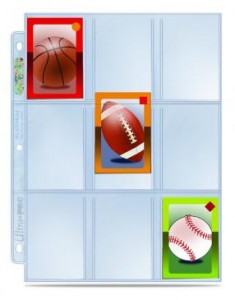 Eight-Pocket Pages – Vintage Cards
Got a stack of vintage cards that need a new home? Some of the earliest Topps Baseball cards were a little bigger than they are today, measuring 2 5/8″ by 3 3/4″. It wasn't until 1957 that the standard 2.5″ by 3.5″ was introduced. Eight-pocket pages are designed with these slightly larger but popular cards in mind.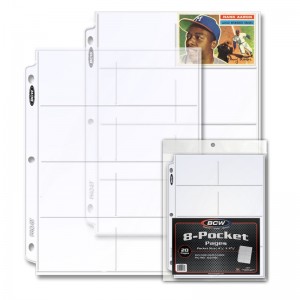 Six-Pocket Pages – Tall Boys
Several notable releases, particularly in the mid 1960s, have been released in the tall boy format that's significantly longer. 1965 Topps Football, 1969-70 and 1970-71 Topps Basketball and 1964-65 Topps Hockey are some of the most popular vintage tall boys. In recent years, other companies experimented with the over-sized format but they're not very widespread. More popular now, although still somewhat limited, are non-sport sets dubbed "Widevision" for Star Wars and a handful of Fleer/SkyBox comic releases. Six-pocket pages have 2 1/4″ by 5 1/4″ pockets.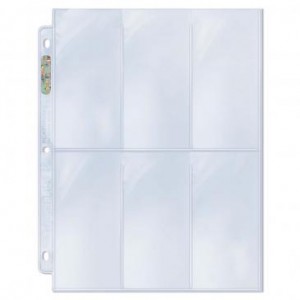 Three- and Four-Pocket Pages
If you've got photos and postcards in your collection, these are likely the best option. Four-pocket pages are divided into quarters for things that are 3 1/2″ by 5″. There are a couple of different options for pages with three pockets, 4″ by 6″ and 3 1/2″ by 7 1/2″. The latter are helpful for paper currency.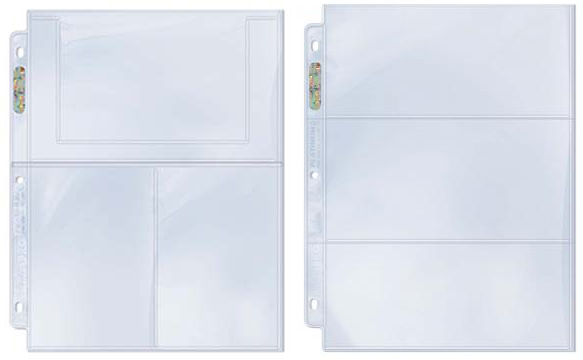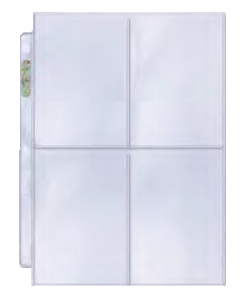 Two-Pocket Pages – Most Box Loaders and Over-Sized Cards
Two-pocket pages have pockets that are big enough for anything that's up to 5″ by 7″. A popular size for a lot of large cards, particularly box loaders, these are also a nice catch-all for other things that are big. They may not fit perfectly, but they're also better than nothing.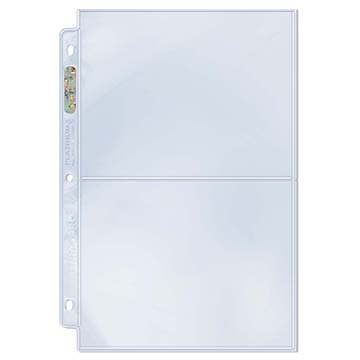 One-Pocket Pages – Photos, Large Box Loaders
Sometimes something big comes into your collection. Whether it's some sort of premium, a large box loader or a small uncut panel, there are times when you need something bigger but not too big that it won't fit in a binder. One-pocket pages can be an easy fix. These generally come in two sizes, 8″ by 10″ and 8 1/2″ by 11." This also makes them ideal for signed photos you might not have space on the wall for to display.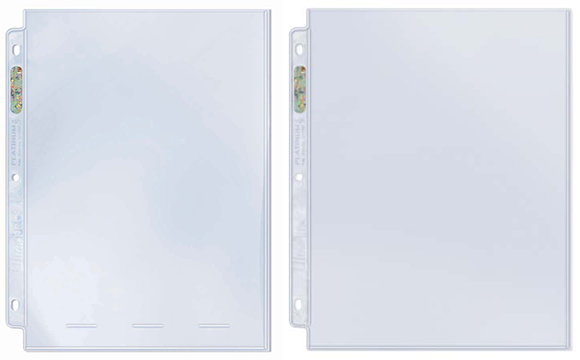 12-Pocket Pages – Coins, Tokens and Other Smaller Items
Now we're really getting into the specialized trading card pages. Twelve-pocket pages have almost square pockets that measure 2 1/4″ by 2 1/2″. These could come in handy for coins and stickers. They're also great if you have any slides that might be part of your player or team collection. Similar 20-pocket pages can also work.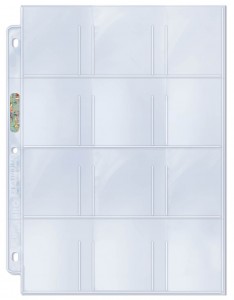 15-Pocket Pages – Tobacco Minis
Whether you have you great-grandpas stash of cigarette premiums or a growing stack of Allen & Ginter, Gypsy Queen and Panini Golden Age minis from years of buying boxes, tobacco minis are some of the toughest cards to store — if you don't have the right pages. Fifteen-pocket pages are arranged with three rows of five. With their narrower windows for loading, it can be a little tricky to fill these pages but it doesn't take long to get used to them.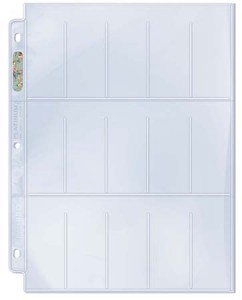 20-Pocket Pages – Coins, Tokens, POGs
As far as oddball items go, coins and tokens go way back. Pinnacle Mint helped bring them back, if only for a short time. I'm also not ashamed to admit that I have a couple of pages of Simpsons POGs still kicking around. For all of these, you can use 20-pocket pages that have five rows of four pockets.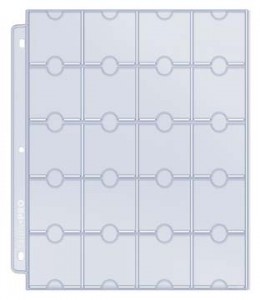 In addition to these basic types of pages, Ultra PRO and BCW have more options like side-loading pages, some that are double-sided and handy for collectible card games, and more.
Are the Sports Card Pages You're Buying Safe?
A big reason for using sports card pages is to protect them. If condition didn't matter, we'd be sticking with rubber bands and shoe boxes. You need to make sure that those pages aren't the things causing the damage. Chances are, if you're using BCW and Ultra PRO supplies already, you're good.
You might want to think twice about those cheap packs of off-brand pages found in dollar stores and in some department store card aisles. They might save some money and make a decent option for cards that aren't worth much and are likely to get handled a lot. If you're looking to archive your collection with binders, they might not be safe enough.
Some pages have harmful acids that can damage your cards in the long-run. Quality pages also have UV protection that significantly reduce the risk of fading. They also shouldn't be made of PVC.