Sports Card Album aims to be the photosharing app for card collectors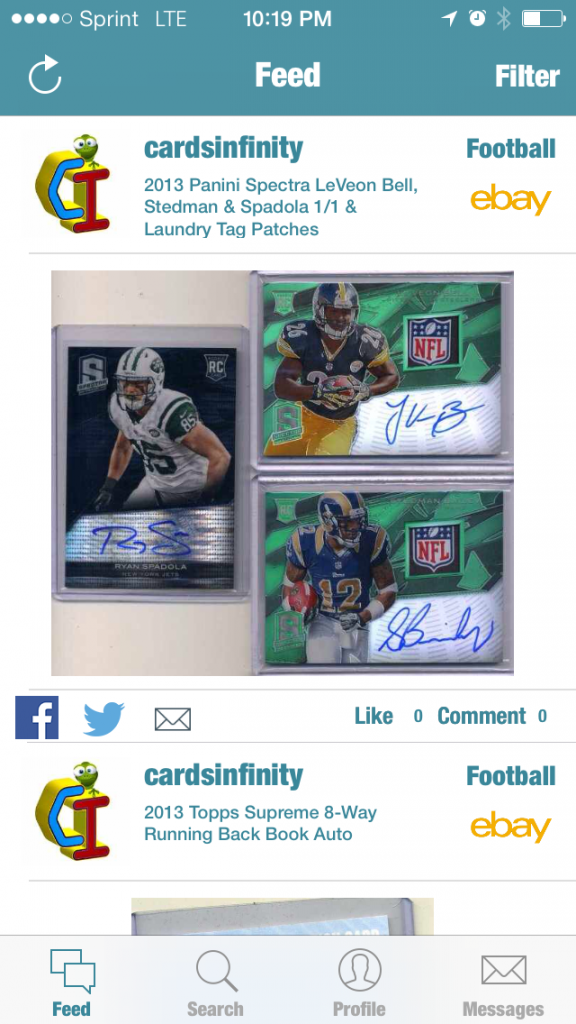 By Susan Lulgjuraj | Beckett Sports Card Monthly Editor
What happens when there isn't an app you want?
Some people go out and create one.
That's what Sergio Dubois did when photosharing software wasn't what he needed for his card collection. Instead of being able to see a full card, sites were only allowing thumbnail images or cutting off pictures so users couldn't see full cards.
Dubois decided to do something about it. He paid a friend who is a developer to create a program that suited his needs. In the end, he got Sports Card Album.
The process started nearly one year ago. It launched with a free website where users joined in a beta program to work through the glitches to get the working site ready. On Tuesday, Sports Card Album launched an iPhone app. An Android app is in the works.
"Sports Card Album was originally intended to be a photo-management tool that would help collectors trade in forums," Dubois told Beckett Media. "The social aspects of our website have made it a lot more than that, though. The live feed allows collectors to follow their friends' albums and see the latest cards that have been uploaded. Group breakers, card shop owners and manufacturers have all begun using Sports Card Album to show off their biggest pulls or latest products.
"We will continue to expand the community and social aspects of the site, but at the end of the day we want to be the number one photo-management site for card collectors. The new features we plan on launching in April will enable collectors to share their cards in forums in ways that have never been seen before."
There are currently more than 2,500 registered users with more than 135,000 card images on Sports Card Album.
The initial response has been positive with Dubois saying there are about 20 new users per day on the site, but all the different people have made for some speed bumps along the way.
"The main problem we faced the first three to four months was dealing with the various operating systems and platforms," Dubois said. "I had no idea that every computer, every browser, every phone, and every operating system was a little bit different than the others. The software might work perfectly for 90 percent of the people, but the other ten percent are frustrated and angry. You fix that problem, now it's working for 93 percent of people but 7 percent are still upset and some are sending you hate mail because your free software doesn't work for them yet.
"Eventually we got the product running pretty smoothly and since then our biggest challenges are keeping up with our ideas and preparing for the needs of our rapidly expanding user base."
Sports Card Album has added updates every week. And Dubois knows if he does it right, his app and website could become a popular place for card collectors.
"We expect our app to be the "time-waster" of choice for card-collectors," he said. "We want collectors to whip out their phones whenever they are bored and easily see their friend's latest pickups, their favorite group breaker's biggest pulls, and their favorite manufacturer's latest products."
Susan Lulgjuraj is an editor at Beckett Media. You can email her here with questions, comments or ideas. Follow her on Twitter here. Follow Beckett Media on Facebook and Twitter.