Sports Artist Spotlight: Jordan Spector
The image of Joe Burrow on the front cover of the August, 2020 issue of Beckett Football was painted by Jordan Spector from a cell phone image captured by Pulitzer Prize-winning journalist Jeffrey Marx.
The image was snapped as the LSU Tigers celebrated their 2019 NCAA National Championship in January this year.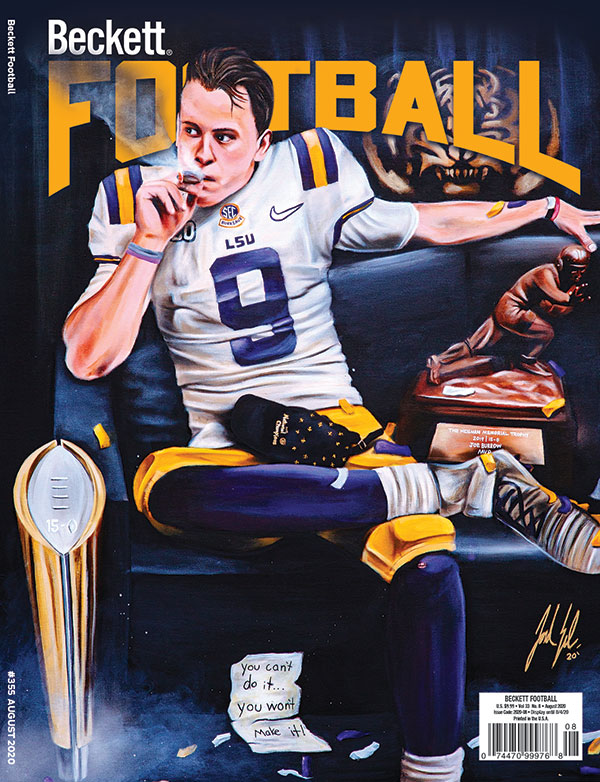 It's a fantastic image – both the painting and the actual photo – but Spector's "Burreaux" painting dives deeper than just a cigar-smoking Burrow in the championship moment. There are a couple of additions Spector added to emphasize Burrow and his accomplishments last season which culminated with the Heisman Trophy winner being the No. 1 overall pick in April's NFL Draft.
Among the "additions" in the painting:
The Heisman Trophy
The cap in Burrow's lap. The wording on the original cap may have been seen as offensive by some and amusing by others, but Spector just changed the wording to put the light on the National Championship win.
The addition of "15-0" underneath the football seams of the championship trophy, with the "O" looking like the trophy itself.

Adding the paper note on the ground that reads, "You can't do it . . . you won't make it!"
Spector never set out to paint this classic. "It wasn't planned," he says. "I had followed Burrow the entire season and already liked his play and the way he carried himself, but I had no plans to do a piece."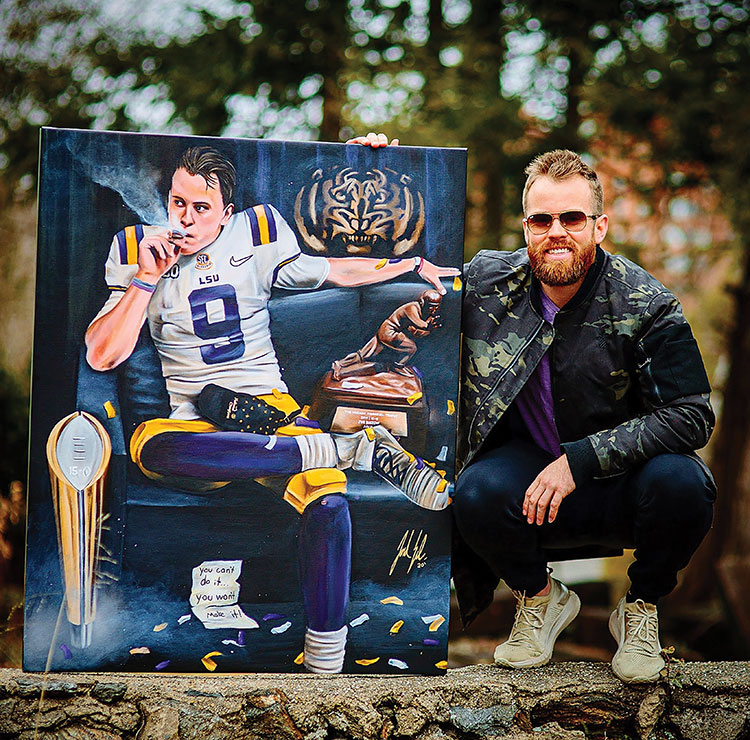 But the night the Tigers captured the national title, the image Marx took of the post-game celebration landed on Instagram with someone adding, "This needs to be painted and hung in the LSU library." Spector figured, why not?
"That same night I didn't sleep much," he says. "I spent hours solely on digging deeper into Burrow's journey, re-watching his incredible Heisman speech and finding more inspiration."
Spector is no stranger to football, having been a successful walk-on at Temple University in his native Philadelphia. An injury in 2014 ultimately ended his playing career but he still feels connected to the game through his art.
He's been commissioned by, or done work for, the Philadelphia Phillies, Major League Baseball, Louisville Slugger, Brian Dawkins, the Philadelphia 76ers and the NFL Alumni Association. Not bad for an artist who is completely self-taught and that never attended art school.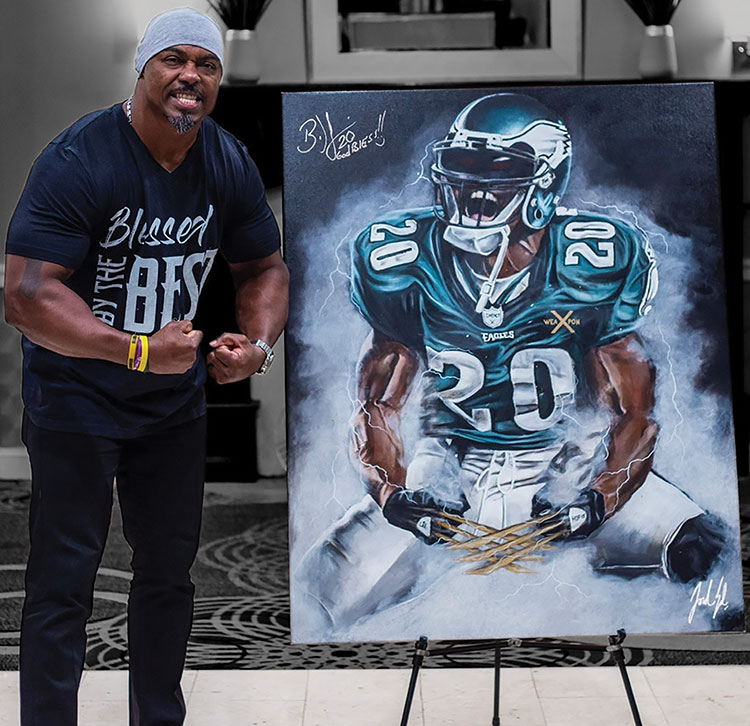 With "Burreaux," Spector appears to have met the objective of every piece he complete.
"My goal is for any collector or sports fan to feel the energy in each piece," Spector says. "I put an emphasis into recreating moments that capture energy, emotion and passion that are often overlooked."