SP is for Spike: 1993 SP Derek Jeter Rookie Card Rising – Beckett Pricing Insider
As an all-time legend, it's no surprise that even in retirement Derek Jeter remains one of the most popular players in the hobby. Many of The Captain's cards are the most sought after of the modern age. Of course, with that high demand, comes higher prices. And with a recent surge in the sale prices for select Jeter cards, he is currently one of the hottest players in the market. And the 1993 SP Derek Jeter Rookie Card is leading the charge.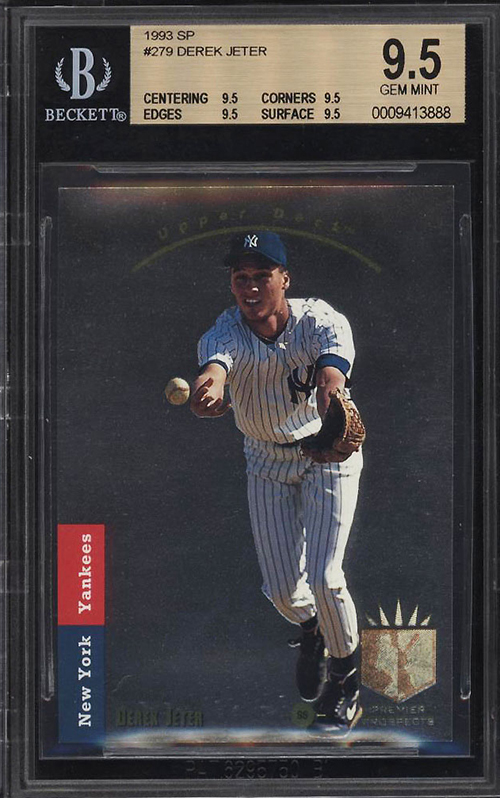 Back in September, I wrote a piece on Jeter's rookie card from 1993 SP, his most popular Rookie Card by a long shot. It's probably the most iconic baseball card of the 1990s and has a great history in the hobby. SP's use of all-foil fronts on the Premier Prospects subset were a precursor to a lot of high-end cards that followed. However, those foil fronts are highly susceptible to damage with chipping and soft corners. Ironically, this is part of the reason this card, especially copies with high grades from BGS or PSA, are in such high demand.
Over the past few months, the 1993 SP Derek Jeter has seen a dramatic jump in prices. While there hasn't been a PSA 10 break the $99,000 mark one sold for last May, there has been a big spike on copies graded at the next levels.
At the time, sales for a Gem Mint BGS 9.5 were mostly between $3,000 and $4,000. In the past month there have been multiple sales for between $6,000 and $7,000. Going down a step to a BGS 9, back in September sales were around $500 to $600. Now, sales are sitting around $1,500. One more down to a BGS 8.5, sales are currently in the $500 to $800 range, up from around $200. All of these have essentially doubled their return over the last eight months.
Normally, when you see these drastic of price changes, it is after someone sets a record or wins a championship or retires. Jeter has done none of these things any time recently. He hasn't been in the public spotlight much outside of becoming an owner of the Marlins. But, for whatever reason, this card continues to climb.
Mariano Rivera being elected to the Hall of Fame unanimously may have something to do with it. Because Rivera was the first person to get 100 percent of the votes, some may be thinking that Jeter could be next when he becomes eligible in 2020.
A normal trajectory for a Hall of Famer is for their cards to spike when they're elected before flattening back out or even taking a dip.
While its possible the 1993 SP Derek Jeter Rookie Card could drop, unless someone comes up with a lot more Gem Mint and Mint copies, I don't think that will be the case. There are too many factors that are in its favor. The history of the card with the foil technology, it condition sensitivity and Jeter's status as an all-time Yankee great all lend to its iconic status. And those are things that cannot be changed.