Sorting out the 2015-16 Panini Court Kings Basketball rookie levels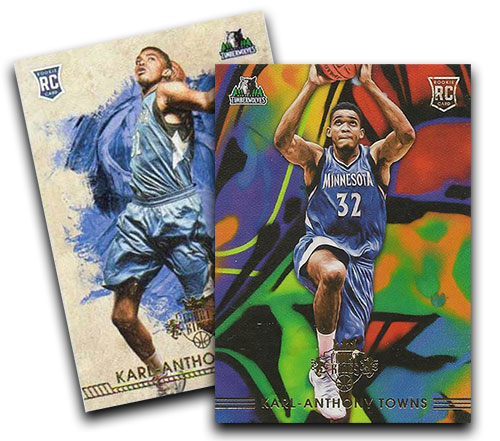 By Ryan Cracknell | Hobby Editor
Art comes in lots of different styles and forms. Whether it's realist, abstract or somewhere in between, art looks different to everyone. And while you're not going to find Monet or Picasso in 2015-16 Panini Court Kings Basketball, the approach to variety is there, particularly when it comes to rookies.
Numbered as part of the main set, there are six tiers of rookies in 2015-16 Panini Court Kings. Each has their own look, particularly when it comes to backgrounds. There's also varied rarities to make the chase a little more challenging for those chasing full runs of specific players or a master base set.
For most of the Rookies, the player images have a similar look. They use artistic filters but nothing too over-the-top. Rather, the variety comes in the background. Some are on the plain side while others to it to extremes in color and patterns. Rookies IV is the most distinct of the six, These have a black and white look.
2015-16 Panini Court Kings Basketball Rookies vary greatly in print runs. The most common two are not serial numbered. The remaining four are, starting at print runs of 299 for each of the Rookies III down to only ten copies for Rookies VI.
Each level has the same checklist of 33 rookies including Karl Anthony-Towns, Kristaps Porzingis and Jahlil Okafor.
Below is a gallery of all six 2015-16 Panini Court Kings Basketball Rookies levels as well as a list of players featured in each.
2015-16 Panini Court Kings Basketball Rookies
Rookies I
#101-133

Rookies II
#134-166

Rookies III – /299
#167-199

Rookies IV – /175
#200-232

Rookies V – /75
#233-265

Rookies VI – /10
#266-298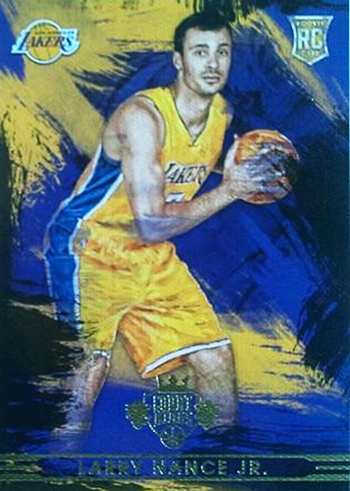 2015-16 Panini Court Kings Basketball Rookies List
Karl-Anthony Towns, Minnesota Timberwolves
Justise Winslow, Miami Heat
Sam Dekker, Houston Rockets
Larry Nance Jr., Los Angeles Lakers
D'Angelo Russell, Los Angeles Lakers
Myles Turner, Indiana Pacers
Jerian Grant, New York Knicks
R.J. Hunter, Boston Celtics
Jahlil Okafor, Philadelphia 76ers
Trey Lyles, Utah Jazz
Delon Wright, Toronto Raptors
Montrezl Harrell, Houston Rockets
Kristaps Porzingis, New York Knicks
Devin Booker, Phoenix Suns
Justin Anderson, Dallas Mavericks
Jordan Mickey, Boston Celtics
Mario Hezonja, Orlando Magic
Cameron Payne, Oklahoma City Thunder
Bobby Portis, Chicago Bulls
Anthony Brown, Los Angeles Lakers
Willie Cauley-Stein, Sacramento Kings
Kelly Oubre Jr., Washington Wizards
Rondae Hollis-Jefferson, Brooklyn Nets
Pat Connaughton, Portland Trail Blazers
Emmanuel Mudiay, Denver Nuggets
Terry Rozier, Boston Celtics
Tyus Jones, Minnesota Timberwolves
Joe Young, Indiana Pacers
Stanley Johnson, Detroit Pistons
Rashad Vaughn, Milwaukee Bucks
Jarell Martin, Memphis Grizzlies
Branden Dawson, Los Angeles Clippers
Comments? Questions? Contact Ryan Cracknell on Twitter @tradercracks.