Sorry, These Cards Aren't Actual Autographs. Or 1/1s. Or Patch Cards.
With an overriding 70th Anniversary theme, it shouldn't come as a surprise that 2021 Topps Baseball digs into the company's past. Several inserts take a historical approach. Some use old designs with a new mix of players. The History of Topps is a timeline of sorts for key moments over the years. It's Topps Through the Years, though, that is causing some collector confusion.
Cards of Cards
These inserts are basically cards of existing baseball cards. Fronts show some major releases from the past that were notable for a variety of reasons including any combination of autographs, memorabilia and low serial numbers.
The original 2009 Bowman Chrome Draft Mike Trout has an actual autograph. The 2021 Topps Series 1 Topps Through the Years Mike Trout is essentially a photograph of that original card. Same with the "Luminaries Hank Aaron Autograph," "Triple Threads Mark McGwire Autograph Relic" and every other card in the 30-card insert set.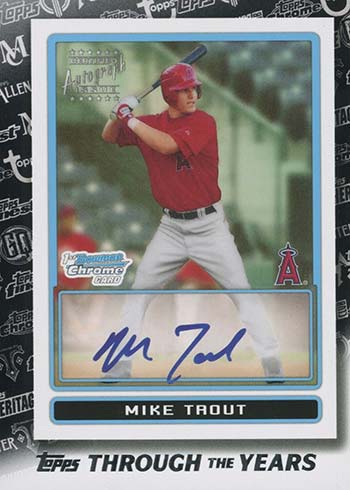 The certified autograph issue marks found on the fronts of the originals haven't been taken off, either.
Anything that appears to be a signature on these inserts is not a real autograph. It's a reproduction. The card backs have a clear statement saying as such:
"The front of this card is a reproduction of a historic Topps baseball card. It does not contain an original autograph and/or relic. Any autograph and/or relic depicted is a reprinted copy of the original signature and/or relic material."
But for many collectors busting packs, they're seeing what appears to be a major hit. That's bound to cause initial some excitement and celebratory gestures, not a close read of the text on the back. This is also a time where a lot of new collectors are coming on board. They might not know of super premium sets like Luminaries or Dynasty. Seeing those logos might not mean much.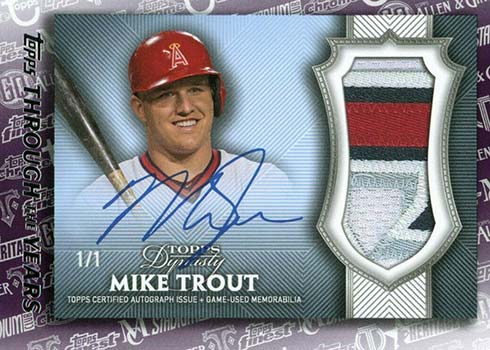 Numbered Cards of Numbered Cards That Aren't Actually Numbered
And then there are the parallels.
Topps Through the Years have five different types, four of which come with serial numbers: Black (/299), Platinum Anniversary (/70), Red (/10) and Gold (1/1). So for some of these reprints, there's what appears to be a numbered stamp from the original as well as the insert's serial number on the back.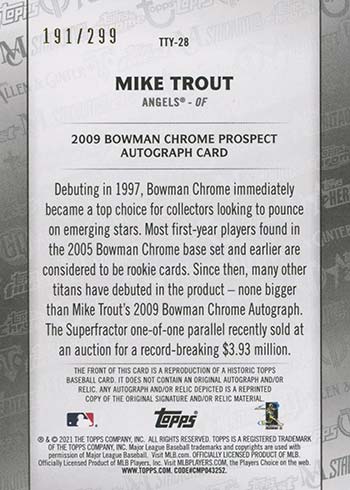 Once you hold one of the Topps Through the Years cards, it's pretty obvious that the Hank Aaron bat knob isn't an actual bat knob. Facsimile signatures can be a little trickier, especially to those new to collecting.
If you were excited to pull one of these cards thinking it was an autograph and you didn't notice the disclaimer on the back, sorry to break it to you. You've got a reprint. If you see a Topps Through the Years listing online and are prepared to bid hundreds of dollars on an autograph or nice patch, you might want think twice. If you see one with "1/1" in the listing, don't assume automatically it's a one-of-one. Make sure it's the actual Gold parallel of the reprint with the serial number on the back.