Sony Michel's Playoff Debut – Beckett Pricing Insider
This edition of the Beckett Pricing Insider is brought to you by GTS Distribution. Watch Go GTS Live – The Hobby's Web Show, every Thursday at 9 PM EST.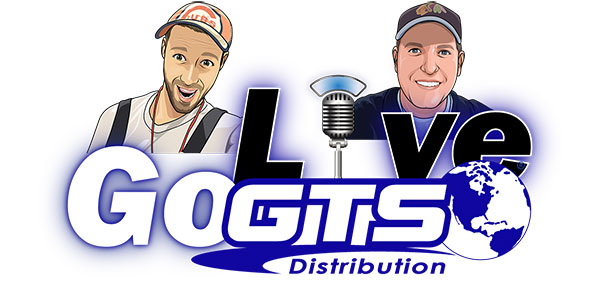 The New England Patriots dominated the Los Angeles Chargers with a  41-28 win on Sunday. That score is a lot closer than what the game really felt like while watching it, though.
A big part of that came on the legs of Sony Michel who ran for 129 yards and three touchdowns. His longest run of the day came in the second quarter and was for 40 yards.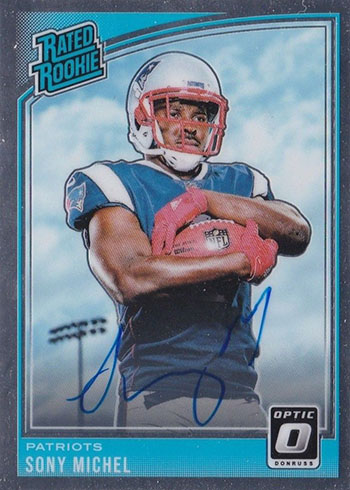 Sony Michel had an impressive rookie season, rushing for 931 yards and six touchdowns. The Patriots always seem to rotate through running backs, but it seems like they have their main back for the next few years. Michel broke 100 yards rushing four times this season, with his best game coming against the Jets when he ran for 133 yards and one score.
There are currently over 1,600 Sony Michel cards in the Beckett Online Price Guide. He has actually had cards since 2011 when Leaf featured him in their Army All-American Bowl set. He was also in the 2014 edition of that product.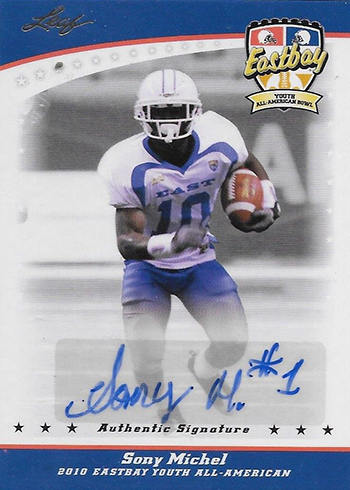 Michel's value in the hobby has been consistent all season long. Amongst the other rookies, he was in the middle of the pack, being overshadowed by the likes of Saquon Barkley and Baker Mayfield. Being a running back for the Patriots doesn't help his value much either since collectors don't know what their production will look like week to week.
If the Patriots utilize him next week like they did against the Chargers and make it to the Super Bowl, there might be more confidence from collectors that he will be a mainstay with the team in the years ahead.