Do you have what it takes to be a member of the Topps Five Star Club?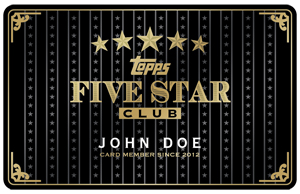 By Chris Olds | Beckett Baseball Editor
First comes the $500 pack, next comes the $10,000 club.
With the arrival of the most-expensive baseball card set in Topps history tomorrow in 2012 Topps Five Star, the company released details of its Five Star Club, which is "an elite club for our most passionate collectors."
Membership is free, but as part of the application process one must present evidence of spending $10,000 a year on Topps product either via receipts or a statement from one's hobby shop owner.
Those selected to be in the club will receive a personalized membership card, exclusive autograph cards every quarter, exclusive Five Star parallel cards for football and baseball, be able to participate in quarterly calls with Topps employees and receive VIP status at selected national events. There also will be exclusive contests for members.
Loading ...
—
To be considered, the application must include a letter of reference from a hobby shop or online retailer, evidence of spending $10,000 a year (via receipts and photos of collection or in the dealer letter) and, lastly, a 500-word essay explaining why one should be a member of the club.
As part of the membership, which is only open to United States residents, Topps requires members to remain in good standing, attend most Five Star events and "must present Topps in a positive light in any statements made … including but not limited to press, blogs and social media postings such as Facebook and Twitter and cannot being Topps or its products into disrepute."
Applications must be received by Nov. 30 and members will be notified by Jan. 15, 2013.
Memberships will be for the calendar year and can be revoked at at time.
Click here to view and download the application.
Chris Olds is the editor of Beckett Baseball magazine. Have a comment, question or idea? Send an email to him at colds@beckett.com. Follow him on Twitter by clicking here.