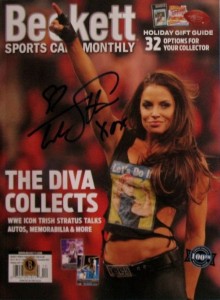 By Matt Bible | Beckett Non-Sports and Gaming Analyst
The time has come for the final giveaway in our first annual Slam-O-Ween. We hope everyone has enjoyed it thus far. Be sure to check out our Instagram page for our final week of daily giveaways. There are always some great prizes over there.
Now, for the finale…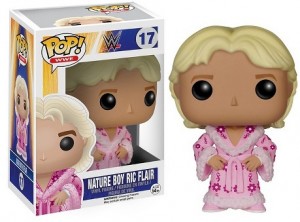 For our final giveaway, our question is simple: What is the greatest MMA or pro wrestling event that you've ever witnessed? It can be a live event or something you've seen on TV. Everyone has a favorite, so have at it. Keep in mind, we want details. Tell us what the event was and why you liked it so much. Were your favorite performers in it? Did a title change hands? Was it over in 30 seconds? We want to know.
We will be giving away three prizes. The grand prize will be an autographed copy of the Beckett Sports Card Monthly with Trish Stratus on the cover. The two runner-up prizes will be a 2015 Topps UFC Knockout relic of Ronda Rousey and a 2015 Funko Pop Vinyl WWE Target exclusive of "The Nature Boy" Ric Flair.
Plus, stay tuned throughout the week for other surprises. We may not be done just yet with the giveaways. Also, be sure to check out our special Halloween Retro Busters on Friday.
Winners for our final Slam-O-Ween giveaway will be announced on Friday November 6. Good luck.