Six players to watch in NBA Playoffs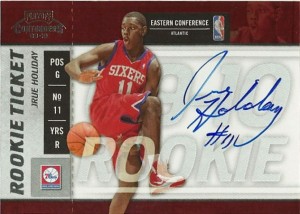 By Susan Lulgjuraj | Contributing Editor
The NBA Playoffs have a way of bringing out some unlikely stars, reminding fans of aging ones or getting recognition to those who have deserved it.
With some high-profile players getting hurt and missing the rest of the postseason such as Chicago's Derrick Rose and New York's Amare Stoudemire an opportunity has been created for others to get some much-needed attention.
A great postseason has a way of inflating card values. It's the way Boston's Rajon Rondo finally got attention a few years ago.
Here's a look at six players in this year's NBA playoffs that collectors should keep an eye on.
Jrue Holiday, Philadelphia 76ers: The series between the 76ers and the Chicago Bulls was set to be all about Derrick Rose. But in the first game last Saturday, Rose suffered a season-ending knee injury. This has given the 76ers some life with a chance to move on to the next round.
So, who is leading Philadelphia? Holiday. (Need a Holiday-only checklist or OPG? Click here.)
He's had two very good games against Chicago. In the first game of the seven-game series, Holiday had 16 points and seven rebounds in a loss.
However, in Philadelphia's 109-92 win, he was better with 26 points, six assists and shooting 11-for-15 from the field.
—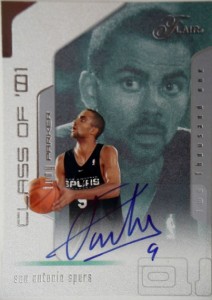 Tony Parker, San Antonio Spurs: Parker has been in the league for 11 years and might be most famous for marrying and divorcing Eva Longoria. But Parker has shown no signs of slowing down and is leading the Spurs right through the first round against the Utah Jazz.
In the first game of the series, Parker dropped 28 points and eight assists. In Game 2, he had 18 points and nine assists in almost 28 minutes. When Parker is playing like that, it makes the Spurs difficult to beat, especially when you add the help he gives his teammates. (Need a Parker-only checklist or OPG? Click here.)
But with Tim Duncan on his team, Parker hasn't nearly gotten the hobby love players of his caliber deserve.
—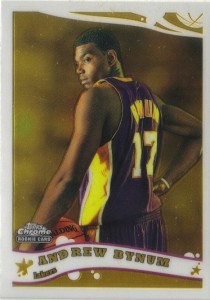 Andrew Bynum, Los Angeles Lakers: Late-night west coast games might be difficult for some fans to take in, but if so, they're missing a show by some players such as Los Angeles Lakers' Andrew Bynum.
The Lakers center took a couple of years to adjust to the NBA. He started at just 18 years old, but is a veteran now having been in the league for seven seasons. And he's just 24.
Bynum has put together his best season yet. He averaged 18.7 points, 11.8 rebounds and 1.9 blocks during the regular season. (Need a Bynum-only checklist or OPG? Click here.)
During the playoffs in Game 1 against the Denver Nuggets, Bynum had 10 points, 10 blocks and 13 rebounds. Then in Game 2 of the first-round series, Bynum came back with 27 points and nine rebounds.
—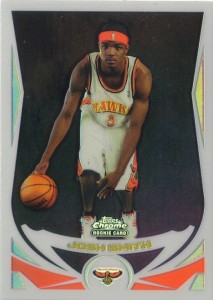 Josh Smith, Atlanta Hawks: The Atlanta Hawks are a formidable team this year and leading the way is Josh Smith. However, he is day-to-day with a strained tendon in his knee.
If the Hawks do miss Smith, they are going to be without one of their best players. In the Hawks' 83-74 win over the Boston Celtics in the first round of the playoffs, Smith put up 22 points and 18 rebounds.
The Hawks are going to need Smith if they want get deep into the playoffs. (Need a Smith-only checklist or OPG? Click here.)
—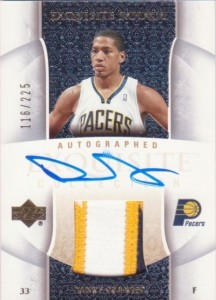 Danny Granger, Indiana Pacers: After just three games, Danny Granger is already having a postseason to remember.
In three games, Granger is averaging 20.3 points and eight rebounds in leading the Pacers to a 2-games-to-1 lead over the Orlando Magic. In Game 3, Granger had 26 points against the Magic.
This was another series where a star player is missing. Orlando's Dwight Howard is out with a back injury. This will give other players a chance to shine – perhaps it's Granger's turn to capture the spotlight (Need a Granger checklist or OPG? Click here.)
—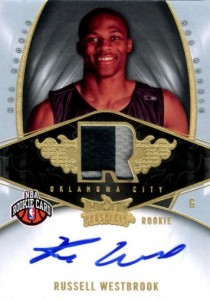 Russell Westbrook, Oklahoma City Thunder: There had to be one obvious choice in the mix . Westbrook has excited NBA fans in his four short years in the NBA.
At 23, he's been in the league four years and has gotten better each and every season. This year, he averaged 23.6 points and 5.5 assists in 66 games.
In the playoffs, Westbrook has helped Oklahoma City scrape by the Dallas Mavericks in two games where the Thunder have won by an average of just two points.
In Game 1 (the Thunder currently leads the series 2-0), Westbrook had 28 points and five assists. In Game 2, he had 29 points.
Westbrook is a hobby favorite and he has certainly shown why. (Need a Westbrook checklist or OPG? Click here.)
Susan Lulgjuraj is a contributing editor for Beckett Media. You can email Susan here. Follow her on Twitter here.