SIX PACK: Want to start a Jimmie Johnson card collection? Try these …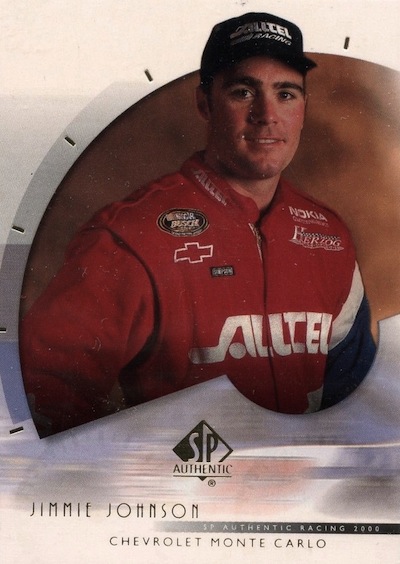 By Chris Olds | Beckett Sports Card Monthly Editor
With Jimmie Johnson's quest for a record-tying seventh Sprint Cup starting this season, there could be more fans and casual collectors checking out the cards of the NASCAR veteran. There are plenty of collecting options out there but what should someone start with?
Try these …
THE KEY ROOKIE
2000 SP Authentic #39, $20
Johnson has more than 4,000 cards listed in the Beckett database valued at more than $123,700 excluding rarities. Only four of those are Rookie Cards from back in 2000. The priciest of those is his SP Authentic card that checks in at $20 or less, while the rest can be had for $12 to $15 or less.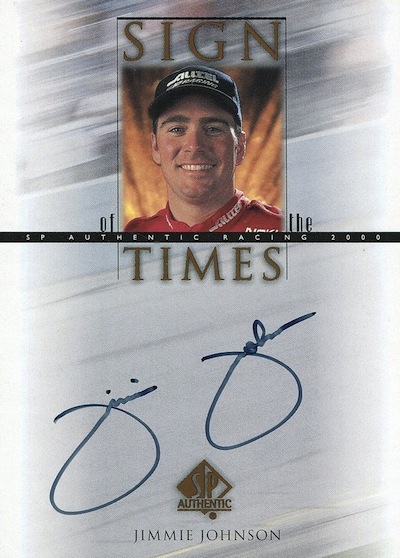 FIRST-YEAR AUTO
2000 SP Authentic Sign of the Times #JI, $120
It didn't take long for Johnson to have his first certified autographs as he signed three of his 482 certified sigs that first year. His Sign of the Times has a rarer Gold version limited to 25, while his 2000 Maxximum Signatures card is cheaper. It's not much to look at but this is the one you'll likely find easiest.
—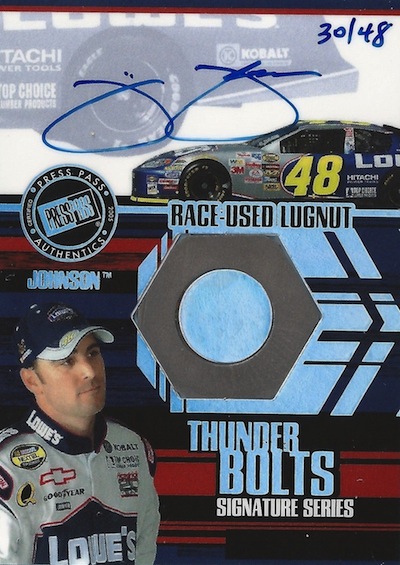 NUTTY HIGH-END
2005 Press Pass Optima Thunder Bolts Autographs #TBJJ /48, $120
Lug nut cards aren't the norm and the combination of a slice of one and autograph ink is a fun inclusion that should appeal to more than just the pure NASCAR fans.
—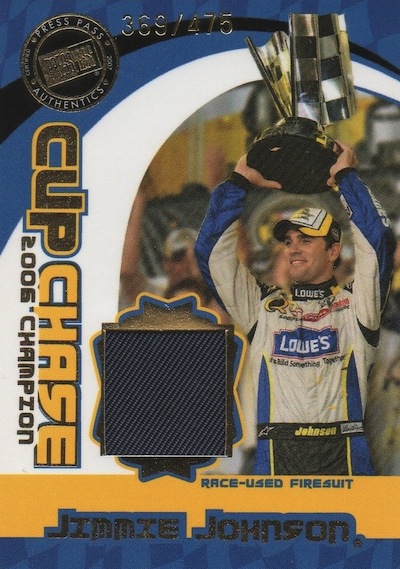 NOD TO THE CUP
2006 Press Pass Cup Chase Prizes #CCP1 /475, $40
The Cup Chase has been around for a few years and it makes sense to have a card in your collection noting at least one of Johnson's championships. This firesuit card was a prize for those who found Johnson's Chase card in packs.
—

BAD, BAD BOOKLETS
2012 Press Pass Showcase Signature Patches #SSPJJ /1, $N/A
This one has come and gone on the auction block for $350 late last year and it's a quality example of the booklet cards that are out there for collectors to chase. A dominating Johnson collection should have some type of booklet in it.
—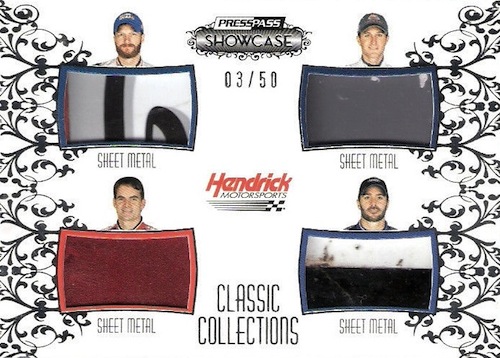 TEAMMATES
2012 Press Pass Showcase Classic Collections Memorabilia #CCMHMS w/Dale Earnhardt Jr./Kasey Kahne/Jeff Gordon /50, $40
Johnson's entire Cup career has been with Hendrick Motorsports, but it's become more of a super team in recent years with other top-name drivers joining the fray. A memorabilia card with four big names all in one place is a cool inclusion — and some colorful sheet metal can't hurt.
Should a different card be here? Tell us in the comments below.
Chris Olds is the editor of Beckett Baseball and Beckett Sports Card Monthly magazines. Have a comment, question or idea? Send an email to him at colds@beckett.com. Follow him on Twitter by clicking here.