Six NBA rookies to watch as season starts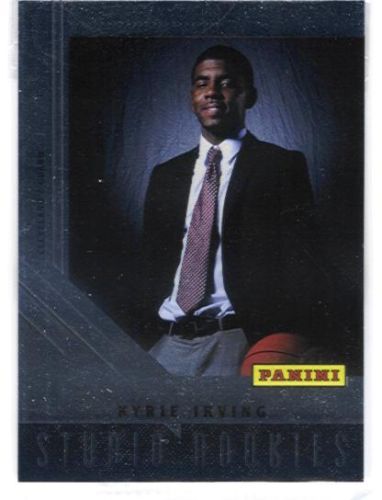 By Susan Lulgjuraj | Contributing Editor | Commentary
Basketball collectors are in a unique situation with their sport. They get to watch games and analyze rookies before any product is released. There will be at least two months of games to figure out who this year's top rookie is going to be.
But as we're less than a week into the season, the paring will take time as the best young emerges.
Here's a list of six rookies to watch as the NBA gets underway — after the jump:
1. Kyrie Irving, Cleveland Cavaliers
Irving is an easy pick because the was the number-one overall pick in last year's NBA draft. He had a heck of a preseason scoring 32 points in two games. Irving has been able to carry that over to the regular season to help lead the Cavalier in the post-Lebron James era.
In two games, he's averaging 10 points in almost 23 minutes.
2. Kemba Walker, Charlotte Bobcats.
Who can forget the show Walker put on during the NCAA Tournament in March, leading UConn to a national championship? His following keeps rising as Walker became a household name.
He's second so far among the rookies in scoring average (13.5 ppg.). In a one point loss to the Miami Heat on Wednesday, Walker had 14 points off the bench in 20 minutes.
3. Brandon Knight, Detroit Pistons
The Kentucky guard turned heads in Detroit's second game of the season. He scored 23 points with six assists and two steals in 29 minutes in a 105-89 loss to Cleveland. He was one of the few bright spots in that game.
The Pistons are 0-2 to start the season and if they continue to struggle, Knight could be a player that collectors might be able to get cheap when his Rookie Cards come out. That's if he could maintain the type of play he had against Cleveland.
4. Marshon Brooks, New Jersey Nets
Despite New Jersey's early struggles, Brooks has been a place of ease for Nets' fans. On the court, he shows he's not afraid to shoot and play with some of the best players. He has a good vision and has the ability to get to the free throw line and actually make his shots.
In two games, he's averaging 11.5 points, including a 17-point performance – and 7-for-8 shooting from the charity stripe – in a gruesome 106-70 loss to the Atlanta Hawks.
5. Norris Cole, Miami Heat
Norris Cole might not get a lot of attention being on a team with James, Dwayne Wade and Chris Bosh. But the rookie out of Cleveland State has gotten a bit of the spotlight this season – even if it was brief.
Cole has the makings of being a good player, but he won't be a star on a team filled with them. However, he does provide more offense on a team already laden with it.
In a 115-107 win over the Boston Celtics, Cole had 20 points, four rebounds, four assists and three steals for a nice box score. He's averaging 10.7 points through three games and shooting better than 40 percent from the field.
6. Markeif Morris, Phoenix Suns
As the season progresses, Morris is going to get a lot of playing time and develop quickly. The Suns are not playing good basketball and without many offensive players, Morris is going to be on the court.
In two games, he's averaging just eight points and six rebounds, but expect those to go up. He's also playing more than 25 minutes a game off the bench, which is second among rookies right now.
Susan Lulgjuraj is a contributing editor for Beckett Media. You can email Susan here. Follow her on Twitter here.