Simplicity and greatness all with a click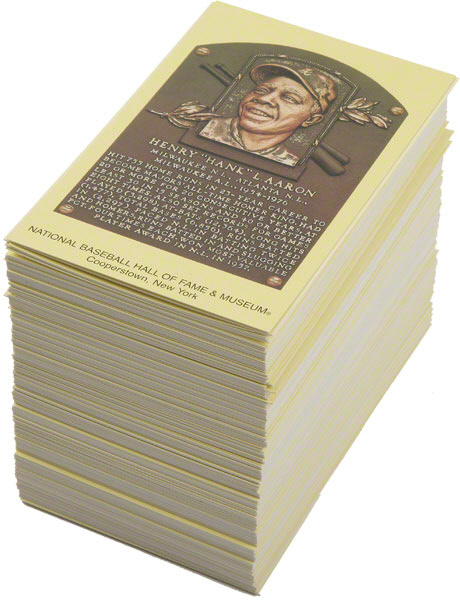 By Chris Olds | Beckett Baseball Editor | Commentary
They're as simple as it gets when it comes to a Hall of Fame collectible, they have been around for years and are heavily chased as autograph items.
They are the National Baseball Hall of Fame's plaque postcards.
While recently preparing the legends issue of Beckett Sports Card Monthly (available now), we showcased each of the major sports Halls of Fame via quick-read basics — helpful guides to each if you feel the need to go. And that also included taking a look at some iconic — yet affordable — memorabilia choices that can be found either at the Halls or in their online stores.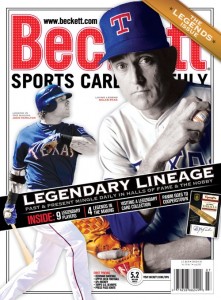 One item that I have seen before, countless times in fact, suddenly became more interesting to me when I saw it in the Baseball Hall of Fame Shop alongside the latest pieces created to grab the attention of fans of this year's inductees, Barry Larkin and Ron Santo, who will be honored later this month.
It was the Hall of Fame postcard — an iconic creation for a baseball player. But this was different as they were all found in one place — every card available together with the single click of a mouse. There's no need to hunt or trade to complete the collection. Instead, the entire set can be had in brand new condition direct from the Hall — and for just $100.
That's a Ben Franklin for everyone — Nolan Ryan, Cy Young, Christy Mathewson, Babe Ruth, Rickey Henderson and 202 others …. all for less than the cost of the typical mid-range wax box. Sure, you could build it the hard way — or order selected singles from the Hall for 50 cent apiece and then track others down in various ways — but this way, along with a binder and some postcard pages, might make for a fun and relaxing way to revisit the greatness of the game without having to rip into any wax or decipher any new designs for the information that you want to know about a player.
After all, nothing is as simple as a Hall of Fame plaque.
Larkin and Santo won't be in there just yet as their plaques have not been revealed — so that might be one reason to wait to place an order at a later time to get the two newest postcards included.
Well, at least that's my excuse.
Chris Olds is the editor of Beckett Baseball magazine. Have a comment, question or idea? Send an email to him at colds@beckett.com. Follow him on Twitter by clicking here.