Silver Sluggers: A collecting niche to consider
Since the MLB season is over, that means one thing is about ready to pick up — one that traditionally used to spark a little more interest from collectors.

Awards season.
While the awards themselves haven't changed — they're still important — the days of a baseball card price spike because of some added bling just aren't as plentiful as the past as there are many more commodified collecting options for us. But that doesn't mean awards aren't niches that someone can consider collecting via cards, autographs, memorabilia or whatever other interesting option presents itself.
Rookie of the Year, Cy Young, MVP — those are the ones that tend to get the most noticed. Maybe Gold Gloves, too. But the one I always liked seeing on cardboard? The Silver Slugger Award. It's one of the cooler prizes in the game — a silver bat affixed to a wooden plate/backing — and since 1980 it's been awarded to the top-producing players at each position in each league as voted on by coaches and managers.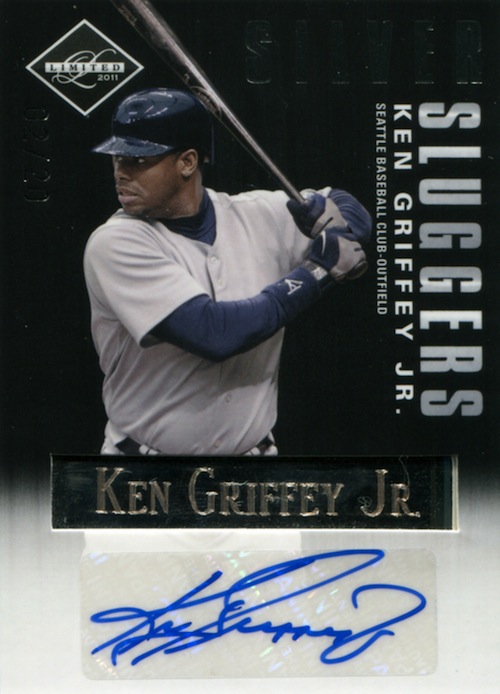 This year's Silver Sluggers will be unveiled on Thursday during a one-hour special on MLB Network hosted by Greg Amsinger and a guy who knows a thing or two about bats and is remembered fondly in the hobby for at least one of them, Billy Ripken.
For the high-rollers out there, the actual players' awards hit the auction block from time to time — perhaps the ultimate piece of Silver Slugger memorabilia. Since 2007, Dallas-based Heritage Auctions has sold seven player awards with Darryl Strawberry's 1990 award selling for $13,145 just last month. (I would have sprung for Jose Canseco's MVP-year award from 1988, above, but its $5,676.25 ending price would have juiced me — wait, who am I kidding? Wrong tax bracket, buddy.) The cheapest was Hall of Famer Andre Dawson's 1981 award which went for $3,585 in May.
Earlier this year, Panini America provided the latest nod to the Silver Slugger with an insert in its 2011 Limited product, the Silver Sluggers Signatures set. These cards feature an autograph as well as an actual piece of silver embedded into the card with the player's name etched into it. It's a small offering — just 15 cards (click here for a checklist or OPG) — but it includes the likes of Ken Griffey Jr., Robinson Cano, Triple Crown winner Miguel Cabrera, Josh Hamilton and Will Clark to name a few.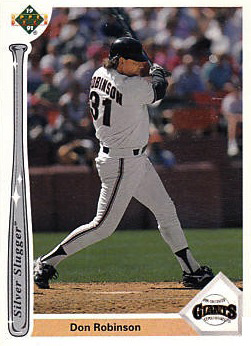 Interestingly, that set and its un-metalled counterpart are among just three sets dedicated to the award. That's it. The only other set was 1991 Upper Deck Silver Sluggers, an 18-card release showcasing each winner of the award in 1990. Found one per jumbo pack, these memorable — and immensely affordable — cards include the big boppers of the day — Canseco, Cecil Fielder, Barry Bonds, Ryne Sandberg and even three-time-winner, pitcher Don Robinson. 
With an award that's only been presented in the modern era of baseball cards, it's surprising so few attempts at documenting it via cardboard have been made yet silver-bat cameos can be found in many sets if one takes the time to look closely enough. That alone could present a fun niche of collecting, even if it might be a bit oldcschool without an autograph or mem-card focus.
The past winners list doesn't present an impossible challenge, either, if, say, one wanted a Rookie Card or an autograph of every single winner.
In fact, it could be a fascinating collecting niche to explore without breaking the bank.