Signed Slabbed Rookie Cards Becoming Newest Trend in the Hobby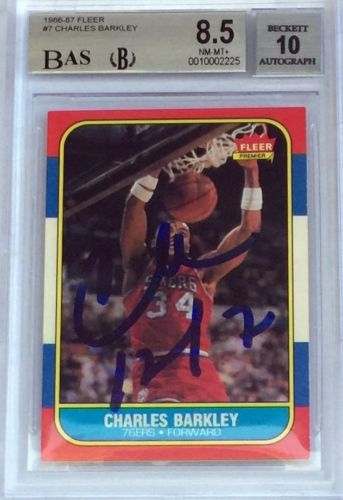 Sports card collectors have been investing heavily into rookie cards for about as long as collecting has been around. Rookie cards are regarded as some of the most sought out and collectible cards in the hobby. Signed slabbed versions of these premier rookie cards are arguably three times harder to find than the standard un-signed versions. These rare signed rookie card slabbed editions are quickly becoming very sought out by collectors as the newest trend in the hobby.
Signed slabbed rookie cards are very hard to come by in comparison to just a standard un-signed card. The reasoning being because these signed rookie cards have to be obtained in person. For example, you would have to take a 1989 Upper Deck Ken Griffey Jr Rookie Card with you to have Ken Griffey Jr. himself to sign that exact card. Once that copy is signed you then would have to have it authenticated by Beckett Authentication Services (BAS) from Beckett and have that card slabbed. These versions are either authenticated only or have both the card and autograph itself graded separately. There were over two-million 1989 Upper Deck Griffey rookies printed by Upper Deck, but how many signed versions are out there? That's the key. There is no exact number, which is causing a lot of collectors to start investing heavily into these signed slabbed rookie cards like the Griffey.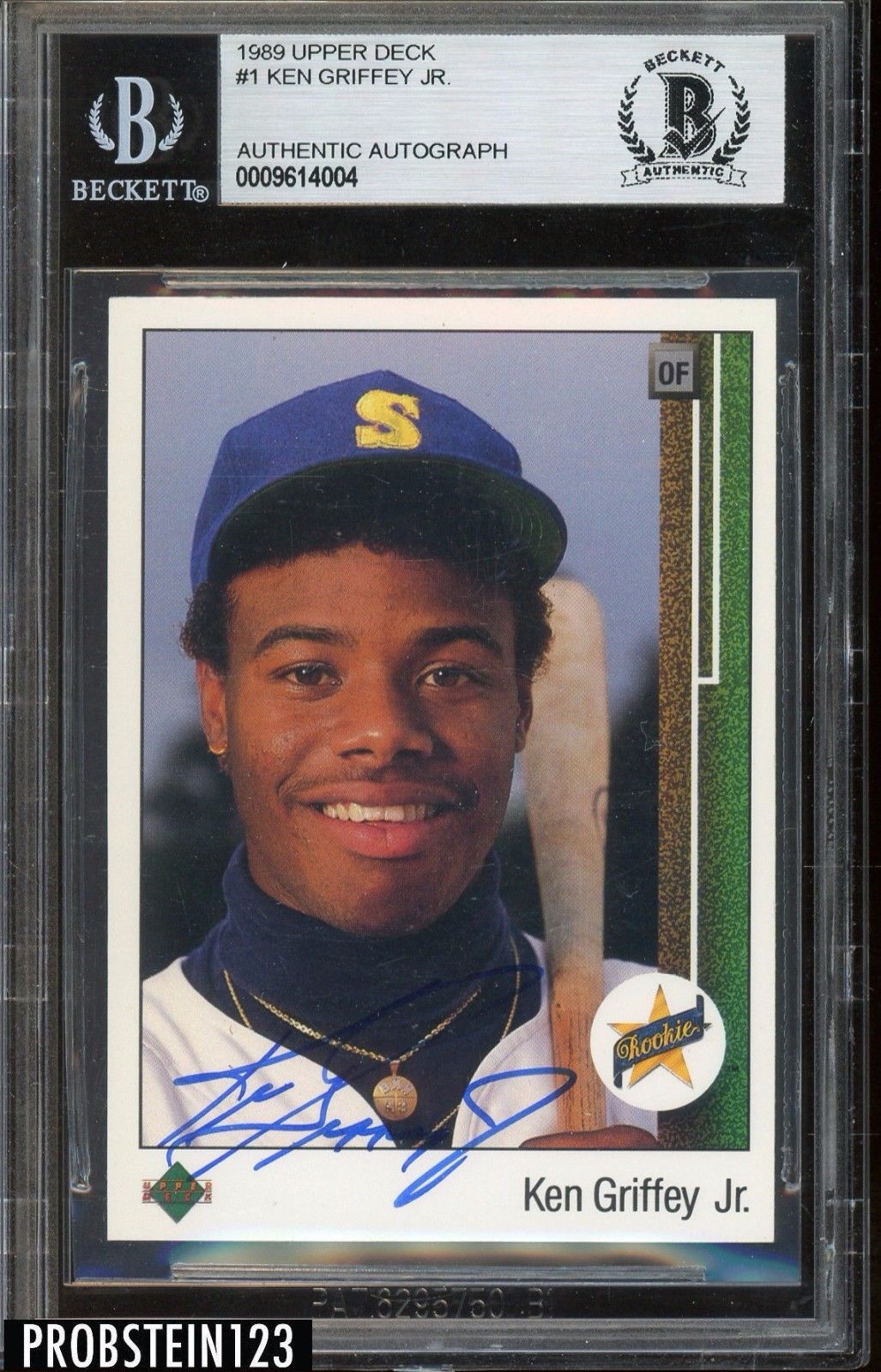 One known signed slabbed version of a Griffey Upper Deck certified by BAS sold at eBay auction sold for $320 this month, and only the autograph itself was authenticated. A BGS 9.5 standard un-signed Griffey rookie sold at eBay auction in the $220-275 range depending on the higher sub-grades. According to eBay within the last couple of months there are over a hundred BGS 9.5's listed and sold, however there are less than ten listed slabbed signed BAS versions of the Griffey Upper Deck rookie. In terms of a collecting stand point the regular un-signed BGS 9.5 version of the Griffey rookie is still a great card, but a signed slabbed version seems highly underrated and a lot harder to obtain.
The scarcity of these signed slabbed rookie cards are becoming very sought out by collectors due to the fact of how rare they are and how hard they are to obtain in person as an autograph chaser. Supply and demand is what is causing prices to continue to grow on these signed slabbed rookie cards. This past summer Derek Jeter's 1993 Upper Deck SP rookie cards signed and slabbed were selling in the $400-500 range. Three months later similar versions are now selling at eBay auction for $800-1000. The only listed example of Kobe Bryant Topps Chrome signed and slabbed rookie by BAS graded a 8.5 and 10 autograph sold at eBay auction for $1,800! Kobe's un-signed version of that card in a BGS 8.5 sold for $355, this comparison shows you how rare and sought out these signed rookie card slabbed versions are.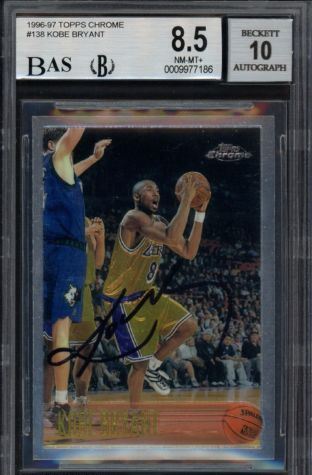 One of the 2017 AL MVP candidates this baseball season is Jose Altuve, his first known rookie card is featured from the 2010 Bowman Chrome set. Unlike other star players like Gary Sanchez and Nolan Arenado who have certified autographs from that set through Bowman, Altuve doesn't. The 2010 Bowman or Bowman Chrome card of Altuve would be a perfect card to have Altuve sign in person and have it slabbed by BAS. If you're lucky enough to obtain one of these in person you have something really rare. There was only one sale from an eBay listing within the month that resembles this rare example of an Altuve signed slabbed rookie card from 2010 Bowman Chrome. This particular example sold for $350 at eBay auction which shows you the supply and demand of these rare signed slabbed rookie cards. These signed examples are not only becoming a new trend for current players in the hobby. Vintage and Hall of Famers are even harder to find!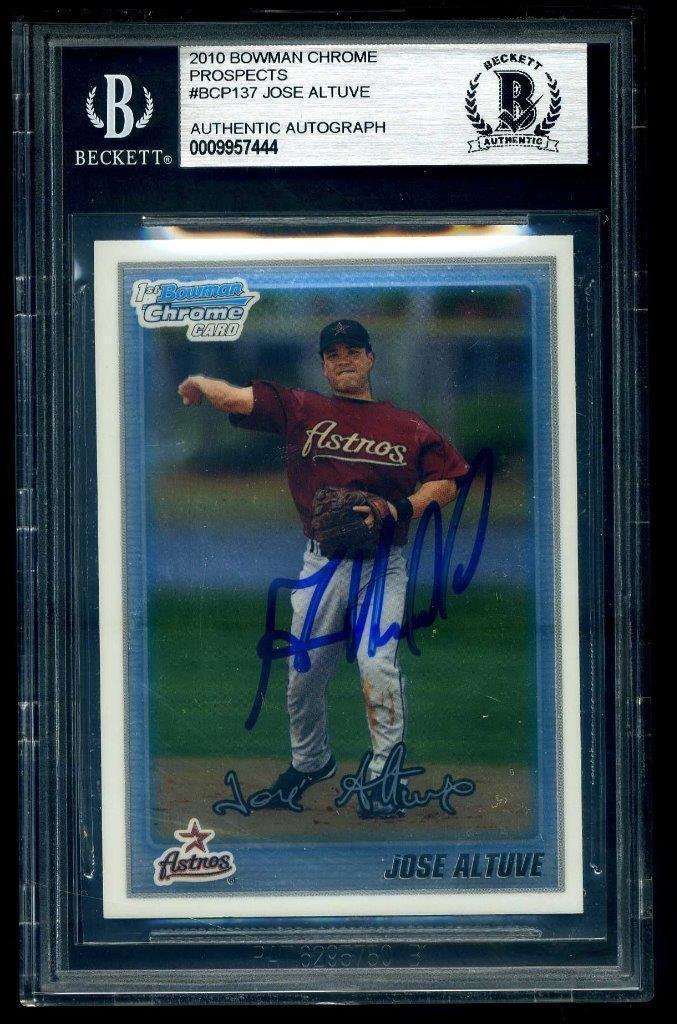 Many vintage collectors are also even beginning to invest in signed slabbed rookie cards. The reasoning being that there aren't that many available. Hall of Fame players who have signed slabbed rookie cards are very sought out and very difficult to find. Autographs are a big part of the sports card hobby and many vintage card collectors have just begun to invest in these rare rookie card signed slabbed examples.
One of the premier basketball rookie cards is the 1980 Topps Larry Bird/Magic Johnson rookie (which also features Julius Erving). Last month a rare eBay auction featured this particular card signed by all three Hall of Fame players and slabbed by BAS as an 8 based on the condition and a 10 autograph. The listing sold for $1,500, which is three times the amount of a standard BGS 8 rookie featured with no autographs. These premier rookie cards signed and in near mint condition are very hard to obtain, another recent example is a 1986 Fleer Rookie signed Charles Barkley. This particular Barkley rookie signed and slabbed was a BAS 8.5 featured with a 10 autograph and sold at eBay auction for $520. To compare and understand how much more value the autograph on the card adds the non-autograph version of the card in a BGS 8.5 is only valued in the $70 range at eBay auction. These are just a few examples of signed slabbed rookie cards. Signed versions are these premier rookie cards are very limited and extremely hard to find.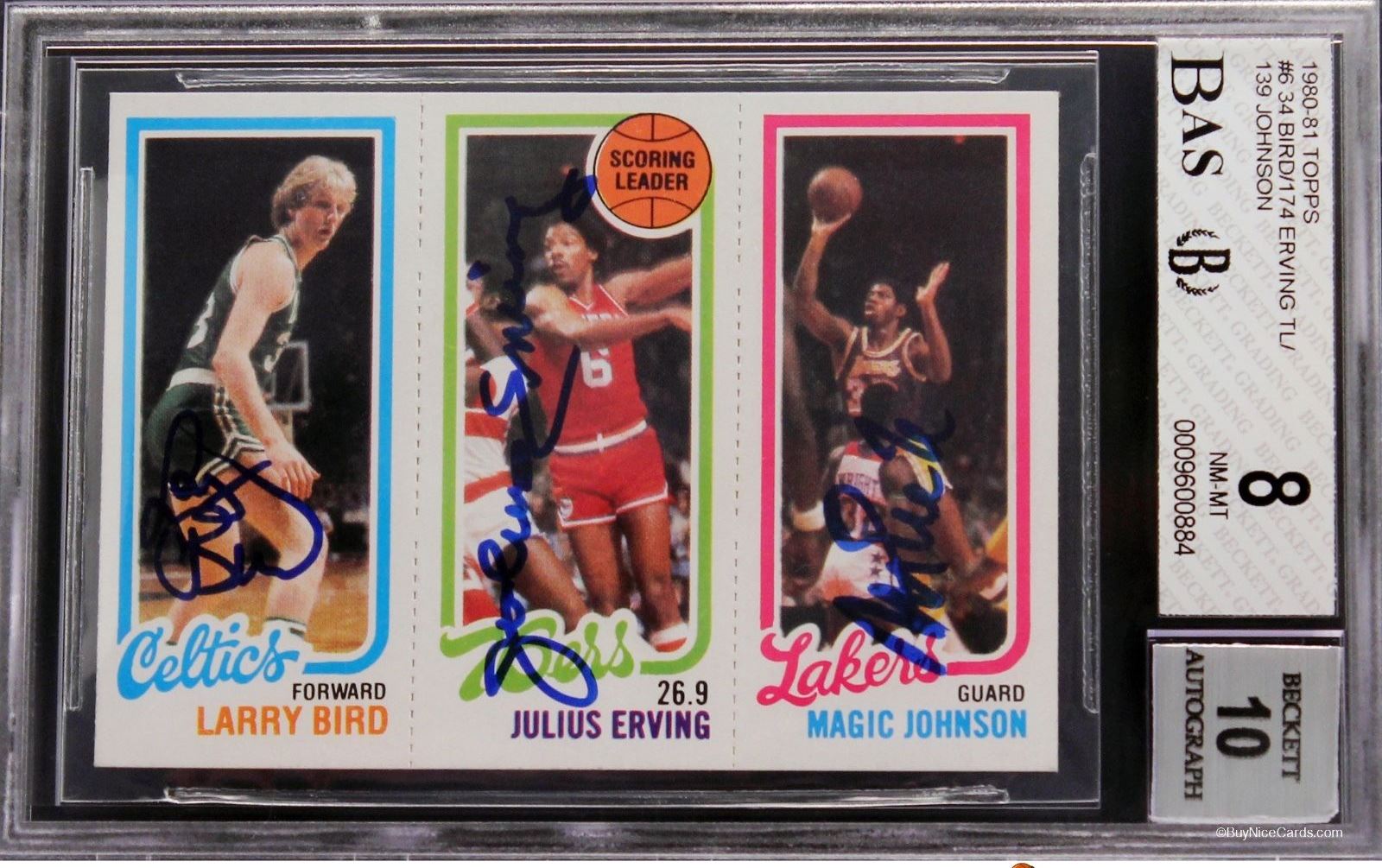 Signed slabbed rookie cards are often viewed as one of a kind. Collectors are paying a premium for these rare examples and the scary thought is this is just the beginning of what's to come. Rookie cards have always been one of the most sought out collectibles in the hobby. These rare signed slabbed rookie card versions are drawing huge interest from collectors. I would expect to see this trend to continue because collectors are just starting to learn about how unique these signed slabbed rookie cards are.