Signature shoes highlight signature cards
By Chris Olds | Beckett Sports Card Monthly Editor | Commentary
They're some of the sweeter-looking autographed cards to be found in the history of cardboard and they've just arrived from Upper Deck.
They're Signature Kicks and they can be found in boxes of 2013-14 Exquisite Collection basketball cards — they all feature autographs from past greats and present stars and note which signature model the shoe swatches came from.
What each of these cards isn't, though, is game-used. They are "a tribute to classic collectible sneakers" according to a company statement. They are pieces of famed signature models for the featured players — a dynamic twist on the manufactured relics we've seen in the hobby for years and something the company hopes appeals to shoe collectors and brings them into cardboard.
"We wanted to let the shoes be the focus of the card, not the teams or even the players," the company said in a statement. "Keeping in line with the individual style sneaker fans appreciate, we looked for imagery that lent itself to those collectors. We depict the athletes in their youth and older, or just showing off their individual style."
Shoe cards are nothing new — but using the unique pieces that they carry within prevented deluxe shoe memorabilia cards from being done in the past. Most cards from the past have simple leather swatches and few carry any brand or model identity. These are different.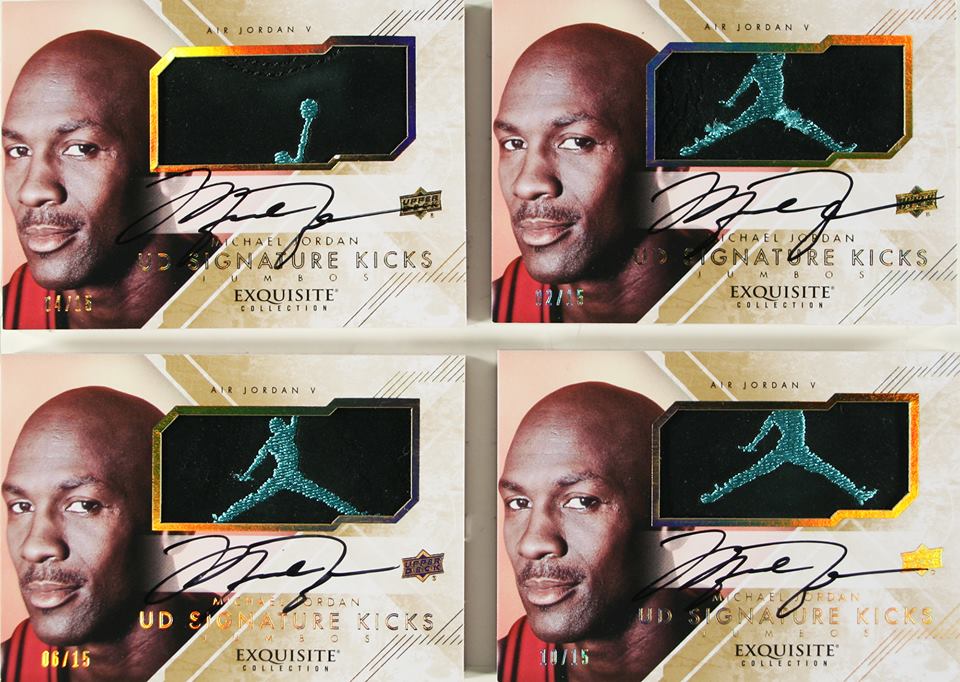 "Upper Deck has been creating cards with game-used shoes embedded in them going back to the late '90s," said the company statement. "With the 'Signature Kicks' line of cards, we wanted to really do something different and cater the line of cards directly to the sneaker collector community. "
Memorable shoe models for 15 players comprise the 108-card offering that includes swatches with soles, heels, laces, logos and more found on what is the most-unique and most-personal part of an NBA player's on-court gear. Of course, Upper Deck exclusives Michael Jordan and LeBron James — two basketball legends known for their shoe models — lead the way.
While the autographs are the coveted piece, the shoe models and their unique features add the new flavor to the cardboard. For the oldschool player like Bill Russell, there's the Chuck Taylor. Three players — Jordan, James and Anfernee Hardaway — each have two models represented. For Jordan, it's the Air Jordan V and XIII, while James' include the 9 Christmas and the X Jade models.
Upper Deck said a goal was to use all of the unique aspects of the shoe — and that meant time to get it done right.
"We sourced for collectible sneakers of top basketball stars that sneakerheads were passionate about," said the company. "Additionally, we wanted to use practically every aspect of the shoe into the design of the cards. This would mean creating cards that were much thicker than had ever been done before in order to incorporate all the cool elements of the collectible shoes into the card. In fact the cutting and construction of these cards involved over 16 months of research and development with our team and our vendors."
There are six types of cards made in this lineup — Dual Shoe, Large Shoe, Sole Piece, Large Logo, Large Heel and Shoelaces. Each card type, of course, corresponds to the type of swatch or its features. Some of the cards as as thick as a half of an inch.
Ultimately, some collectors will dwell upon the fact that these cards aren't game-used — and they'd be something even more special if they were — but I have to say they look pretty darn cool even without that.
Isn't cool cardboard what it's really all about?
Chris Olds is the editor of Beckett Baseball and Beckett Sports Card Monthly magazines. Have a comment, question or idea? Send an email to him at colds@beckett.com. Follow him on Twitter by clicking here.
We'll have more on this set in the upcoming Autograph Issue of Beckett Sports Card Monthly. For now, though, we want to know what you think with our poll and any comments below.
—
Loading ...
—
 A full checklist is below …
| | | | | | |
| --- | --- | --- | --- | --- | --- |
| Signature Kicks Set | Card | Player | Swatch Type | Quantity | Shoe Model |
| Foundations | SF-AH | Anfernee Hardaway | Dual Shoe Piece | 35 | Foamposite One |
| Foundations | SF-BR | Bill Russell | Dual Shoe Piece | 35 | Chuck Taylor |
| Foundations | SF-DR | David Robinson | Dual Shoe Piece | 35 | Air Max 2 Strong |
| Foundations | SF-GH | Grant Hill | Dual Shoe Piece | 35 | 96 |
| Foundations | SF-HA | Anfernee Hardaway | Dual Shoe Piece | 35 | Zoom Rookie PRM Galaxy |
| Foundations | SF-JA | LeBron James | Dual Shoe Piece | 35 | 9 Christmas |
| Foundations | SF-JE | Julius Erving | Dual Shoe Piece | 35 | All Star Pro |
| Foundations | SF-JH | James Harden | Dual Shoe Piece | 35 | Hyperdunk |
| Foundations | SF-JK | Jason Kidd | Dual Shoe Piece | 35 | Air Zoom Flight 95 |
| Foundations | SF-JO | Michael Jordan | Dual Shoe Piece | 35 | Air Jordan XIII |
| Foundations | SF-LA | Larry Johnson | Dual Shoe Piece | 35 | Aero Jam |
| Foundations | SF-LB | Larry Bird | Dual Shoe Piece | 35 | Pro Leather |
| Foundations | SF-LJ | LeBron James | Dual Shoe Piece | 35 | X Jade |
| Foundations | SF-MA | Magic Johnson | Dual Shoe Piece | 35 | Weapon |
| Foundations | SF-MJ | Michael Jordan | Dual Shoe Piece | 35 | Air Jordan V |
| Foundations | SF-PG | Paul George | Dual Shoe Piece | 35 | Hyperdunk |
| Foundations | SF-RO | Dennis Rodman | Dual Shoe Piece | 35 | Air Way Up |
| Foundations | SF-TH | Tim Hardaway Sr. | Dual Shoe Piece | 35 | Air Go LWP HOH |
| Jumbos | SJ-AH | Anfernee Hardaway | Large Shoe Piece | 15 | Foamposite One |
| Jumbos | SJ-BR | Bill Russell | Large Shoe Piece | 15 | Chuck Taylor |
| Jumbos | SJ-DR | David Robinson | Large Shoe Piece | 15 | Air Max 2 Strong |
| Jumbos | SJ-GH | Grant Hill | Large Shoe Piece | 15 | 96 |
| Jumbos | SJ-HA | Anfernee Hardaway | Large Shoe Piece | 15 | Zoom Rookie PRM Galaxy |
| Jumbos | SJ-JA | LeBron James | Large Shoe Piece | 15 | 9 Christmas |
| Jumbos | SJ-JE | Julius Erving | Large Shoe Piece | 15 | All Star Pro |
| Jumbos | SJ-JH | James Harden | Large Shoe Piece | 15 | Hyperdunk |
| Jumbos | SJ-JK | Jason Kidd | Large Shoe Piece | 15 | Air Zoom Flight 95 |
| Jumbos | SJ-JO | Michael Jordan | Large Shoe Piece | 15 | Air Jordan XIII |
| Jumbos | SJ-LA | Larry Johnson | Large Shoe Piece | 15 | Aero Jam |
| Jumbos | SJ-LB | Larry Bird | Large Shoe Piece | 15 | Pro Leather |
| Jumbos | SJ-LJ | LeBron James | Large Shoe Piece | 15 | X Jade |
| Jumbos | SJ-MA | Magic Johnson | Large Shoe Piece | 15 | Weapon |
| Jumbos | SJ-MJ | Michael Jordan | Large Shoe Piece | 15 | Air Jordan V |
| Jumbos | SJ-PG | Paul George | Large Shoe Piece | 15 | Hyperdunk |
| Jumbos | SJ-RO | Dennis Rodman | Large Shoe Piece | 15 | Air Way Up |
| Jumbos | SJ-TH | Tim Hardaway Sr. | Large Shoe Piece | 15 | Air Go LWP HOH |
| Sig Soles | SS-AH | Anfernee Hardaway | Sole Piece | 35 | Foamposite One |
| Sig Soles | SS-BR | Bill Russell | Sole Piece | 35 | Chuck Taylor |
| Sig Soles | SS-DR | David Robinson | Sole Piece | 35 | Air Max 2 Strong |
| Sig Soles | SS-GH | Grant Hill | Sole Piece | 35 | 96 |
| Sig Soles | SS-HA | Anfernee Hardaway | Sole Piece | 35 | Zoom Rookie PRM Galaxy |
| Sig Soles | SS-JA | LeBron James | Sole Piece | 35 | 9 Christmas |
| Sig Soles | SS-JE | Julius Erving | Sole Piece | 35 | All Star Pro |
| Sig Soles | SS-JH | James Harden | Sole Piece | 35 | Hyperdunk |
| Sig Soles | SS-JK | Jason Kidd | Sole Piece | 35 | Air Zoom Flight 95 |
| Sig Soles | SS-JO | Michael Jordan | Sole Piece | 35 | Air Jordan XIII |
| Sig Soles | SS-LA | Larry Johnson | Sole Piece | 35 | Aero Jam |
| Sig Soles | SS-LB | Larry Bird | Sole Piece | 35 | Pro Leather |
| Sig Soles | SS-LJ | LeBron James | Sole Piece | 35 | X Jade |
| Sig Soles | SS-MA | Magic Johnson | Sole Piece | 35 | Weapon |
| Sig Soles | SS-MJ | Michael Jordan | Sole Piece | 35 | Air Jordan V |
| Sig Soles | SS-PG | Paul George | Sole Piece | 35 | Hyperdunk |
| Sig Soles | SS-RO | Dennis Rodman | Sole Piece | 35 | Air Way Up |
| Sig Soles | SS-TH | Tim Hardaway Sr. | Sole Piece | 35 | Air Go LWP HOH |
| Monumental Logos | LO-AH | Anfernee Hardaway | Large Logo Piece | 2 | Foamposite One |
| Monumental Logos | LO-BR | Bill Russell | Large Logo Piece | 2 | Chuck Taylor |
| Monumental Logos | LO-DR | David Robinson | Large Logo Piece | 2 | Air Max 2 Strong |
| Monumental Logos | LO-GH | Grant Hill | Large Logo Piece | 2 | 96 |
| Monumental Logos | LO-HA | Anfernee Hardaway | Large Logo Piece | 2 | Galaxy Zoom Rookie PRM |
| Monumental Logos | LO-JA | LeBron James | Large Logo Piece | 2 | 9 Christmas |
| Monumental Logos | LO-JE | Julius Erving | Large Logo Piece | 2 | All Star Pro |
| Monumental Logos | LO-JH | James Harden | Large Logo Piece | 2 | Hyperdunk |
| Monumental Logos | LO-JK | Jason Kidd | Large Logo Piece | 2 | Air Zoom Flight 95 |
| Monumental Logos | LO-JO | Michael Jordan | Large Logo Piece | 2 | Air Jordan XIII |
| Monumental Logos | LO-LA | Larry Johnson | Large Logo Piece | 2 | Aero Jam |
| Monumental Logos | LO-LB | Larry Bird | Large Logo Piece | 2 | Pro Leather |
| Monumental Logos | LO-LJ | LeBron James | Large Logo Piece | 2 | X Jade |
| Monumental Logos | LO-MA | Magic Johnson | Large Logo Piece | 2 | Weapon |
| Monumental Logos | LO-MJ | Michael Jordan | Large Logo Piece | 2 | Air Jordan V |
| Monumental Logos | LO-PG | Paul George | Large Logo Piece | 2 | Hyperdunk |
| Monumental Logos | LO-RO | Dennis Rodman | Large Logo Piece | 2 | Air Way Up |
| Monumental Logos | LO-TH | Tim Hardaway Sr. | Large Logo Piece | 2 | Air Go LWP HOH |
| Monumental Heels | MH-AH | Anfernee Hardaway | Large Heel Piece | 7 | Foamposite One |
| Monumental Heels | MH-BR | Bill Russell | Large Heel Piece | 7 | Chuck Taylor |
| Monumental Heels | MH-DR | David Robinson | Large Heel Piece | 7 | Air Max 2 Strong |
| Monumental Heels | MH-GH | Grant Hill | Large Heel Piece | 7 | 96 |
| Monumental Heels | MH-HA | Anfernee Hardaway | Large Heel Piece | 7 | Galaxy Zoom Rookie PRM |
| Monumental Heels | MH-JA | LeBron James | Large Heel Piece | 7 | 9 Christmas |
| Monumental Heels | MH-JE | Julius Erving | Large Heel Piece | 7 | All Star Pro |
| Monumental Heels | MH-JH | James Harden | Large Heel Piece | 7 | Hyperdunk |
| Monumental Heels | MH-JK | Jason Kidd | Large Heel Piece | 7 | Air Zoom Flight 95 |
| Monumental Heels | MH-JO | Michael Jordan | Large Heel Piece | 7 | Air Jordan XIII |
| Monumental Heels | MH-LA | Larry Johnson | Large Heel Piece | 7 | Aero Jam |
| Monumental Heels | MH-LB | Larry Bird | Large Heel Piece | 7 | Pro Leather |
| Monumental Heels | MH-LJ | LeBron James | Large Heel Piece | 7 | X Jade |
| Monumental Heels | MH-MA | Magic Johnson | Large Heel Piece | 7 | Weapon |
| Monumental Heels | MH-MJ | Michael Jordan | Large Heel Piece | 7 | Air Jordan V |
| Monumental Heels | MH-PG | Paul George | Large Heel Piece | 7 | Hyperdunk |
| Monumental Heels | MH-RO | Dennis Rodman | Large Heel Piece | 7 | Air Way Up |
| Monumental Heels | MH-TH | Tim Hardaway Sr. | Large Heel Piece | 7 | Air Go LWP HOH |
| Monumental Laces | ML-AH | Anfernee Hardaway | Shoelaces | 10 | Foamposite One |
| Monumental Laces | ML-BR | Bill Russell | Shoelaces | 10 | Chuck Taylor |
| Monumental Laces | ML-DR | David Robinson | Shoelaces | 10 | Air Max 2 Strong |
| Monumental Laces | ML-GH | Grant Hill | Shoelaces | 10 | 96 |
| Monumental Laces | ML-HA | Anfernee Hardaway | Shoelaces | 10 | Galaxy Zoom Rookie PRM |
| Monumental Laces | ML-JA | LeBron James | Shoelaces | 10 | 9 Christmas |
| Monumental Laces | ML-JE | Julius Erving | Shoelaces | 10 | All Star Pro |
| Monumental Laces | ML-JH | James Harden | Shoelaces | 10 | Hyperdunk |
| Monumental Laces | ML-JK | Jason Kidd | Shoelaces | 10 | Air Zoom Flight 95 |
| Monumental Laces | ML-JO | Michael Jordan | Shoelaces | 10 | Air Jordan XIII |
| Monumental Laces | ML-LA | Larry Johnson | Shoelaces | 10 | Aero Jam |
| Monumental Laces | ML-LB | Larry Bird | Shoelaces | 10 | Pro Leather |
| Monumental Laces | ML-LJ | LeBron James | Shoelaces | 10 | X Jade |
| Monumental Laces | ML-MA | Magic Johnson | Shoelaces | 10 | Weapon |
| Monumental Laces | ML-MJ | Michael Jordan | Shoelaces | 10 | Air Jordan V |
| Monumental Laces | ML-PG | Paul George | Shoelaces | 10 | Hyperdunk |
| Monumental Laces | ML-RO | Dennis Rodman | Shoelaces | 10 | Air Way Up |
| Monumental Laces | ML-TH | Tim Hardaway Sr. | Shoelaces | 10 | Air Go LWP HOH |