Showoff opportunity: The best of Beantown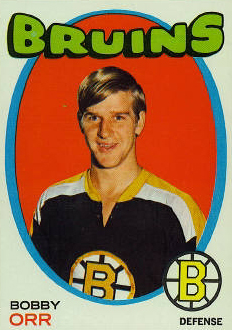 By Andrew Tolentino | Hockey Editor
As Vancouver quiets its riot, there are plenty of fans reveling — some, more romantically than others — over Boston's game seven victory.
To celebrate the latest team to lift Lord Stanley's Cup, we'll definitely be featuring the Bru-win in the next issue of Beckett Hockey. But we also wanted to give Bru crew collectors a chance to commemorate their favorite hockey team in the coming magazine.
Collectors can participate in  the print revelry by visiting this thread and posting a scan of their favorite Bruins card(s) or a picture showing the hobbyist and his/her notable Boston Bruins collectibles. Alternatively, these images can be sent to hockeymag@beckett.com for review.
We're limited on space, so not all images will be used — but we'll do the best we can to represent the hobby's best of Beantown in the August issue of Beckett Hockey.