Short Punch Cards pack hits inside greeting cards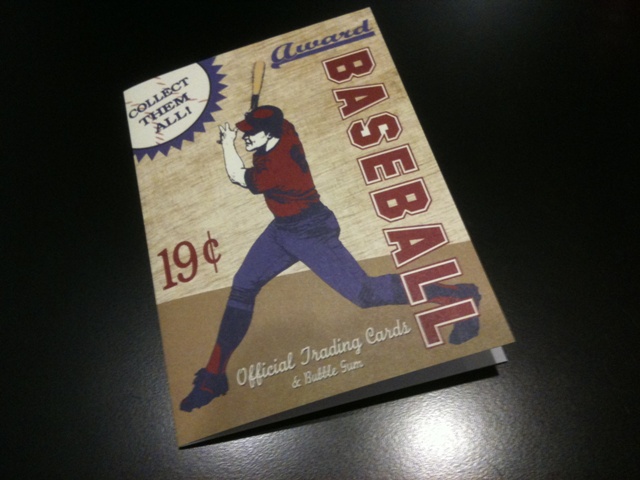 By Chris Olds | Baseball Editor
If you're shopping for a collector, you know it can be a challenge finding what you want in the card aisle of a retail store or in the various parts of a local card shop.
But Short Punch Cards just might make pleasing that collector of yours happy — or at least offer a pack-like busting fix as a smaller gift while perhaps offering up a greeting along with some cold, hard cash or a gift card.
What are they? Greeting cards with an autograph or memorabilia card inside. You simply pull a tab to reveal a trading card that is enclosed inside the card.
"We are the only company who has sought a patent for the process of inserting a certified autographed or game-used memorabilia card into the greeting card," said Michael LaFrance, owner of Ashburnham, Mass.-based Behaveya Cards, which produces Short Punch. "Many people just don't know how the trading card industry evolved over the years."
Short Punch Cards are available for the four major sports — baseball, football, basketball and hockey — and carry a suggested retail price of $8.95 per card and are sold in 12-packs to retailers. Each pack, err card, will have either an autograph or memorabilia card for its sport inside its tamper-proof packaging.
The cards are printed in the United States, LaFrance noted, with paper artwork made in Maine, paper made in New York and printing done in Massachusetts.
LaFrance believes that the cards are the "most unique giftable birthday card on the market today" — and they're certainly one of very few that cater to the card-collecting masses.
"We feel that these cards are perfect for the industry today," LaFrance said. "I expect that folks seeing these game-used or autographed cards may generate interest among past collectors. How many collectors just stepped away from the hobby after the mass-production and before the innovation of these types of cards? I imagine it's countless."
To see what one of these cards is all about, watch the video below …
[youtube]http://www.youtube.com/watch?v=_90_tZqj18k[/youtube]
Chris Olds is the editor of Beckett Baseball. Have a comment, question or idea? Send an e-mail to him at colds@beckett.com. Follow him on Twitter by clicking here.