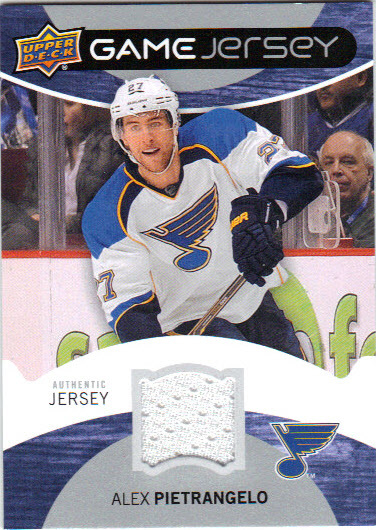 By Susan Lulgjuraj | Beckett Hockey Editor
Sometimes, jerseys cards with just a plain, white swatch are valuable.
James Wright and Michael Hodges both learned this when they recently sold an Alex Pietrangelo jersey card from 2012-13 Upper Deck Series 1 Hockey. Pietrangelo is a defenseman on the St. Louis Blues.
The price?
$300.
"I was a little surprised at the selling price because Pietrangelo is not a big hobby name," said Wright, who pulled the card from a local shop in Winnipeg, Sports Card Connection.
"I knew it would go for a decent price because there are many collectors that try to complete the Upper Deck Jersey set each year. It would be very hard to complete that set this year."
They realized the card would sell well when Upper Deck released short-print information on its blog. Pietrangelo's jersey card is the only card in Group A, the rarest group. His card can found in UD S1 packs at a rate of 1 in every 20,176 packs.
Even though Hodges is a Pietrangelo fan, he didn't think twice about selling one of the two cards he had.
He traded for one by giving up a Jaden Schwartz 2012-13 Artifacts Rookie Black Autograph, and he got a second on eBay for a quick Buy It Now of $3.
"I knew there was a collector out there who would need it for their set," said Hodges, who claims to have the largest Pietrangelo collection in the world. "But I was shocked at $300. I figured $100 max."
Currently, there is just one of these cards on eBay
– with bidding nearing $200 with two days remaining in the auction.
Susan Lulgjuraj is an editor of Beckett Hockey. You can email her here with questions, comments or ideas. Follow her on Twitter here. Follow Beckett Media on Facebook.