Cards and Kicks: Shawn Kemp's Collector's Choice Stick Ums
Shawn Kemp's Collector's Choice Stick Ums is about the most '90s thing one might see today. It's very reminiscent of the mid-'90s Saturday morning staple, NBA Inside Stuff. Ahmad Rashad and Summer Sanders had me on the edge of my seat every weekend wanting more NBA knowledge. In fact, I cannot tell you how many bowls of cereal I knocked over as I exploded from my couch watching the highlights. The dimes dropped at just the right moment. The crossovers that left defenders with broken ankles. The perfect pick-n-pop mid-range jump shots, and, of course, the dunks.
For my money, there wasn't a better in-game dunker at that time than the "Reign Man" Shawn Kemp. A lot of that had to do with how perfectly Gary Payton would set him up, the rest of it was the "Man Child" moving down the lane like a semi. To be on the other end of a Shawn Kemp meeting with the rim probably meant you were headed back to the bench to catch your breath. Time and time again he would demolish anyone that stood between him and the basket. He was the purest form of a dunker and he was a thing of beauty to watch.
On the other hand, Shawn Kemp's Collector's Choice Stick Ums is hideous. I mean that in the most '90s basketball-loving way that I can. Obviously, this card looks like it was created to be pulled from a fanny pack, but that was the point of Upper Deck's Collector's Choice. Those sets were meant to be something that anyone could enjoy. Simple yet eye-catching, the Stick Ums inserts were the perfect meld between collecting and school hall locker decorations, just ask Jake Roy.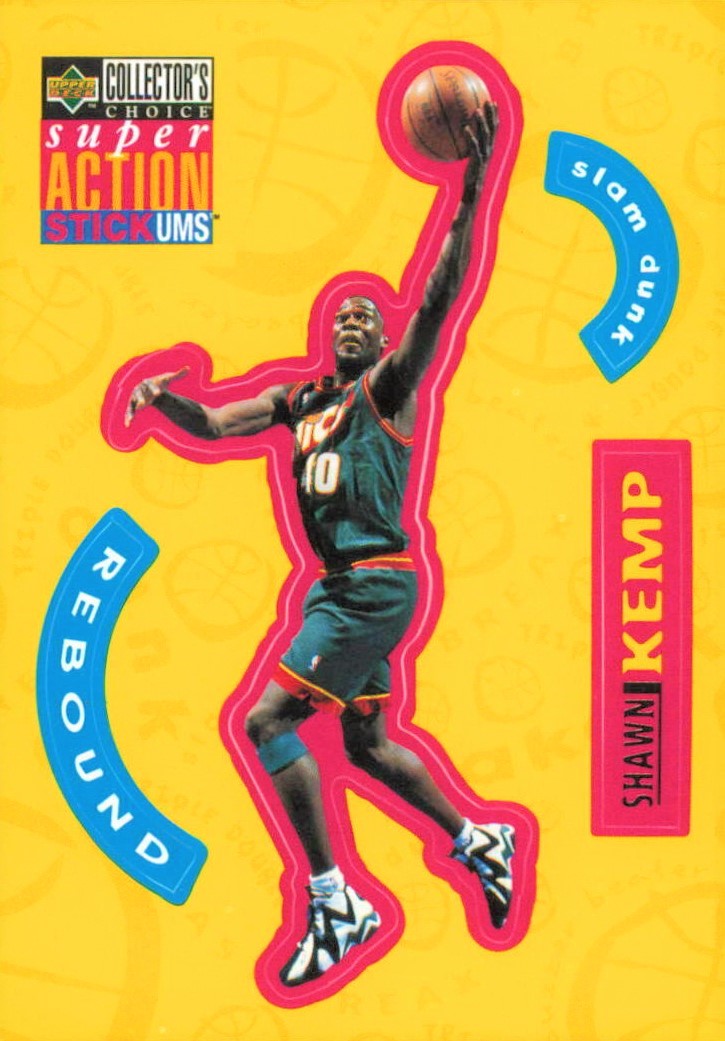 JR. Imagine sticking this on your trapper keeper! That's right, this card is a sticker!
If you Strolled onto the playground with it proudly displayed on your Trapper Keeper along with your brand-new pair of Reebok Kamikaze 2's then you were the envy of the school. '90s kids can probably picture this exact kid. If you weren't then you may be a bit confused. Shawn Kemp's Collector's Choice Stick Ums? A Reebok shoe? A sticker and a card? Let me help paint the picture.
Shawn Kemp was one of the brightest stars in the NBA during the '90s. No surprise, Jordan was on the cover of most of Upper Deck's packs and boxes but when he briefly retired for 1 year UD shifted to Kemp. Shawn was on a soon to be championship-contending team with thunderous highlight-reel dunks almost every night. He had a flair for showmanship and was a fixture in the all-star game. Oh, and he had some radical shoes!
Reebok, at that time, was the leading competitor for Nike in Basketball Shoes. They were hanging their hat on a lineup of young stars, of which Kemp was the most prominent. Their shoes featured designs that were absolutely on point for the era's aesthetic.
The sharp zig-zag design seemed to fit the electric nature of Kemp's game and his athletic frame. I can clearly remember when my friend wore a fresh pair of Kamikaze 2's to school with a black wind suit. I didn't know the name of the shoes but I knew they were Shawn Kemps and I knew they were the coolest things I had seen!
To see them also on an Upper Deck sticker card was almost too perfect. What was more '90s than plastering your 3-ring binder with stickers? The bright pink outline also was appropriately loud for the era. Upper Deck continued the fun by providing us with "base" cards to stick the Stick Ums onto. It was sort of a way of making our own cards. Many people left them as they were when pulled from a pack. Only the boldest or most daring of us would consider destroying the Stick Ums cards to make another work of art.
Still today, I have been known to use Stick Ums like this one of Shawn Kemp in tandem with other stickers to "decorate" my water bottles or the case I bring to card shows. I have also paired them with the base to make the ultimate Stick-Ums card. Sure, it destroys the value but it's fun and it brings me back to those earlier times. The times when Shawn Kemp was a star battling with the likes of Michael Jordan with his play on the court, the collectability of his cards, and even the sales of his shoes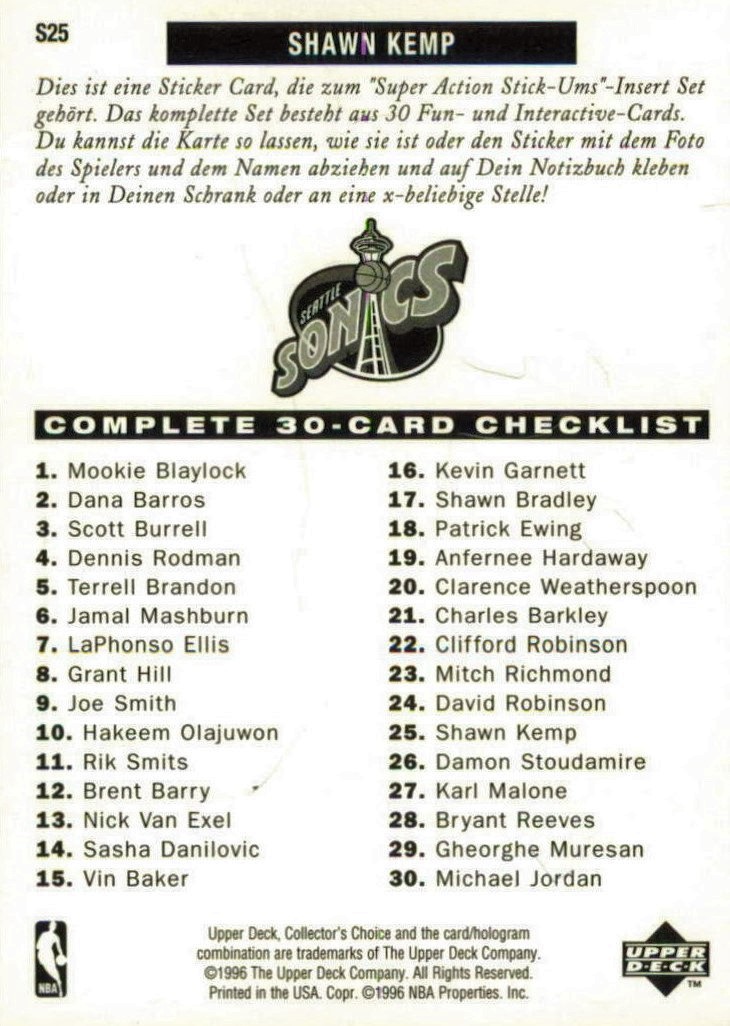 Since Mr. Roy mentioned value I think I should go ahead and tell you that there isn't much of that here. Collector's Choice came in several different languages like the International German version above. Those versions carry a little bit more of a book value, but we are talking cents not dollars here. So, in my opinion, Trapper Keepers, school lockers, or your unsuspecting little brother's head were all great places to create your own Stick Ums card.
Shawn Kemp was a player well ahead of his time. Coming out of high school, Kemp was one of the most sought-after players in the country, but not without controversy. After failing the SAT test twice, and some legal issues with a teammate, Kemp landed in the NBA. Comparable to Darryl Dawkins or Moses Malone, the NBA just wasn't ready for how powerful of a player Shawn was.
That's going to wrap up week three in the Cards and Kicks series. If you haven't had the chance to check out weeks one and two please do so. Jake and I had a lot of fun taking a look at both Micheal Jordan and Penny Hardaway in those pieces. Finally, please share a memory about Kemp with us in the comments or his Kamikaze's, we would love to hear from you.