Secrets Revealed at NFLPA Rookie Premiere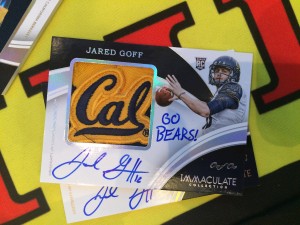 By David Lee
Editor, Beckett Football
The NFLPA and Panini operate the event with impressive fluidity, ushering around the players from station to station and organizing seemingly countless autographed assets that will be used throughout 2016 products. The event is enormous for acquiring the assets that will be used of the rookies throughout the year.
Rookies signed for 2016 football products such as Immaculate Collection Collegiate, National Treasures Collegiate, Black Gold Collegiate, Prestige, Elite, Origins and others. This included plenty of on-card autographs, acetate panels, stickers, different metal panels and eye blacks.
Here are a few cool things I caught a glimpse of and what they will be used for.
There were many different types of on-card autographs from Immaculate Collection Collegiate and National Treasures Collegiate. These included regular autographs and patch autographs. The photos below show Jared Goff, Christian Hackenberg and Ezekiel Elliot.
A couple other on-card autograph programs on hand were combo cards for Pen Pals, which will be in the upcoming Prestige, and combos for Origins—a new brand due to release near the start of the season. Both are shown below. Does the combo of the top four draft picks do anything for you? Also, that's some pretty impressive Photoshop work depicting the rookies in their NFL uniforms already. Other cards shown below will be for Black Gold Collegiate.
Check back tomorrow and also follow our Facebook page at Facebook.com/BeckettMediaLLC and on Twitter: @BeckettMedia. The rookies put on their NFL uniforms for the first time, so we'll have more sweet pic and some cool videos behind the scenes at the L.A. Coliseum.