Glancing Back at History: Secretariat's Sprint Into Immortality
When you click on links to various merchants on this site, like eBay, and make a purchase, this can result in this site earning a commission.
Forty-five years ago, Secretariat sprinted to immortality in a race that had to be seen to be believed. And even then …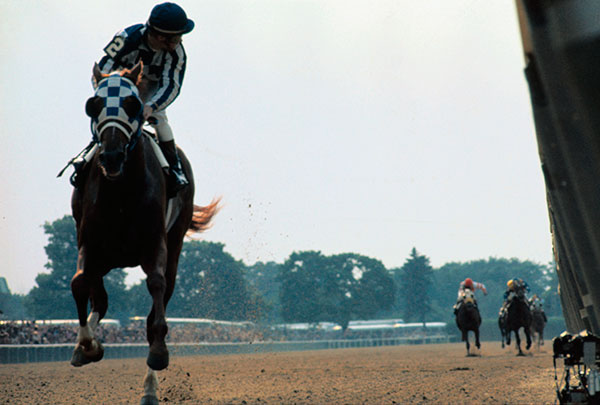 By Mike Payne
Here's the thing about greatness: It can come from anyone, anytime or anywhere.
It can be anticipated, like Henry Aaron's chasing down Babe Ruth's home run mark, or it can be a complete surprise, such as USA Hockey's gold medal performance in the 1980 Olympic Games.
Yet sometimes greatness can be a combination of both – a surprise only in the way it's achieved.
And that's where Secretariat comes in.

Some 45 years ago this month, the then three-year-old colt sprinted into history with a run for the ages, a run greater than any thoroughbred had ever run or will ever run. A run so thoroughly dominant, regal, inspiring and beautiful that YouTube clips of the race have millions of views.
The week leading up to the 105
th
running of the Belmont Stakes on June 9, 1973 had been thoroughly Secretariat. Having won the first two legs of the Triple Crown – the Kentucky Derby and the Preakness Stakes – it was no wonder casual racing fans and even novice fans who couldn't tell the difference between a stallion and a gelding were suddenly following the big red colt with the blue and white checkered silks.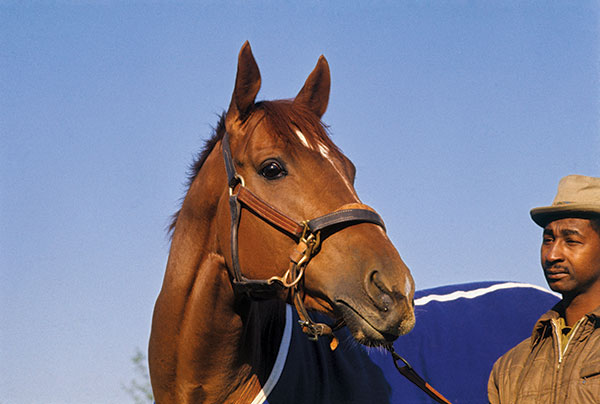 With Vietnam and Watergate grabbing the majority of national headlines, it was the three-year-old colt born in Virginia that the nation rallied upon. And why not? There was no hint of corruption. No hint of sadness and disappointment. Just the opposite. This chestnut colored horse with the peculiar name offered hope to a reeling nation looking for a respite from the full-court press of war and scandal.
With more than 69,000 jammed into hot and steamy Belmont Park hoping for a glimpse of history, nobody was cooler in the heat than Secretariat himself. As ticket holders jammed the standing room area to get as good a look as possible at the colt who leading up to the race had graced the covers of TIME, Newsweek and Sports Illustrated in the very same week, Secretariat stood calmly in his stall biding his time.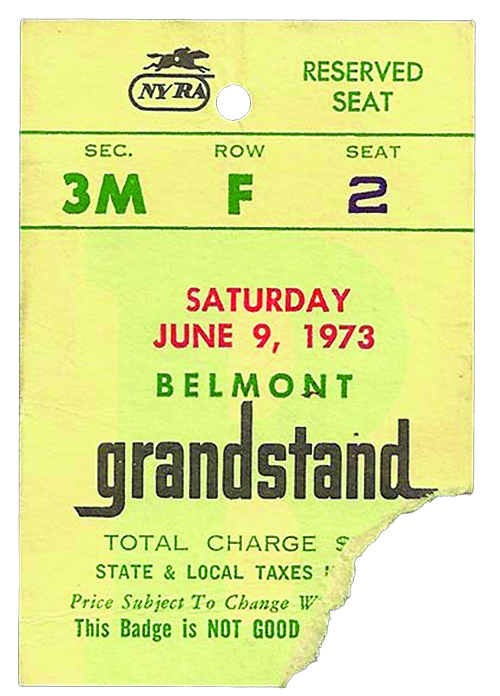 Some of these fans were the same ones that just three days earlier had jammed the track entrance to see Secretariat simply work out. At 6 a.m. On a week day. Before the sun had even arisen. It was so crowded that morning that the workout had to be delayed 30 minutes while Secretariat's jockey, Ron Turcotte, searched for a place to park.
As the $6 million colt – he was syndicated for 32 shares at $190,000 per share (total of $6,080,000) before the Triple Crown season had even began – went about his workout that morning under the watchful eyes of trainer Lucien Laurin and owner Penny Chenery Tweedy, a feisty blonde whom called herself "the voice" of her horse. "It's nice to know there are still those who appreciate a good horse," she said looking around at the crowd rubber-necking to take it all in.
Later that day, Laurin – a short, white-haired French Canadian, was talking to a reporter and the trainer could barely keep his enthusiasm in check for the upcoming race and the prospects for his horse. "I've never seen a horse as good as this one is right now," he said, looking over the track from a box seat. "I think he'll win the Belmont easier than the other two [races]."
But now it was race day. No telling how much sleep Big Red (the nickname groom Eddie Sweat had given the horse) got the night before, but when exercise rider Charlie Davis walked past the Pinkerton man guarding the entrance to Barn 5 at 5:15 a.m., he found Secretariat standing. He wanted carrots.
"He's not much for sugar, and apples don't excite him, either," Davis explained. "Carrots, though, he could eat all day. Sometimes we give him some extra after a race."
For the next 18 minutes Davis walked Secretariat around the walking track adjacent to the barn. The colt jumped a couple of times when he heard the loud clang of feed buckets being kicked in other stalls. Later, the colt was given less than a half-quart of oats. He typically received four quarts. To Secretariat, this may have been a sign that the day was going to be a little different than others.
Throughout the day, a crowd gathered around the Meadow Stable barn, at least as close to the barn as security would allow, hoping for a glimpse of the great horse. Although other good races were being run on the track, most everyone there was just waiting for the Eighth Race when Secretariat would try to become the first Triple Crown winner in 25 years, the first since Citation in 1948. When the horse emerged to be walked to the track, cameras clicked and an audible buzz settled over the scene as groom Sweat led the way.
It's been suggested that Secretariat "posed" for pictures, but that's more folklore than anything else. Yet the horse did look at crowds, and would often stare at those with cameras, somewhat interested in the clicking sound. Most of all, he just looked as if he was wondering what the fuss was about.
But as Mrs. Tweedy said, "He loves the attention. He loves to be noticed."
There were only to be six horses entered in the Eighth Race, perhaps a sign that most expected Secretariat to win and so, hey, why bother?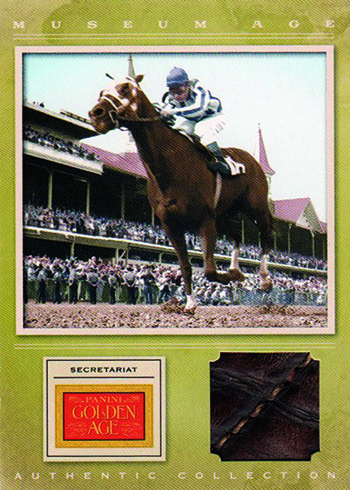 Sham, who had finished a close second to Secretariat in both the Kentucky Derby and the Preakness, was aiming for the big colt one more time. Sham's trainer, Frank "Pancho" Martin, added a little gamesmanship leading up to the race, announcing that another one of his horses – Knightly Dawn – would also run the race, acting as a designated "rabbit" to draw Secretariat out early and conceivably drain him before the homestretch of the 1 ½-mile race, the longest distance any of the three-year-olds had ever run before.
Laurin wasn't exactly losing sleep over the ploy, figuring Secretariat would be just fine. "It's just another horse for him to get around," Laurin said.
But Martin's plan never materialized, as Knightly Dawn was scratched from the race earlier in the day. That put the field back at five.
As the five were being loaded into the starting gate, with Secretariat having drawn the inside – not the preferred position for most races, but Laurin figured his horse would not get boxed in over the longer 1 ½ miles – the trainer and owner, friends and family settled into their seats. The rest was up to the horse and Turcotte.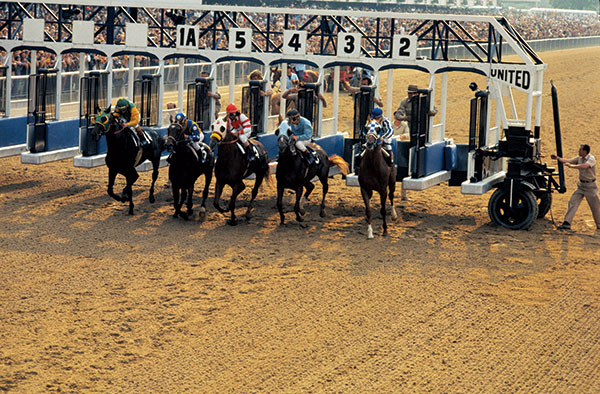 When the starting bell rang and the gates lifted, Secretariat broke well on the inside and shot toward the lead. Turcotte would make sure there would be no chance of getting boxed in, figuring they can't cut off what they can't catch. Before the group hit the first turn, Sham had moved to near the front on the outside and was looking to challenge his nemesis.
As the drama played out on the track, announcer Chic Anderson set the tone.
"They're moving for the first turn. It's Secretariat, Sham on the outside is also moving strongly and now it's Sham. Sham and Secretariat are right together in the first turn."
Laurin lowered his binoculars just long enough to share his fear about the pace. "They're going too fast!" he said.
"Those two together, Sham on the outside. Sham getting a head in front as they move around the turn with Secretariat second."
As they made their way through the turn and hit the backstretch it had become a two-horse race. The other contenders – My Gallant, Twice a Prince and Private Smiles – had already fallen at least eight lengths back of the two leaders now going head to head.
Veteran horsemen were shocked. What was Turcotte thinking going so fast?
"They're on the backstretch. It's almost a match race now. Secretariat's on the inside by a head. Sham is on the outside."
As they hit the backstretch, they had opened a 10 length lead on the field.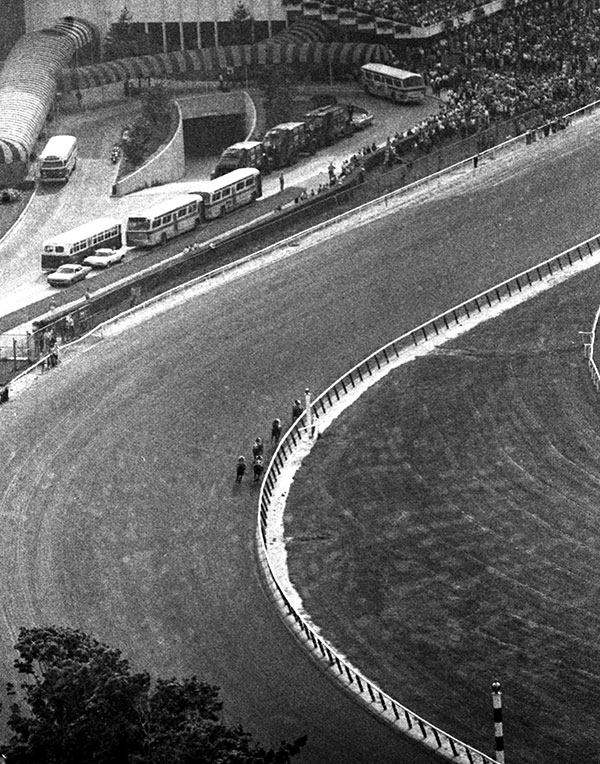 And then the big horse simply took over.
Jockey Laffit Pincay, on Sham, could feel his horse beginning to falter. The pace had taken its toll. He wasn't firing as Secretariat began taking off. He never asked anything else from the horse. "I wasn't going to abuse him to get fourth," Pincay said later. "He wasn't the same horse that ran in the Derby and Preakness."
To watch Secretariat on video footage of the race is to watch a virtuoso at his best. An artist on four legs. With Turcotte simply hanging on, it was Secretariat that continued to set his own pace.
"He was going so easy," Turcotte recalled later, "and I said, 'Well, I'm not going to fight you, fella, let's take it from here.'"
What is it that makes a horse want to run?
"They're moving on the turn now. For the turn it's Secretariat. He looks like he's opening. The lead is increasing. Make it three, three and a half. He's moving into the turn. Secretariat is holding onto a large lead. Sham is second and then it's a long way back to My Gallant and Twice a Prince."
It was at the end of the backstretch that Laurin finally allowed himself to breathe easier. Even he was impressed with what he was witnessing.
As Secretariat began to pull away, the crowd began a deafening roar of approval, as if they, too, understood that their horse was not only going to win the Triple Crown, he was going to do it in style.
"They're on the turn and Secretariat is blazing along, the first three-quarters of a mile in 1:09 4/5ths."
Now it was Secretariat calling the shots. His stride never broke. He never faltered. He just ran.
"Secretariat is widening now! He's moving like a TREMENDOUS MACHINE!"
At the top of the stretch with her horse holding a 22-length leading and building, Mrs. Tweedy began to understand and appreciate the moment. He wasn't just going to win the race, he was going to do it with an historic exclamation point. Amid the roar of more than 69,000 she saw power and grace. Heart and soul. And it was wearing four horse shoes.
"They're in the stretch. Secretariat has opened a 22 length lead. He is going to be the Triple Crown winner!"
The crowd was so loud it seemed to shake the Belmont stands. People were on their feet cheering and stomping their feet and they, too, began to understand the history they had been so privileged to witness.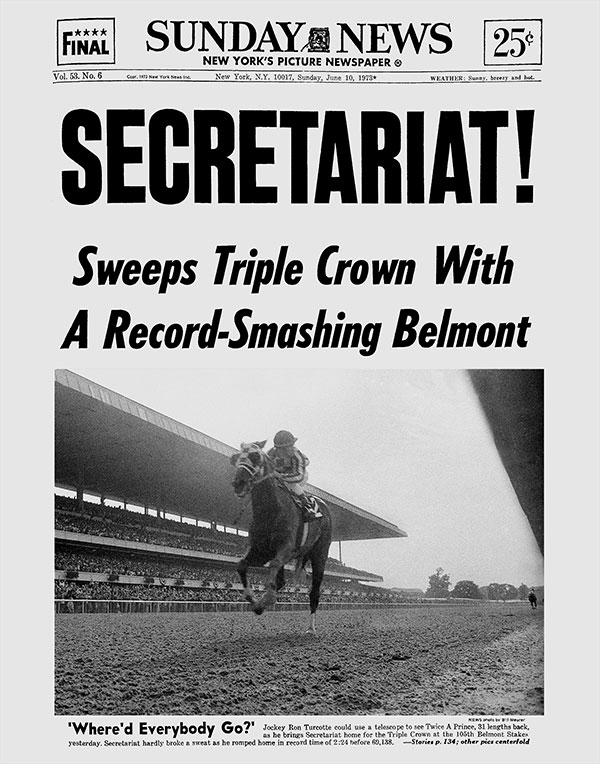 And the horse just kept sprinting toward home.
"He'll have to fall on his face now to lose," Laurin told Mrs. Tweedy.
At one point, Turcotte turned to look at the trackside timer and to catch a glimpse behind him.
"They looked like they were in the ninth race," he said of the rest of the field. He told reporters later the crowd noise was so loud he couldn't hear anything behind him. Just the crowd and the beating hooves of the locomotive he was steering to the finish line.
"Here comes Secretariat to the wire. An unbelievable, an amazing performance. He hits the finish 22 lengths in front!"
Actually, it was 31 lengths in front when he crossed the wire. And the time of 2:24 shattered the old mark by almost three seconds and remains a track record for the race still today.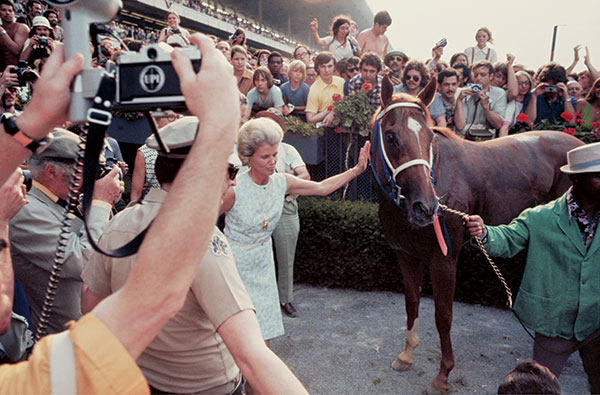 "Even in horse racing, where track records are a fairly common occurrence, an animal just does not go around beating an established mark by nearly three seconds," wrote Whitney Tower in
Sports Illustrated.
"It would be as if Joe Namath threw 10 touchdown passes in a game or Jack Nicklaus shot a 55 in the Open."
An hour after history had played out on the Belmont track, a storm rolled through with loud thunder, strong winds and heavy rain. It was as if Mother Nature had waited until after the race to do her thing.
As the storm pelted the track, longtime Newark Star-Ledger columnist Jerry Izenberg, still buzzing over what he had witnessed, went on air for a TV assignment called "Sports Extra." During the broadcast a bolt of lightning flickered the lights, and then power was lost for a few seconds. When the power came back on, there was Izenberg talking to his viewers.
"Don't you dare touch that dial," he said. "There's nothing wrong with your set. That interruption was just Pegasus hollering down to Secretariat, 'Now, that's what I'm talkin' about!'"
One Last Run
Secretariat went on to win four more races that year before being retired to stud at Claiborne Farm. His last race came October 28 in the Canadian International in Toronto. In his final turn for home, the big red horse truly looked the part of locomotive with steam blowing from his nostrils on that chilly and overcast day as he raced to the finish line with light snow falling.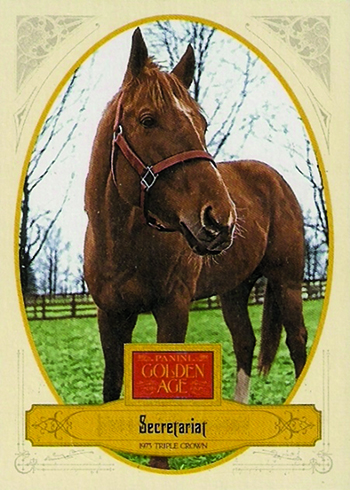 Then it was over. Big Red would be brought out one more time so fans could see him before he was gone from the game for good, but he would never race again. On November 6, "Farewell to Secretariat Day" at Aqueduct brought out 32,900 New Yorkers and other race fans. Groom Eddie Sweat, who spent as much time with Secretariat as any human ever had, helped saddle him one final time and began to lead him toward the track.
"He knew there was something wrong," Sweat said. "There wasn't no other horses, and it kind of made him nervous, you know."
Turcotte climbed aboard the champ one last time, and trotted him up to the quarter pole and then back the length of the stands to thunderous cheers.
New York Racing Association President Jack Krumpe tried to take it all in. "He was a power that transcended racing," he said. "You didn't have to know anything about racing to appreciate that great mass of power, that beauty."
For 16 years the big horse lived at Claiborne. But in October 1989, it was clear to all involved that Secretariat was suffering mightily. He had developed laminitis in his hoofs, and as an incurable disease, it's a death sentence. Although all at Claiborne tried to keep the champion alive, the situation became dire and Secretariat was in extreme pain, hardly able to even stand. And so, on October 4, at age 19, he was humanely euthanized. Many news outlets led with the passing of the great stallion that night, with most showing film clips of Big Red barreling down the final stretch of the Belmont, so far ahead that at one point he and Turcotte are all you see in the entire frame. His greatness captured on a few flickering film images from 16 years before.
A Big Heart
What is it that makes a horse run? What is it that wills a horse to run faster than all comers? Training has a lot to do with it, certainly, as do bloodlines and breeding. But somewhere inside the equine athlete – just as in the human – lies a desire to be first, to be the best. Heart, some call it. Secretariat had plenty of that, literally and figuratively. After his death in 1989, a necropsy revealed that Secretariat's heart was far bigger than that of the average thoroughbred, whose hearts weigh between 8-9 pounds. Secretariat's was estimated at a whopping 22 pounds, which certainly would have contributed to his strength, speed and stamina.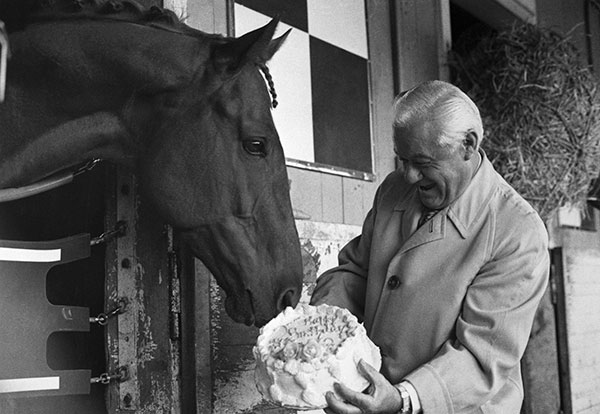 Secretariat biographer and former
Sports Illustrated
writer William Nack, who passed away April 13 at 77, penned a story after Big Red's death that detailed what Dr. Thomas Swerczek discovered during the necropsy. Nack's story, titled "Pure Heart," ran in the June 4, 1990 issue of
SI
.
"We were all shocked," Swerczek said. "I've seen and done thousands of autopsies on horses, and nothing I'd ever seen compared to it. The heart of the average horse weighs about nine pounds. This was almost twice the average size, and a third larger than any equine heart I'd ever seen. And it wasn't pathologically enlarged. All the chambers and the valves were normal. It was just larger. I think it told us why he was able to do what he did."
Highest Honor
As a final honor, Secretariat was buried whole – the ultimate sign of respect. As is reportedly custom, a horse is typically buried with his or her head, heart and legs. The size of the animals dictate the practice. But not Secretariat, who was buried in a 6-by-6 foot casket lined with orange silk, the color used by Claiborne Farms' racing stable, where the champion stood for 16 years until his death. He was buried near his sire, his father, Bold Ruler, in the equine graveyard behind an office on the farm.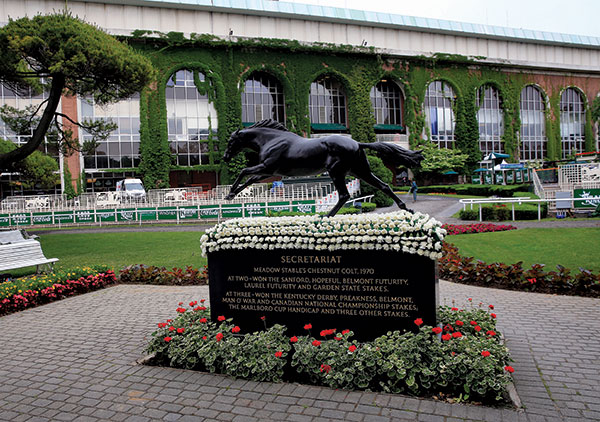 "He knew he was a winner," said Penny Chenery, who took on her maiden name after her divorce from John Tweedy late in 1973. "He wasn't just the greatest horse I ever had. He was the greatest horse anybody ever had."