Second-Year NFL Quarterbacks Making Splash in 2019
Second-year quarterbacks are slowly taking over the NFL, which is good for collectors.
Today's installment of Monday Night football was supposed serve as a primetime showcase of two rising signal-caller stars. Unfortunately, that won't be the case. Sam Darnold contracted mono, which will put him out for a few games. Still, Baker Mayfield is worth tuning into.
With the news that Ben Roethlisberger out for the rest of the season, Pittsburgh will be led by Mason Rudolph, another of the deep 2018 quarterback class.
Quarterbacks have the potential to be key parts of any collection. With Week 2 finishing up Monday, let's take a look at how the 2018 quarterback class has done so far.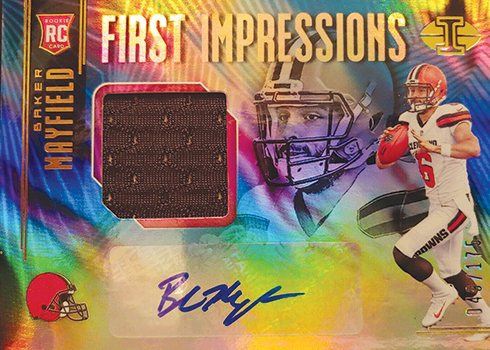 Baker Mayfield, Browns
Drafted: 1st overall
2018 Stats: 3,725 yards, 27 touchdowns (rookie record)
2019 stats: 285 yards, 1 touchdown (1 game)
Analysis: Mayfield used to be the sport's best feel-good story. That is no more. Now he is a at the top of his craft. As the No. 1 overall pick in 2018, he took the starting reins after Tyrod Taylor was injured. He never let go, injecting life into the Browns franchise not seen in at least a decade (probably more). The Oklahoma product is one of the faces of the NFL and the main reason Cleveland is featured on national TV several times this season. He got off to a tough start to 2019, throwing three interceptions in the season-opener. But he has the best supporting cast of any young quarterback. Expect more numbers, hype and success.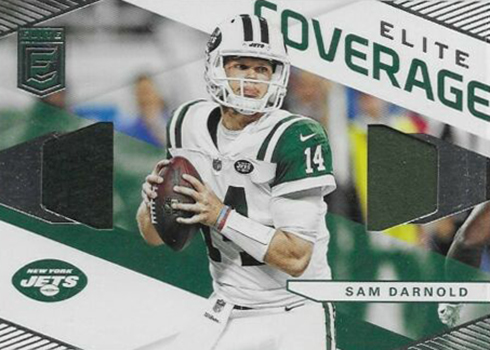 Sam Darnold, Jets
Drafted: 3rd overall
2018 stats: 2,865 yards, 18 touchdowns
2019 stats: 175 yards, 1 touchdown
Analysis: Darnold was considered by many to be the best quarterback prospect of the draft. His potential is through the roof, but it will take time to get there. He is on schedule so far. The USC product has already show he has the mental fortitude to be the starting quarterback for a New York football team. The arm, mobility and toughness are there. Better coaching and talent around him in 2019 should help Darnold take a big step forward, once he gets over mono illness.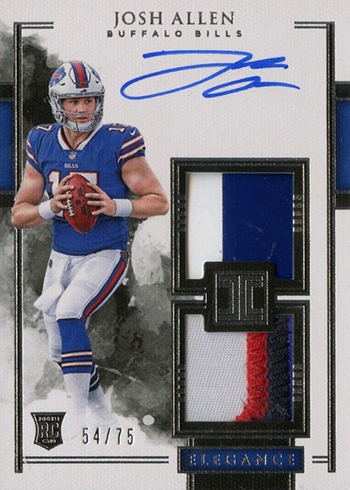 Josh Allen, Bills
Drafted: 7th overall
2018 stats: 2,074 yards, 10 touchdowns
2019 stats: 507 yards, 2 touchdowns
Analysis: Allen was the rawest prospect of the class. Scouts fell in love with his size (6-foot-5, 237 pounds) and arm (it's Patrick Mahomes-level). Already, he has proven to be a good runner (690 yards and 10 touchdowns in his career). The Bills have a built their offense around utilizing his strengths while sharpening his weakness (accuracy). Already a captain, the intangibles are there, too. While there is still work to be done, Allen's arrow is pointing up.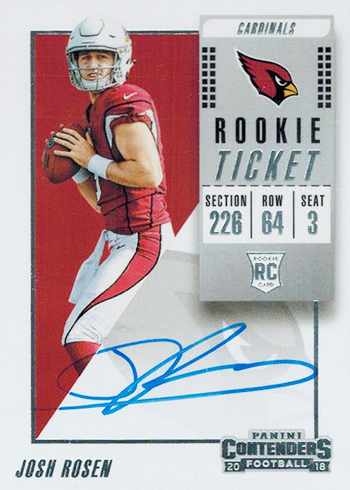 Josh Rosen, Dolphins
Drafted: 10th overall (Cardinals)
2018 stats:
2019 stats:
Analysis: No quarterback from this class has been through as much professional turmoil as Rosen. Seldom do first-round picks get traded after one season. Yet, that's what happened to Rosen. The Cardinals were a disaster in 2018, although that was not his doing. With Miami, he is sitting behind Ryan Fitzpatrick. The Dolphins need to know what they have in Rosen before next year's draft, so he will play eventually. Rosen collectors will need to be patient.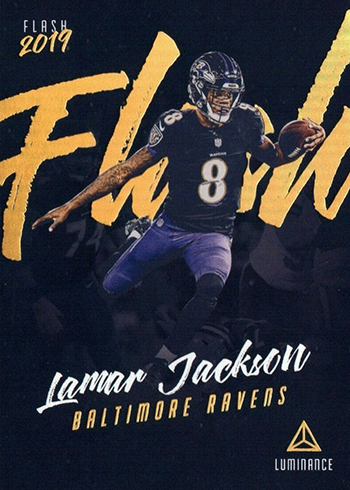 Lamar Jackson, Ravens
Drafted: 32nd overall
2018 stats: 1,201 yards, 6 touchdowns
2019 stats: 596 yards, 7 touchdowns
Analysis: No one has taken the league by storm like Jackson. Known more for his running exploits, Jackson's arm has put him in the (very) early MVP discussion. Jackson is the first player to throw for at least 250 yards and rush for 120 yards in a regular season game in NFL history. He is in an offense designed specifically for him and surrounded by plenty of young talent. Also aided by the trademark great defense in Baltimore, he is going to win a lot of games. His arrow is pointing straight up.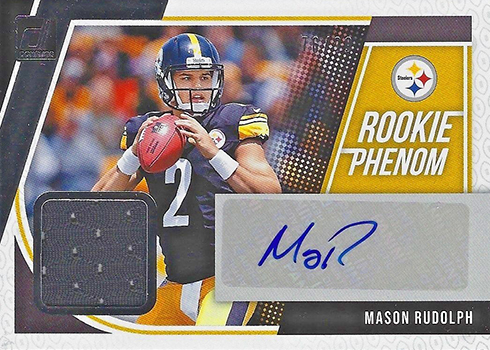 Mason Rudolph, Steelers
Drafted: 76th overall
2018 stats: n/a
2019 stats: 212 yards, 2 touchdowns
Analysis: Rudolph is the sixth quarterback from his class to earn starting status. With Big Ben out for the year, the Steelers are Rudolph's team now. He looked capable coming in to relieve Big Ben in Week 2 and even threw a few touchdown passes. The Oklahoma State product has plenty of weapons around him, including college wideout James Washington. Pittsburgh is a playoff team on paper, so expectations are high. If he meets them, Rudolph could end up the best bargain of his class.