Seattle Seahawks star K.J. Wright ready to make Panini NFL Player of the Day appearance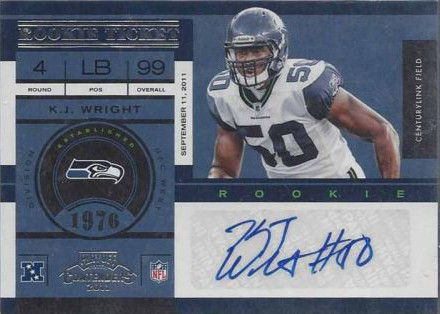 By Stephen Laroche | Beckett Sports Card Monthly Editor
For most NFL collectors, the opportunity to meet one of their favorite players is a rare and treasured experience. The thrill of seeing someone you cheer on every week can be just a fleeting moment, but for a lucky collector named Tommy Dickerson, it will be an even greater experience after winning the grand prize in Panini America's 2017 NFL Player of the Day promotion.
After breaking open a pack of football cards at Northwest Sports Cards in University Place, WA, Dickerson was selected as the store's winner and he was later the winner of the national draw that had entries from hundreds of hobby shops. As a result, he gets to spend the day with a local hero – Seattle Seahawks linebacker K.J. Wright.
The big day comes on Monday, July 24, and Dickerson along with his family and friend will meet Wright at a private party and spend some time together before the action moves over to Northwest Sports Cards. Once there, the fun extends to 150 of the store's best customers who can meet the Pro Bowler and get an autographed photo as well.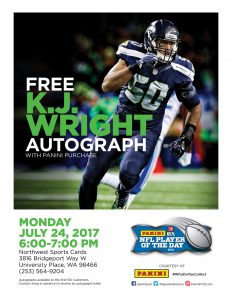 Beckett Media had the opportunity to speak with Wright earlier this week and the veteran lineman expressed his joy at being chosen to participate in the NFL Player of the Day promotion.
"I definitely was surprised," he said. "And I'm definitely glad he chose me to be a part of that. I'm glad he and his family included me. So, I'm excited to get there and spend time with his family, and sign autographs for the city of Tacoma. It'll be a real fun day for everyone."
Even a veteran athlete has an idol and Wright spoke about who he would like to meet one day.
"One of my heroes that I really want to meet, and have not met yet, is Kobe Bryant. I've got to find a way to get out there to L.A., because that is one of my all-time favorite players. That's the one I've got to meet and check off my bucket list."
While Wright did not collect football cards, he did mention what he collected as a youth.
"No, I did not. I never collected cards. I had collectible wrestling men growing up. I never got into football cards. I had all the action figures, all the wrestling men. Sting, Hulk Hogan. That was my thing."
For many athletes, seeing themselves on a card for the first time is a memorable experience – even if they are not collectors.
"It was special," Wright said. "I know what my Rookie Card looks like. It was pretty exciting having your face on there and people trading the cards and all that good stuff. It was pretty cool to see that. I'm glad guys are still doing it these days."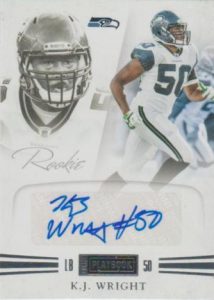 But does he managed to pick up any of his own cards?
"I have not, but definitely need to. How do you get them? I should be going on eBay, especially to get my Rookie Card."
Over the past six seasons, Wright has been a model of consistency and has only missed four games over that time. A Super Bowl champion, he talked about the experience of winning the big game and how it motivates him and his teammates to continue to strive for success on the gridiron.
"That's exciting, man. It's always something you've always dreamed of since you were a kid. You see that Lombardi trophy, get the Super Bowl rings, get to the White House. There's so many great things that come with that moment. My teammates and I, it was a goal to achieve and once you get it once, you definitely want to go back and make it happen. That's our goal this year, just go out there and take it one game at a time and win that championship again."
At the end of the 2016 season, he was finally given some richly-deserved recognition and was able to play in the Pro Bowl for the first time.
"The Pro Bowl was amazing. I knew I was the first alternate. That was really exciting and to just go out there and play with some of the best in the world, guys that I watch all the time like Sean Lee and Thomas Davis, that was tremendous. I went to Disney and had fun with my whole family. I just want to go out there and have another great year this year and make it back to Orlando."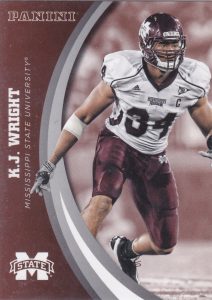 With so many great experiences thus far in his career, Wright is aware of the importance of hanging on to his personal memorabilia and shared details about his collection.
"I keep all my jerseys and I keep my helmets. Every time I run into a Mississippi State Bulldog, which is where I went to college, I get their jerseys as well."
There is one piece of memorabilia that stands above all other for Wright and it is hardly surprising what it happens to be.
"I'd have to go with the Super Bowl ring. I remember it like yesterday how we received our rings and how they surprised us with it. I've got it locked safe away. I only wear it on special occasions. The fans just love it. It's been three years since we won the Super Bowl, but every time I bring it out, the fans still love it."
Even though he is heading into his seventh NFL season, all of them with the Seahawks, there are very few cards of Wright on the market. The vast majority of them were released during his rookie campaign back in 2011. This seems to be a common lament for defensive line players and he stressed how important a great linebacker is for their team.
"I don't know why, man. Linebackers, we're are the quarterbacks of the defense. We don't get all the love like the quarterbacks, wide receivers, and the rest of them do, but if you have bad linebackers on your team, you won't have a successful football team. We definitely need to get more love out there. We're gonna make it happen in the future."
Stephen Laroche is the editor of Beckett Hockey, Beckett Basketball, and Beckett Sports Card Monthly magazines. Have a comment, question or idea? Send an e-mail to him at slaroche@beckett.com or follow him on Twitter @Stephen_Laroche.