Seattle Seahawks' Richard Sherman finally getting hobby attention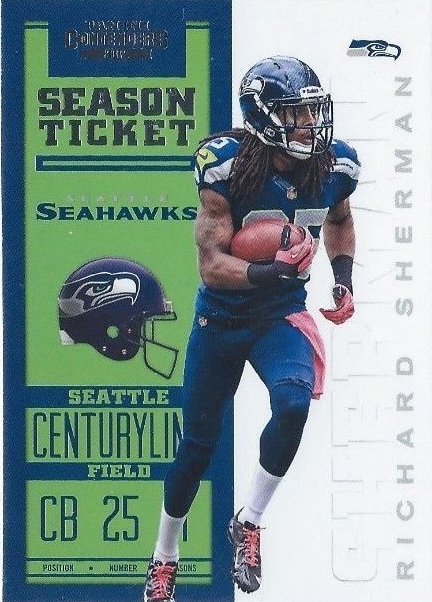 By Dan Good | Contributing Writer
Maybe you think he's a punk. Or a jerk. A narcissist. Or an egomaniac.
Richard Sherman's actions and outbursts have made him a household name.
The Seahawks cornerback is one of Super Bowl XLVIII's biggest story lines – the outspoken star hoping to lead Seattle to victory against the Denver Broncos.
Sherman has "talked the talk" repeatedly during his NFL career. He confronted Tom Brady. He attacked Calvin Johnson on Twitter.
He berated sportscaster Skip Bayless on ESPN's "First Take."
And then that whole Michael Crabtree thing …
Through it all, Sherman has backed up his words with lock-down success on the field. He was named a first-team All-Pro in 2012 and 2013. Both seasons, he hauled in eight interceptions for Seattle's "Legion of Boom" secondary.
The Stanford University product, 25, has previously stated that he carried a chip on his shoulder as soon as he entered the NFL – that he wanted to make teams pay after he slipped to the fifth round of the 2011 NFL Draft.
"I want to be the best, period," he told Yahoo! Sports in a Dec. 2012 interview. "A lot of people don't think it's possible, because how could a fifth-rounder be the best of all time? But that's what I want to be. Where you get drafted is such a big deal in the league, respect-wise, and that's why it still frustrates me."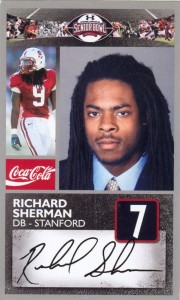 The Sherman oversight also applies to football cards. Fifth-round defensive backs from mid-range schools normally don't become hobby standouts. And in 2011, no major manufacturers – not SA-GE, Upper Deck, Panini or Topps – decided to create cards showing the 154th overall pick.
Sherman's only card from 2011 appears in a "Senior Bowl" set produced by Coca-Cola and Under Armour.
While Sherman was overlooked by card companies, other fifth-round selections received heavy cardboard attention. The player selected after Sherman, Niles Paul, appeared on 339 cards in 2011, including 25 Rookie Cards. But Paul attended the University of Nebraska, a school with a rabid fan base, and he also plays offensive skill positions.
University of Texas product Chykie Brown, the next cornerback selected after Sherman with the 164th pick, appeared in Upper Deck products in 2011.
Sherman had to wait until 2012 – his second season – for his only Rookie Card to appear.
Panini Contenders #86.
It's not autographed, not serial-numbered, not rare … simply the first NFL-licensed card of one of the game's most notable players.
A handful of the Contenders cards were autographed and re-inserted into packs of 2013 Panini Contenders. Following Sherman's antics in the NFC Championship game, one of those cards sold for $1,475 in an online auction.
By now, the card companies have taken notice of Sherman's collectibility. Panini and Topps produced more than 200 Sherman cards in 2013 – proving in Sherman's case, sometimes it pays to be loud.
Dan Good is a New York-based journalist. You can follow him on Twitter here.