Scott Rolen Rookie Card Guide and Other Early Baseball Card Milestones
The Scott Rolen Rookie Card quest isn't a long one. He has just two and both are relatively affordable even as he heads to the Hall of Fame.
A respected player in the hobby since the early days of his career, Rolen has never dominated it. One could say it parallels his on-field play. Rolen was always dependable to do great things, but it was often in the shadows of others who were flashier and more powerful.
Among collectors, Rolen has long been the type of player you respect pulling in a pack but not necessarily the type that brings shaking hands and spontaneous choice language.
Here's a look at both Scott Rolen Rookie Cards as well as his top minor league cards and earliest autographs.
Scott Rolen Rookie Card Guide
1995 Bowman Scott Rolen Rookie Card #271
Rolen's RC in 1995 Bowman Baseball doesn't come with the standard design. Rather, it's part of the Prime Prospect subset that's most noticeable for its foil stock. By today's standards, it doesn't scream high-end but back then it stood out. The borders are also embossed, adding a bit of texture.
Rolen is one of 54 players on the 1995 Bowman checklist with foil cards, which land one per pack or two per jumbo pack. Gold Foil parallels are 1:6 packs.
Parallels: Gold Foil
Buy on: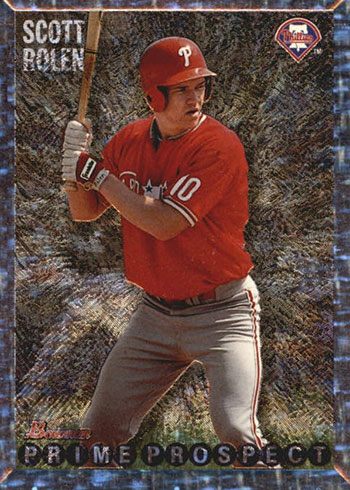 ---
1995 Bowman's Best Scott Rolen Rookie Card #B87
1995 Bowman's Best Baseball is one of the top sets of the decade for the sport. Vladimir Guerrero and Andruw Jones might be more well known, but Rolen has long since rounded out the Rookie Card trifecta. When it came out, chromium was still a new and novel concept. In baseball there was Finest and Bowman's Best — that's it. And when it came to RCs, Bowman's Best was king for a short time until Bowman Chrome made its debut a couple of years later.
If you're looking for the most valuable Scott Rolen MLB card from 1995, the Refractor parallel is it.
Parallels: Refractors
Buy on: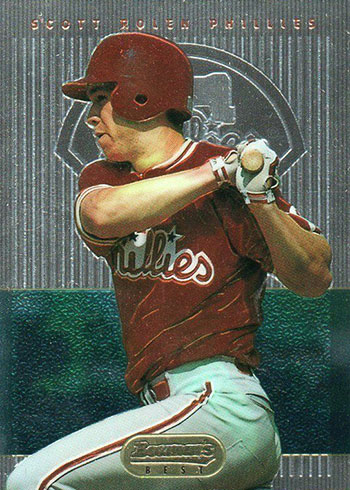 ---
Scott Rolen Minor League Card Highlights
Here's a list of Scott Rolen's earliest minor league baseball cards. He has others that came out in 1995 as well that are not featured here.
1994 Classic/Best Gold Scott Rolen #120
Part of a 200-card set covering multiple levels of minor league baseball, this is one of the easiest early Scott Rolen cards to find on the market. Not surprisingly, it's also one of the most affordable. It's not much compared to today's technology, but the small bit of gold foil lends a little premium feel.
Buy on: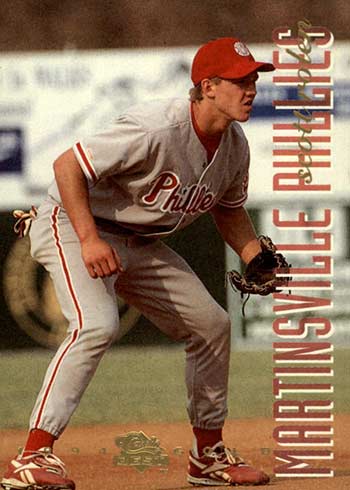 ---
1994 Spartanburg Phillies Classic Scott Rolen #1
From the easiest minor league card to Rolen's toughest. Rather than being from a full release like Classic/Best, this one is from a much more limited 30-card team set of the Single-A Spartanburg Phillies. Singles aren't all that common. If you can't find one, nabbing a full team set is another option.
Buy on: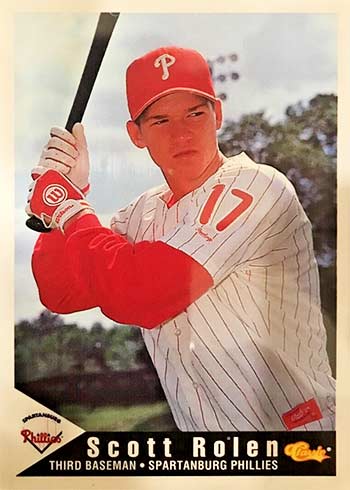 ---
1994 Spartanburg Phillies Fleer/ProCards Scott Rolen #1731
Another Rolen from a Spartanburg team set, the Fleer/ProCards one is a little easier to find but still a lot less common than Classic/Best Gold.
Buy on: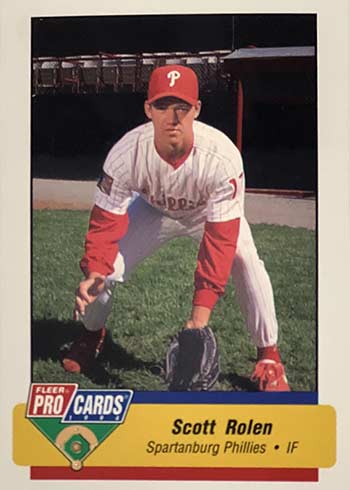 ---
1994-95 Fleer Excel Scott Rolen #246
Similar to Classic/Best, the 1994-95 Fleer Excel Scott Rolen is part of a full minor league release covering Single-A players all the way up to Triple-A. Another fairly common minor league card, it's valued significantly lower than the third baseman's team issue card.
Buy on: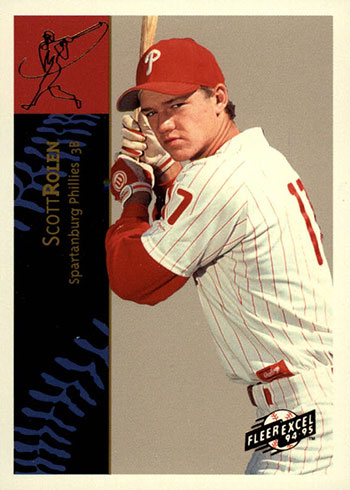 ---
First Scott Rolen Autograph Cards
This list looks at some of the earliest Scott Rolen autograph cards at both the minor league and MLB levels. The Beckett database has a full list of his autographs.
1995 SP Top Prospects Autographs Scott Rolen #22
If you're looking for the first Scott Rolen autograph card, this is it. It's from Upper Deck's premium-leaning 1995 SP Top Prospects minor league set. Without any MLB signatures for another two years, this die-cut card still generates significant interest.
Buy on: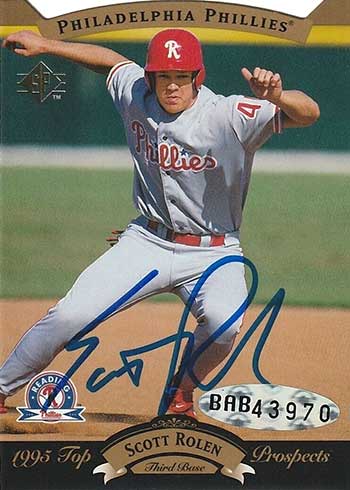 ---
1997 Bowman Certified Blue Ink Autographs Scott Rolen #CA70 (Black, Gold parallels)
It could be argued that 1997 Bowman Baseball helped lay some of the early groundwork for the modern juggernaut known as Bowman Chrome. The first Bowman Baseball set to offer autographs, they weren't guaranteed in every box like they are today. They were actually quite tough, falling 1:96 packs. Factor in the 90-card checklist and it's clear why this is such a hard card to find today.
Parallels are determined by the color of the signature. Black are 1:503 packs while Gold are 1:1,509.
Parallels: Black, Gold
Buy on: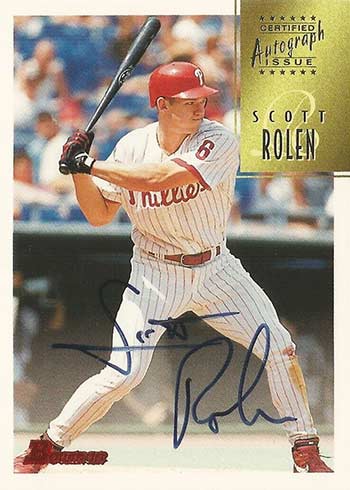 ---
1997 Bowman's Best Autographs Scott Rolen #194 (Refractor, Atomic Refractor parallels)
Rolen is one of 10 players to have autographs in 1997 Bowman's Best Baseball. The card itself looks almost exactly like his base card in the product. However, the pack-issued autographs have a stamp that's not on the regular card.
Odds of landing one of the signatures was 1:170 packs. There are also Refractor (1:2,036 packs) and Atomic Refractors (1:6,107 packs).
Parallels: Refractors, Atomic Refractors
Buy on: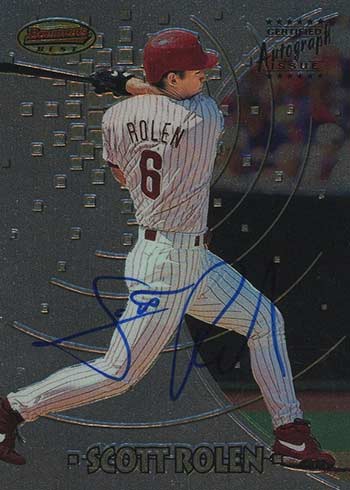 ---
1997 Circa Emerald Autographs Scott Rolen #283
In 1997, Fleer issued autographs of a small number of players in a handful of their products. Each adopts an Emerald theme and designs are pretty much the same as the base cards of that set. The signed versions have a noticeable difference outside of the ink. The foil is done in green.
In 1997 Circa, Emerald Autographs were issued as redemptions that landed 1:1,000 packs.
Buy on: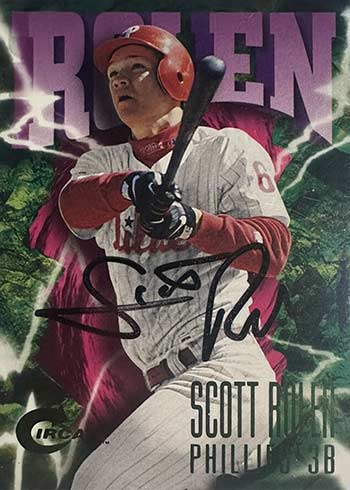 ---
1997 Donruss Signature Autographs Scott Rolen
The followup to the landmark 1996 Leaf Signature Series, the name switched over to Donruss in 1997. But the concept of an autograph per pack remained. Rolen's card has three different versions. The base autograph is the most common with 1,900 copies. Millennium parallels are just over half that with a print run of 1,000 while Century are extremely rare with just 100.
1900 copies
Parallels: Millennium (/1000), Century (/100)
Buy on: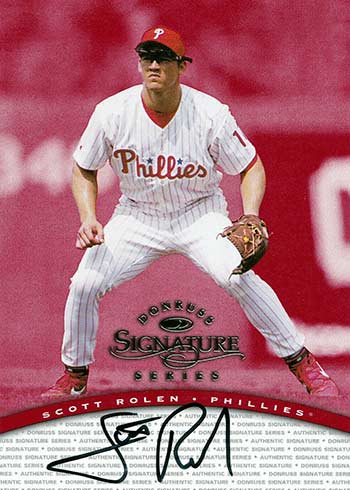 ---
1997 E-X2000 Emerald Autographs Scott Rolen #89
Like Circa, the 1997 E-X2000 Emerald Autographs Scott Rolen arrived in packs as a redemption. A premium release, odds are easier at 1:500 packs but still not easy. One thing to watch for on this one is the ink quality. Beading inside the signature isn't uncommon as the card stock and ink weren't a great match.
Buy on: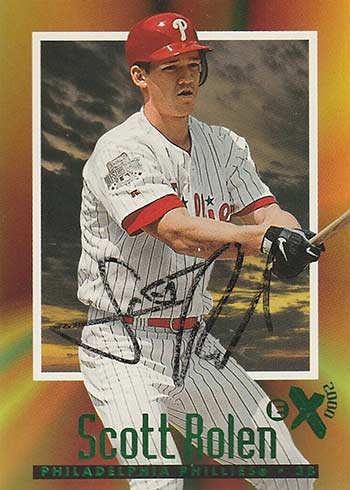 ---
1997 Metal Universe Emerald Autographs Scott Rolen
The third of Fleer's 1997 Scott Rolen autograph redemptions, Metal Universe takes a similar redemption approach. However, instead of in packs, redemptions were inside sealed boxes at a rated of 1:20. This one's for those who like the combination of ink and odd.
Buy on: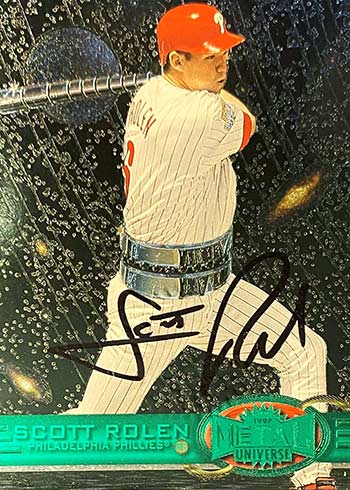 ---
1997 Stadium Club Co-Signers Scott Rolen/Gregg Jefferies #CO4
Stadium Club's Co-Signers represent some of the baseball card autographs that the 1990s had to offer. 1997's double-sided debut has autographs from two players. Rolen is paired with teammate — and '80s hobby legend — Gregg Jefferies. This is one of five Co-Signers cards available in Series 1 packs. Five more combinations are in Series 2.
Buy on: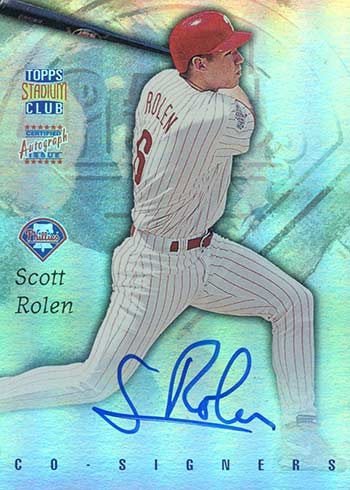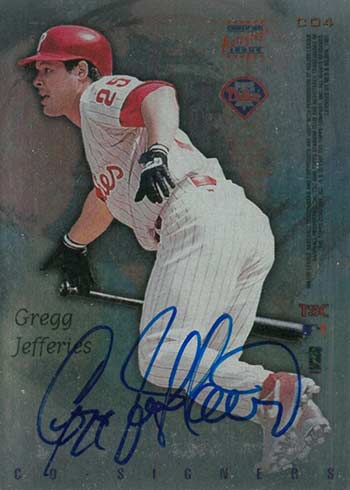 ---
1997 Studio Autographs Scott Rolen #24
This is the biggest of Rolen's early MLB autograph cards — literally. Measuring 8″ by 10″, it fits with 1997 Studio Baseball's theme of adding jumbo cards to the product's checklist. So one could keep it as is and put in an appropriately sized top loader or binder page, or you could put it in a basic frame and put it on display.
The "Authentic Signature" stamp on the front differentiates it from regular jumbo cards that may have been signed after the fact and not directly from packs.
Rolen's card has a print run of 1,000 copies.
Buy on: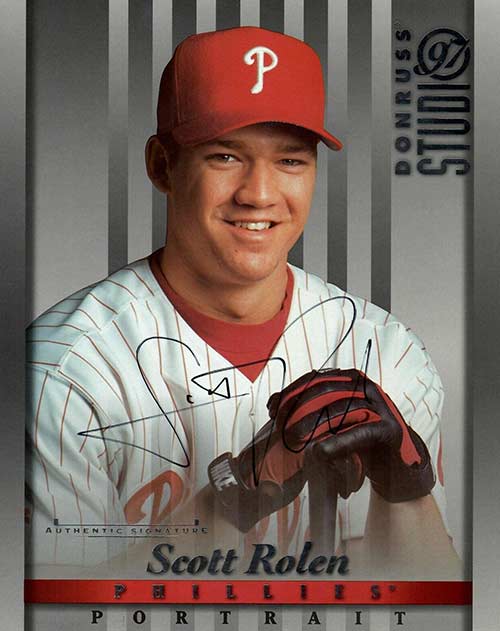 ---