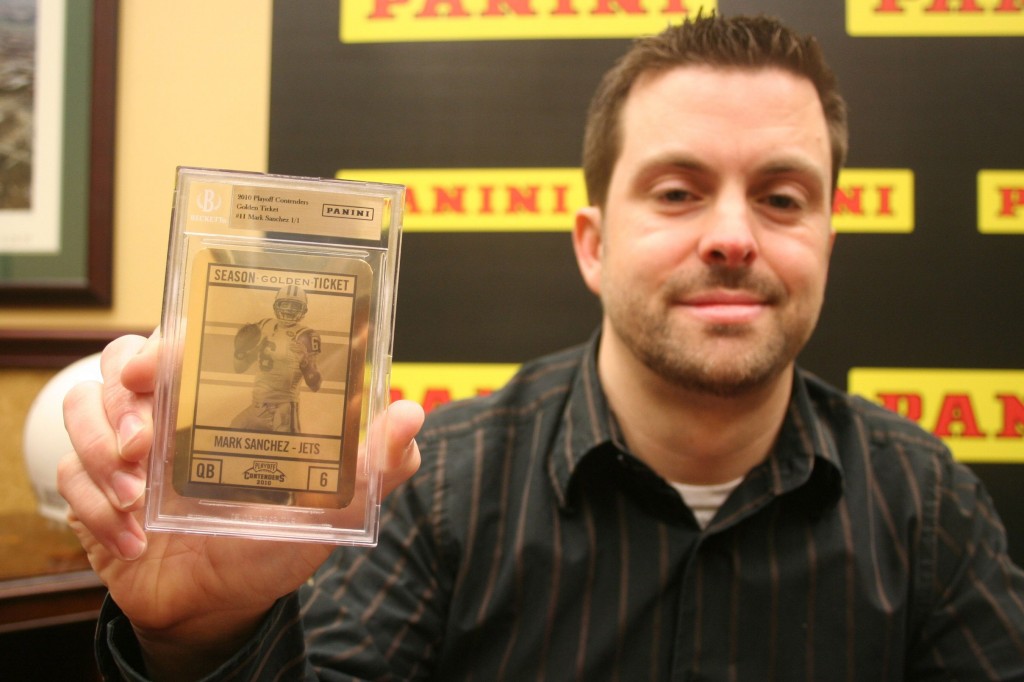 By Andrew Tolentino | Assistant Editor
Panini America is causing a Willy Wonka-esque stir in the hobby.
Found in the recently released 2010 Playoff Contenders product, groundbreaking Golden Ticket cards are slowly surfacing throughout the collecting universe. One such card happened to be pulled right here in North Texas — smack-dab in the backyard of both Panini America and Beckett Media.
This morning, I had the pleasure of watching the jaw-dropped face of Michael Keller from Lewisville, Texas as he redeemed  — in person — his pure-gold Mark Sanchez one-of-one.
"I was actually pretty calm, just very excited"  said Keller, describing his pull. "It's better than you could imagine."
Prior to Keller's pull, only three of the Golden Ticket redemptions have landed in lucky hobby hands. Redemption cards for Brett Favre, Troy Aikman and Aaron Rodgers have been pulled and rightfully announced elsewhere in the country. At the moment, the conveniently-located Texas collector holds the only live card from the program.
Keep your eyes peeled for a few forthcoming videos from today's rich redemption.