Salvador Perez Rookie Card and Minor League Card Guide
He's been one of baseball's best behind the plate for years, but only now are collectors starting to warm up to the limited Salvador Perez Rookie Card options that are out there. It shouldn't really be a surprise, though.
Playing in a smaller market like Kansas City is a big challenge. The team doesn't get a lot of mainstream attention, even when they're playing well.
Catchers are also a little different as their offensive numbers don't always match up with other sluggers from around the league. Their contributions can be seen on the field in a lot of ways, but if the home runs or RBIs don't rank among the top in the league, catchers are often ignored.
For Perez, though, his body of work is becoming harder to overlook. He's a perennial All-Star, having made the team seven times through 2021. Between 2013 and 2018, Perez missed out on the Gold Glove just once.
Add in a World Series in 2015 along with the World Series MVP that same year and the picture surrounding Perez's greatness becomes more clear.
And that's without even digging into the numbers. Perez is in the midst of a career year in 2021, ranking among the AL home run leaders — not just catchers. A decade into his career, it shouldn't be long before he joins the top 10 list for career home runs by a catcher. Once he does, if Perez even maintains his average numbers of around 25 homers per year, that ascent will go even higher in a short amount of time.
Perez is entering the phase of his career where the big picture comes into play. Take out 2021 and Perez is still one of the best catchers of his generation. Hall of Famer? Probably not yet, but don't be surprised if the buzz starts happening soon much like what's happening with Yadier Molina.
Overlooked from the Start
Just three Salvador Perez Rookie Cards exist. Making his debut in August, 2011, he found his way onto the checklist of two of the year's final products, 2011 Bowman Draft and 2011 Bowman Sterling. With Bowman Draft, there's actually two cards, a standard card and Bowman Chrome.
Going back even further, Perez was overlooked in baseball cards from the start. Although the Royals signed him in 2006 and he started his pro career in 2007, his first cards didn't arrive until 2008. For the next couple of years, Perez's presence in the hobby was limited to regional minor league cards.
His first MLB issue finally arrived in 2010 Bowman Chrome.
The hobby was in a different place for the first decade or so of the new millennium, but there was still no shortage of prospect-heavy Bowman products and a variety of minor league releases.
Over time, though, that simplicity could be a blessing for a lot of collectors. Delving into Salvador Perez Rookie Cards and other early cards isn't nearly as daunting as a lot of current players who appear in dozens of sets not to mention a growing number of limited time online offerings. With Perez, it's streamlined.
It also means that going forward, as the numbers continue to grow, it'll be a lot harder for him to be overlooked.
Most Valuable Salvador Perez Rookie Card Rankings
Here's a ranked look at each Salvador Perez Rookie Card. Following that is info on his minor league and prospect cards. A full checklist of Perez's cards can be found in the Beckett database.
1. 2011 Bowman Sterling Salvador Perez Rookie Card #3
The most valuable Salvador Perez Rookie Card is, not surprisingly, the toughest one to find. Part of a high-end release where there are as many autographs in a box as there are base cards and parallels combined, there are a couple of factors at play here. First, the initial cost of entry was high. This meant a somewhat limited audience. Also, with so few effort. base cards in those packs, landing any particular card wasn't easy. Today, you should be able to find a copy or two without much difficulty but any sort of bulk stash is going to take time and effort.
The relative rarity is also seen in the parallels. Less than 300 combined Refractors and Printing Plates if one were to pool them all together. It's right around as many as just the serial numbered parallels Perez has in Bowman Chrome Draft. However, his most common Refractors in that set don't have announced print runs.
Overall, Bowman Sterling might not be a major player in the Rookie Card realm. However, with just three Salvador Perez RCs to choose from, the options are extremely limited so this one finds itself at the top.
Parallels: Refractors (/199), Gold Refractors (/50), Black Refractors (/25), Purple Refractors (/10), Gold Canary Diamond Refractors (1/1), Printing Plates Black (1/1), Printing Plates Cyan (1/1), Printing Plates Magenta (1/1), Printing Plates Yellow (1/1), Red Refractors (1/1)
Buy on: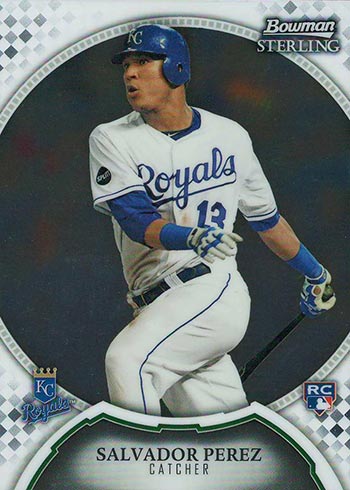 2. 2011 Bowman Chrome Draft Salvador Perez Rookie Card #12
Landing in the two spot, math suggests 2011 Bowman Chrome Draft has an average Salvador Perez Rookie Card. But that's what happens when there are only three to choose from. This one holds its own, offering a slightly elevated look and feel that chromium sets are known for.
Although there are several parallels to chase, it's far from the Refractor rainbow that all things Bowman Chrome would become over the next several years. Perez has a lot of the cornerstone colors. In addition to the usual one-of-one Superfractor, there's also a second one-of-a-kind parallel — Gold Canary Diamond. 2011 marked the 60th anniversary of Topps baseball cards. The patterned parallel made special appearances in several products that year.
Parallels: Refractors, Purple Refractors, Blue Refractors (/199), Gold Refractors (/50), Orange Refractors (/25), Red Refractors (/5), Gold Canary Diamond (1/1), Printing Plates Black (1/1), Printing Plates Cyan (1/1), Printing Plates Magenta (1/1), Printing Plates Yellow (1/1), Superfractors (1/1)
Buy on: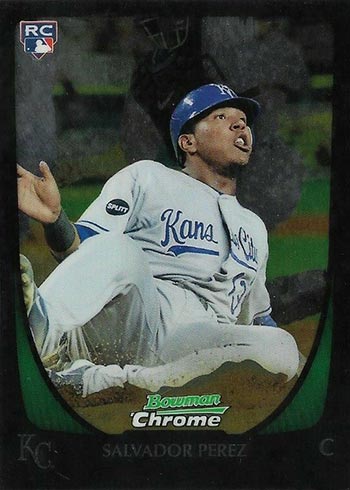 3. 2011 Bowman Draft Salvador Perez Rookie Card #12
The regular Bowman Draft, sometimes referred to as "Bowman Paper", rounds out Perez's RC lineup. It's practically identical to the Bowman Chrome version save for the more traditional card stock. Both versions were packaged together in the same packs as well.
Parallels: Gold, Blue (/499), Printing Plates Black (1/1), Printing Plates Cyan (1/1), Printing Plates Magenta (1/1), Printing Plates Yellow (1/1), Red (1/1)
Buy on: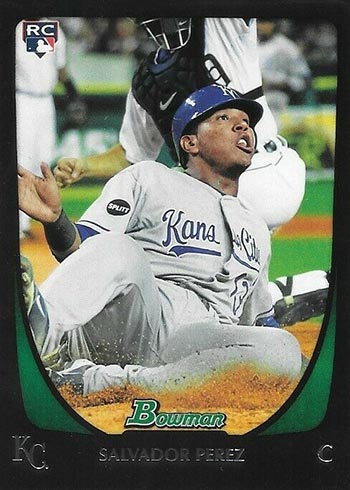 Early Prospect Cards
2010 Bowman Chrome Prospects Salvador Perez #BCP124
Salvador Perez's first card in a major league uniform arrived a year before his Rookie Cards in 2010 Bowman Chrome Baseball. Part of the Prospects portion of the set, it's technically an insert so it doesn't meet traditional RC criteria. That said, a lot of collectors still gravitate towards players' earliest minor league cards. As a result, this one carries as much clout as his 2011 base set RCs, if not a little more.
You're not seeing things if you notice the Los Angeles Dodgers logo on the front, a team he's never been affiliated with. The Royals logo and name are noted on the back of the card. The back also states that he was signed by Kansas City in 2006. All cards are like this making it an uncorrected error.
Parallels: Green X-fractors, Purple Refractors (/899), Refractors (/500), Blue Refractors (/150), Gold Refractors (/50), Orange Refractors (/25), Red Refractors (/5), Printing Plates Black (1/1), Printing Plates Cyan (1/1), Printing Plates Magenta (1/1), Printing Plates Yellow (1/1), Superfractors (1/1)
Buy on: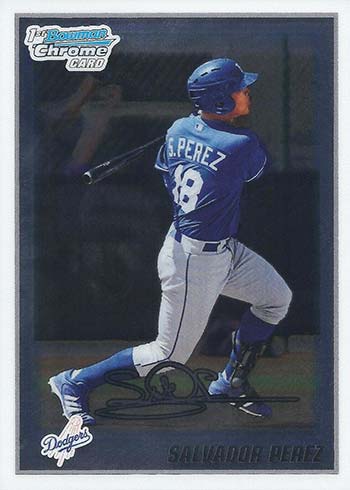 Minor League Cards
2008 Appalachian League Prospects Grandstand Salvador Perez #17
Grandstand's 2008 Appalachian League Prospects set has a total of 30 cards, highlighting some key names from the time for the short season summer league. Perez is the big standout on the checklist, which also includes Matt Moore and Wilmer Flores. If you stumble across a copy, it might not cost a lot. That said, the bigger challenge is likely to be stumbling across one.
Buy on: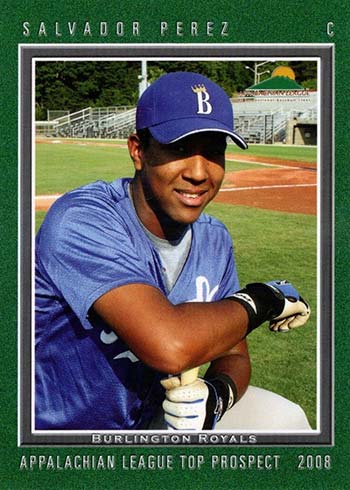 2008 Idaho Falls Chukars Multi-Ad Salvador Perez #25
Perez's first card in a traditional minor league team set comes courtesy of his time with the Rookie Advanced Idaho Falls Chukars. Another tough Salvador Perez minor league card, this one has a solid close-up shot of the catcher on the field. Produced primarily for local distribution, not a lot are out there on the open market.
Buy on: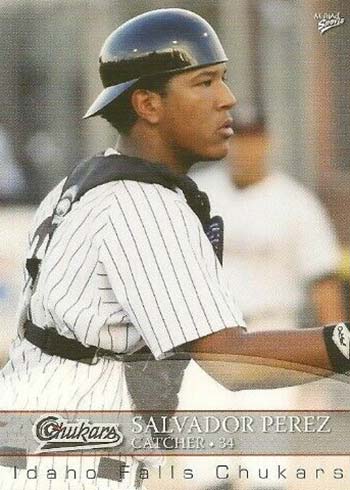 2009 Burlington Bees Multi-Ad Salvador Perez #19
In 2009, Perez was on his way up the MLB pipeline, moving the Single-A Burlington. It's a similar story to his previous minor league cards — available locally, sold as a part of a team set and hard to find today.
Buy on: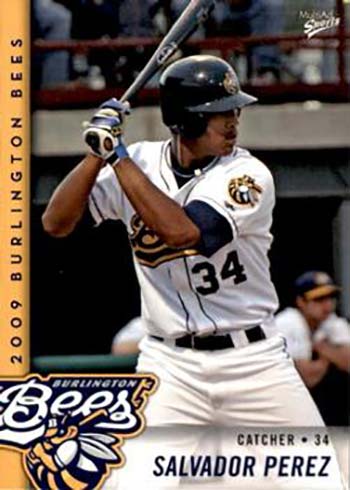 2010 Wilmington Blue Rocks Choice Salvador Perez #20
Are third-year minor league cards a thing? For most collectors, probably not. But if you're building a collection of Salvador Perez cards, absolutely. The prestige might not be quite the same, but this is still a very early card looking at the larger picture. There's also the rarity and challenge of finding one that comes with it. A trick for minor league cards like this might be to seek out the full team set if you're having trouble finding the card.
Buy on: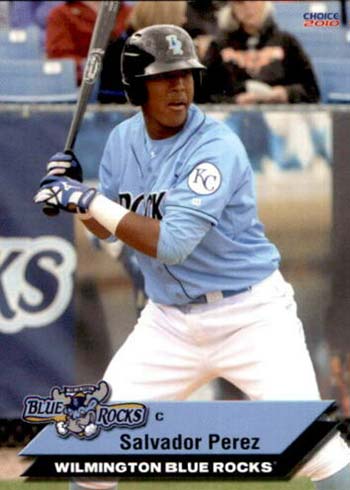 2011 Topps Pro Debut Salvador Perez #310
It's far from Perez's first minor league card. By the time 2011 Topps Pro Debut rolled around, the catcher had been on MLB cards as well. So while not the most notable card, with so few early Perez cards out there, it still stands out simply for being one of his first in a mainstream product.
Besides the year, what differentiates this from his other minor league cards is distribution. Pro Debut is a national line with a fairly wide distribution net, even if it is hobby-only. It might not have the biggest production runs of the Topps portfolio, but it's still more than his earlier regional MiLB team sets.
Parallels: Blue (/309), Gold (/50), Printing Plates Black (1/1), Printing Plates Cyan (1/1), Printing Plates Magenta (1/1), Printing Plates Yellow (1/1), Red (1/1)
Buy on: