Salt Lake City collector nabs every Flawless Rookie Card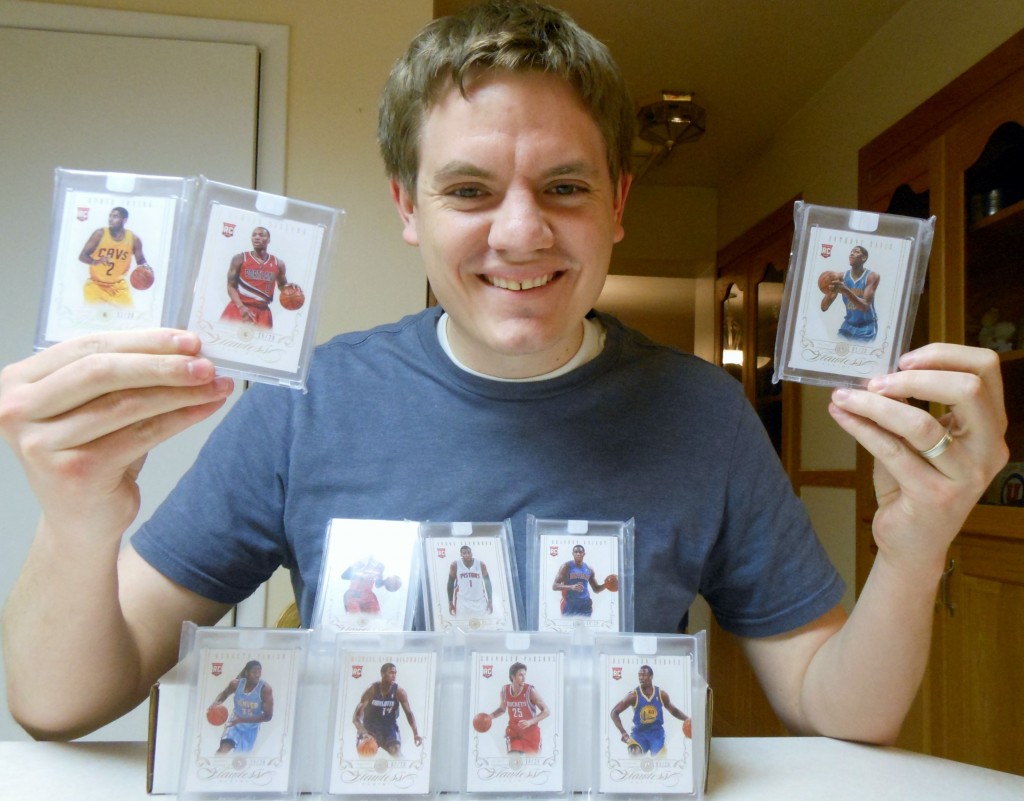 By Susan Lulgjuraj | Beckett Basketball Editor
Adam Gray hasn't collected a set some time.
He usually focuses on singles or ripping and flipping. But the longtime basketball collector was intrigued by 2012-13 Flawless basketball from Panini America.
After looking at previews – and using his basketball collecting expertise – he decided the Rookie Cards from the most expensive box of cards would be his.
"Rookie Cards have always driven the hobby," Gray said. "These are the rarest rookie basketball cards part of a base set that have ever been made. It was a challenge for me to put that together. I obviously liked the look of the cards, but it was about the rarity."
Each base card in Flawless has a diamond in it and is limited to just 20 copies each. There are 10 rookies in Flawless, including Damian Lillard, Anthony Davis and Kyrie Irving.
Gray set out to buy the cards as quickly as possible with 2012-13 Immaculate coming out on the heels of Flawless, which has jumped to about $2,000 per hobby box. Gray figured collectors would open Flawless and then sell their goods in order to have money to purchase Immaculate.
"I didn't feel like there would be any better time than when they first came out," said Gray, a 30-year-old CPA from Salt Lake City. "So far, that's proven to be right."
The 10 cards cost him around $5,000 to purchase. His investment has immediately paid off as the cards can't be had for less than $10,000 right now. Recently, an Irving sold for $2,100 on eBay. Gray said he paid $1,250 for the one he owns, which is the most he spent on any one card (Davis also cost $1,250).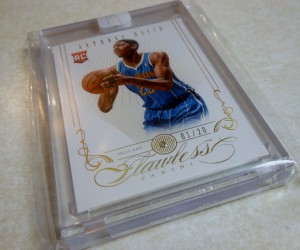 He picked up a Chandler Parsons rookie for $200 and had someone offer him $750 for the card.
It was enticing, but Gray doesn't intend on giving up these cards any time soon even though he does look at the cards as an investment.
"I've turned over my collection so many times, I'm sure it could happen," Gray said. "I think it could be one of the best long term holds since 2003 Exquisite. I think there will come a time where you can't find these anymore. They will be tucked away in PCs (collections). That's why I went out and got them right away."
Gray wasn't immediately sold on Flawless. He had the same reaction as many collectors when he heard the initial price of a hobby box.
However, the more he thought about the product and where it landed on the schedule, the more Flawless appealed to him.
"My initial reaction was I can't believe they're making a pack of cards for two grand," he said. "I thought back at my time in the hobby – '03 Exquisite, 2000 Ultimate, all the way to '93 Finest set a new bar. Every time the bar has been reset, it has been a hit. With Flawless, I felt like more than ever, it has been reset."
Gray has opened cases of cards with his co-workers. They have opened National Treasures and Flawless, and posted their videos on YouTube.
[youtube]http://www.youtube.com/watch?v=gSbqhCVKgts[/youtube]
[youtube]http://www.youtube.com/watch?v=-es1EpwMp2w[/youtube]
[youtube]http://www.youtube.com/watch?v=gtzoOJQ9gs0[/youtube]
Susan Lulgjuraj is an editor at Beckett Media. You can email her here with questions, comments or ideas. Follow her on Twitter here. Follow Beckett Media on Facebook and Twitter.