As American League MVP Shohei Ohtani's exploits continue to amaze fans, collectors are investing in Japan's other home run champion—Sadaharu Oh.
"Many people believe that Ohtani is the best player in the game," says Robert Klevens of Prestige Collectibles, a premier seller of Japanese baseball memorabilia. "When I was setup at the National, customers would notice the selection of Ohtani cards and stop at my table. Many also asked about Sadaharu Oh cards. They were especially interested in his rookies. The rise in demand and pricing for nearly all Sadaharu Oh cards this season has been incredible. Cards that were selling for hundreds are now selling for thousands. I think the rise in American HOFers priced a lot of people out of the market. When they realize they can get Japan's greatest hitter at a fraction of the price, it is quite enticing."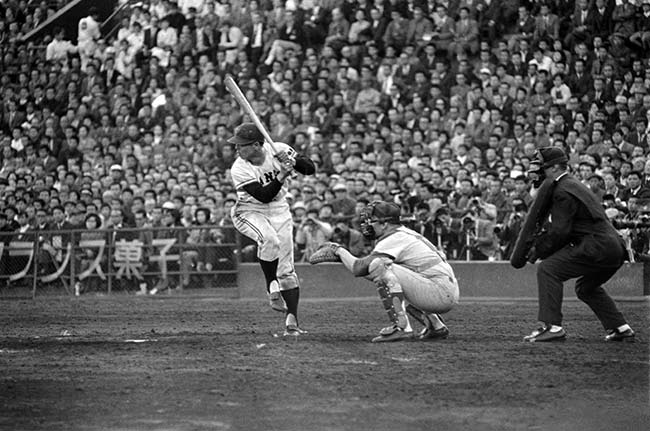 With so many people now interested in Sadaharu Oh's rookies, here is some background for the beginning Oh collector.
The Home Run King
Despite being born in Tokyo, living his entire life in Japan, and speaking only Japanese, Oh is not actually Japanese, but Chinese. Sadaharu Oh was born in Tokyo on May 10, 1940, the son of a Chinese father and Japanese mother. According to Japanese law of the time, a child took the father's nationality so Oh carries a Taiwanese passport. His last name is written with the kanji (Chinese character) that means king and is pronounced Oh in Japanese and Wang in Chinese.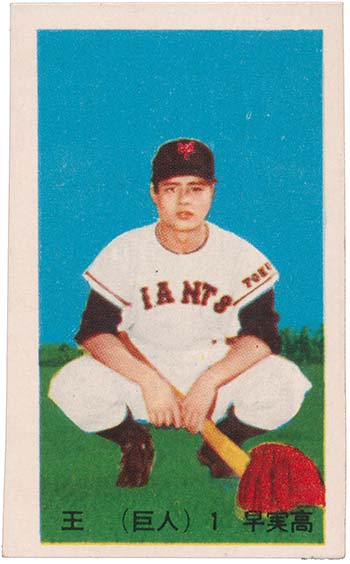 As a schoolboy Oh was a star pitcher, leading Waseda High School to the Koshien championship in 1957 and becoming the first player in tournament history to hit a home run in consecutive games in 1958. The following year, with much fanfare, Oh signed with the Yomiuri Giants. His first professional season was a disaster as he only hit .161 and struck out 72 times in 193 at bats. As Oh's strikeouts mounted, witty fans started yelling, "Oh! Oh! Sanshin Oh!" Since Oh's last name means king, the chant's double meaning was "Oh! Oh! Strikeout King!"
"Soon, every time I came to bat," Oh recalls, "I would hear the chant, until thousands of people at the same time were all joining in . . . the chant followed me from one stadium to the next, across Japan."
Although he improved over the next few years, Oh did not become a star until batting coach Hiroshi Arakawa helped him develop his famed flamingo batting stance in 1962. To improve balance, Arakawa had Oh practice his swing with a samurai sword, slicing sheets of paper until his motion was flawless. After adopting the new stance, Oh went on to lead the Central League in home runs for 15 seasons, finishing his career with 868 homers. But Oh was not a one-dimensional player. He also won five batting titles, 13 RBI titles, two Triple Crowns, led the league in walks for 18 consecutive years and won nine gold gloves. This led to an amazing nine MVP awards, and being elected to the all-star team for 21 straight seasons.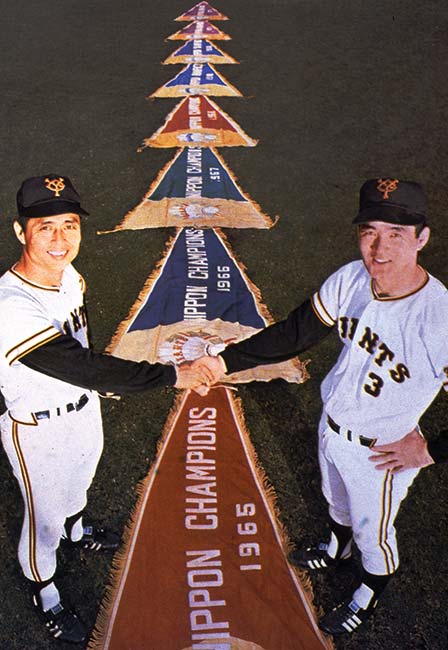 For most of his career, Oh played alongside Shigeo Nagashima, considered to be Japan's best all-around player before Ichiro. With Oh batting third and Nagashima at cleanup, the duo became known as the ON Canon. The pair homered in the same game 106 times during their careers. They also led the Giants to 11 Japan Series championships, including nine straight titles from 1965-1973. In Japan Series play, Oh hit a record 29 homers and also managed at least one home run in each series.
There is little doubt that Oh could have been a Major League star. Nearly all Major League opponents were impressed with his abilities. Against touring Major League teams, Oh hit .259 with 20 home runs in 325 at bats but had an enviable .409 on-base percentage. In individual tours, Oh hit .344 (21 for 61) with five homers against the Dodgers in 1966; .356 (21 for 59) with three homers against the Cardinals in 1968; and .322 (19 for 59) with six homers against the Mets in 1974.
Oh retired after the 1980 season. He managed the Giants from 1984 through 1988 and the Fukuoka Daiei Hawks from 1995 to 2008, winning four pennants and two Japan Series titles. In 2006 he managed the Japanese national team as it won the inaugural World Baseball Classic. Oh was elected to the Japan Baseball Hall of Fame in 1994.
Sadaharu Oh Rookie Cards
As a seller of Japanese baseball cards, I'm often asked "What is Sadaharu Oh's rookie card?" Well, there are at least 60.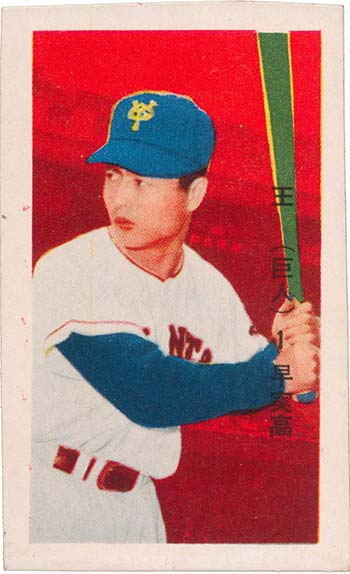 Before Calbee snack foods released their first set in 1973, there was no dominant manufacturer who released an annual set. Instead, each year dozens of companies produced small sets. In 1959, most of these sets included Oh.
Most Oh rookie cards are menko. Menko is a children's flipping game that dates back to the eighteenth century. Although there were many variations to the rules, the basic game was played between two or more players. The first player would place or toss his menko on a hard, that surface, such as a stone floor or packed ground. From several feet away, the next player would toss his menko at the first, trying to flip the first menko over. If the tosser succeeded, he would keep both cards. If he missed, the next player would take a turn.
Although early menko were made of clay, metal, or wood, by the 1890s most were made from cardboard. These menko came in a variety of shapes—round, die-cut, square, and rectangular—and sizes, but the most common form in the late 1950s was rectangular. Collectors have nicknamed these "tobacco menko" as their shape and size (1 13/16 by 3 inches) are similar to American tobacco cards.
The front of each menko contains a picture of the player and text with the player's name, team, position and sometimes uniform number. The cards' backs contain various games, such as rock/paper/scissors, number, or trivia games. In some sets, the backs include the phrase, "Who am I?" and give biographical information as clues to identify the player on the front. At the bottom of each card's back is a long string of numbers.
Unfortunately for collectors, these are not sequential numbers used to identify the cards in the set, but rather part of a number-based game. Collectors could not tell how many cards were in a set or what cards they were missing until Gary Engel painstakingly put together checklists by recording every known menko from each set. Engel's Japanese Baseball Card Checklist and Price Guide is a must for any serious collector of Sadaharu Oh or Japanese baseball cards.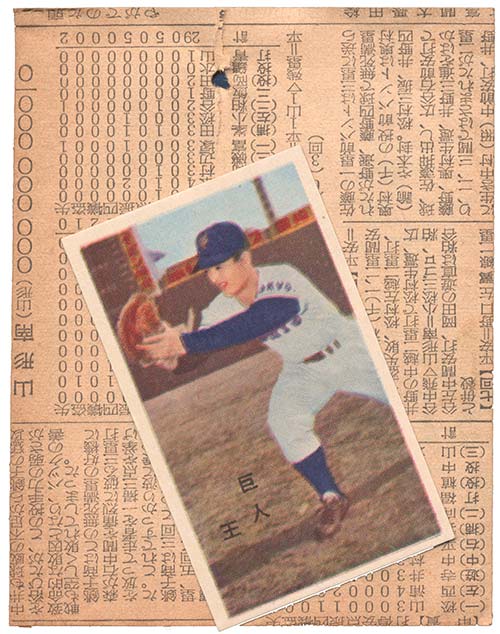 Menko were usually packaged in envelopes made of newspaper (one card per pack) which were strung together into a taba by running a string through a hole punched through the top of the envelopes. Purchasers would pull a pack off the taba. About a half dozen cards in each taba would be stamped with the number 1, 2, or 3 on the back. These are known as prize cards. The holder of a prize card could choose an item off a poster-sized display sheet. Third prize was usually a pair of cards, second prize a four-card panel, and first prize an uncut sheet of 16 or 20 cards. These prizes were often cut into individual cards by children so menko with uneven boarders are common. And it's difficult to determine if a menko came from a pack or was carefully cut from a prize sheet. PSA lists all menko as "hand cut." Similarly, PSA gives menko prize-cards a MK qualifier. Among Japanese card collectors a MK qualifier due to a prize-card stamp is not seen as a flaw.
In 1959 there were 11 major manufacturers of tobacco menko: Doyusha, Hoshi Gangu, Yamakatsu, Marukami, Marumatsu, Marusan, Maruten, Marusho, Maruta, Maruo, and Maruya ("maru" means round or circle in Japanese—the original shape of menko). Six of these companies issued multiple sets that year. The sets contain between 20 and 100 cards, emphasize stars, and often have multiple cards of certain players. As Oh was a high school star, most of these sets include more than one card of the rookie. In all, there are over 50 different cataloged Oh tobacco menko cards, but some are more common than others.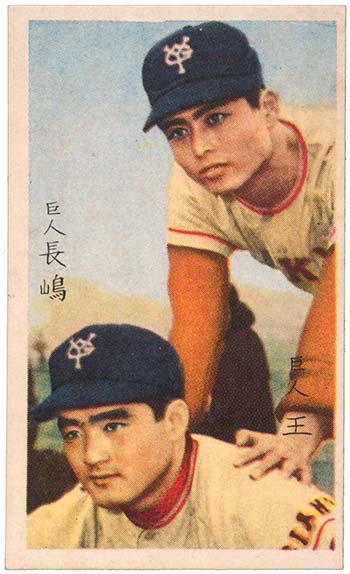 Oh menko from the Doyusha, Marusan color sets, and Murakami color sets are relatively common. For example, over 20 Doyusha and Marusan rookies have been graded by PSA. These issues are ideal for a collector who just wants one or two Oh rookies for his collection. Off-condition examples can often be found for a few hundred dollars. On the other hand, there are only a handful of examples known to exist of other tobacco menko cards. The Muramatsu black and white issues, for example, are particularly rare.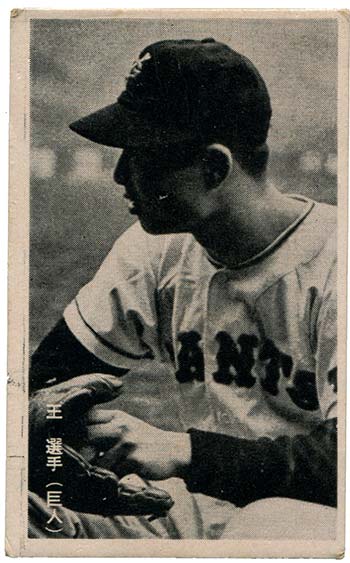 Cards that depict Oh with his superstar teammate Shigeo Nagashima are particularly sought after. There are four cards from 1959 depicting the ON Canon. Luckily for high-end collectors, a handful of unopened taba and unused display sheets have been uncovered during the past decade. Although these cards are still difficult to find, some are available in top condition.
Perhaps the most popular Oh/Nagashima card is the Hoshi Gangu—one of the earliest identified Oh rookies. This tobacco menko is smaller than the others, measuring just 1 5/16 by 2 5/8 inches. A warehouse find of unopened boxes in the early 1990s brought a number of high-condition examples into the market.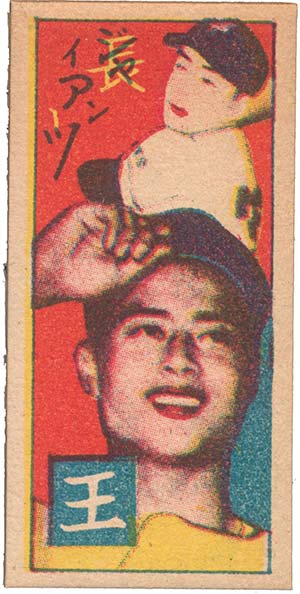 There are three general types of non-menko Oh rookie cards: candy/gum cards, bromides, and furoku. With one exception, all of the non-menko rookies are quite rare and sell for at least $1,000 when available.
Throughout the 1950s, Japanese caramel and gum companies included baseball cards with their products. Caramel cards were o en printed on thin paper while gum cards usually came on thick stock. Companies also produced oversized premium cards that could be acquired through the mail by sending in coupons. In 1959, the Fujiya, Hinomaru, and Meiji caramel companies all produced sets containing an Oh card.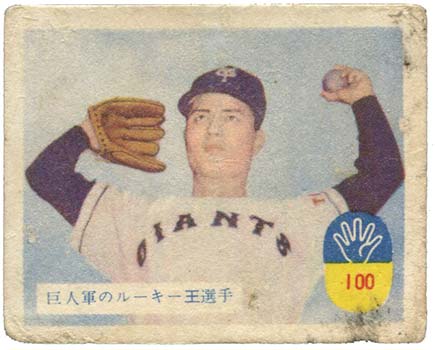 Bromides are mass-produced collectible photographs printed on photopaper with blank backs that depict actors, singers, sumo wrestlers and baseball players. The cards are usually rectangular but can vary in size. The photographs can either be in color, sepia tone, or black and white. They were often sold at specialized bromide shops or neighborhood candy/toys shops called dagashiya. Bromides were frequently pasted into scrapbooks, so slight glue residue or paper remains are commonly found on cards that survive. These collectibles were common in the late 1940s to early 1950s, but their popularity had waned by the late 1950s. Because of their blank backs, bromides are often difficult to date accurately, but a few bromide Oh rookies are known. Most are rare but luckily for collectors one is common and relatively inexpensive.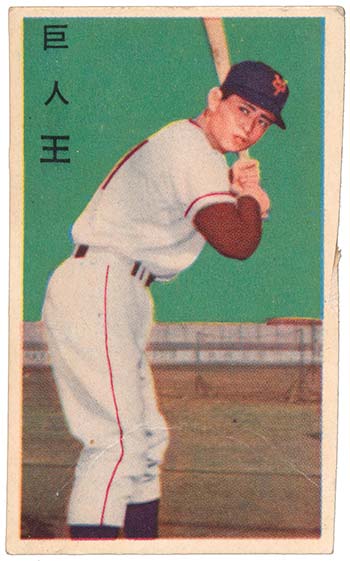 The 1959 JBR 5 2-in-1 Murakami bromides may be one of the least attractive sets ever produced in Japan. Each card measures 2 3/4 by 2 1/8 inches and contains two photographs—similar to the American 1941 Double Play (R330) set. The cards are printed on thin stock, often with blurry photographs, and there is no text identifying the depicted players. The set includes actors and 60 ballplayers including Oh. An early-1990s warehouse find of unopened taba and unused prize sheets make this Oh rookie relatively common in high condition and available for several hundred dollars.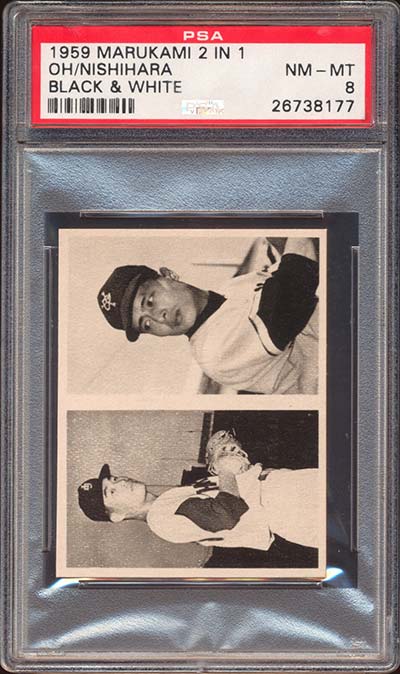 The final type of Oh rookies are furoku, meaning magazine or newspaper supplement. Both Japanese baseball and children's magazines often included cards of popular players. As magazine inserts were usually printed on thin stock and were usually ripped from the issues soon after publication, few survive. Those that have entered the collector's market have sold for a premium.
The earliest known Oh rookie is a furoku postcard inserted into the March 18, 1959 issue of Boken Oh Magazine (Boken Oh means Adventure King and does not refer to Sadaharu Oh but inserting a card of the ballplayer named Oh was certainly a pun). Only two examples are known of this postcard which depicts Oh in what seems to be a pitching pose. A nice looking but creased example of this card sold for nearly $6,000 in Prestige Collectibles' June 2021 auction.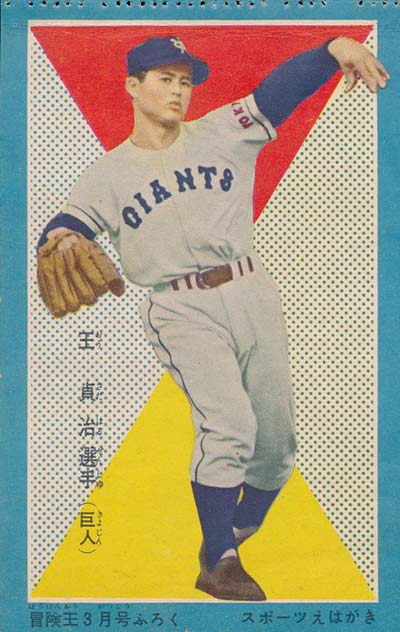 You don't need to go to Japan to find Sadaharu Oh rookies. In fact, Japan's vintage baseball card market is embryonic. There are no shops in the entire country that focus on pre-1973 cards. Occasionally, vintage cards turn up in Japanese flea markets and antique shops, but the best place to find Sadaharu Oh rookies is on online auction houses. Klevens, the dealer specializing in Japanese cards, gets 20 to 25 Oh rookies in stock each year—mostly in low grade.
"Even with the recent rise in prices," Klevens concludes, "I think Oh cards still have a great investment potential. The supply is quite low and finding higher grade cards is extremely difficult."
Difficult, but historic. No man has ever hit more home runs in professional baseball than Sadaharu Oh. No wonder his RCs remain the pursuit of so many.